Join Jewish Academy of Orlando's 2021 Gala event, "Soaring into the Future" on February 6, 2021, honoring Greg and Cheryl Finkelstein
About this event
With great excitement and pleasure, the Jewish Academy of Orlando is hosting our 2021 Gala event, "Soaring into the Future" on February 6, 2021, honoring Greg and Cheryl Finkelstein.
The event, like many others this year during the pandemic, will be held virtually featuring an exciting program highlighting the innovation of learning.
As part of the gala, our focus will be on the overwhelming philanthropy and generosity of Greg and Cheryl Finkelstein, who have long been part of our JAO family.
We are privileged to honor their achievements as we celebrate the future of education in our school.
We will also be spotlighting the creation of our acclaimed iLab in addition to the incredible technology that has always been a major focus at Jewish Academy. Finally, we will have a "sneak peek" into the premier of Jewish Academy's theater production for 2021, "Star Warts: The Umpire Strikes Back," a new musical by Craig Hawes.
Join us in celebrating by becoming a sponsor of the 2021 "Soaring into the Future" Gala.
Below is a sponsorship sheet detailing the opportunities available to you for this event.
Whether you have a business to promote or you want to thank Greg and Cheryl for their contributions to the Central Florida community, these sponsorships offer different levels of support to celebrate our honorees.
We hope you will join us!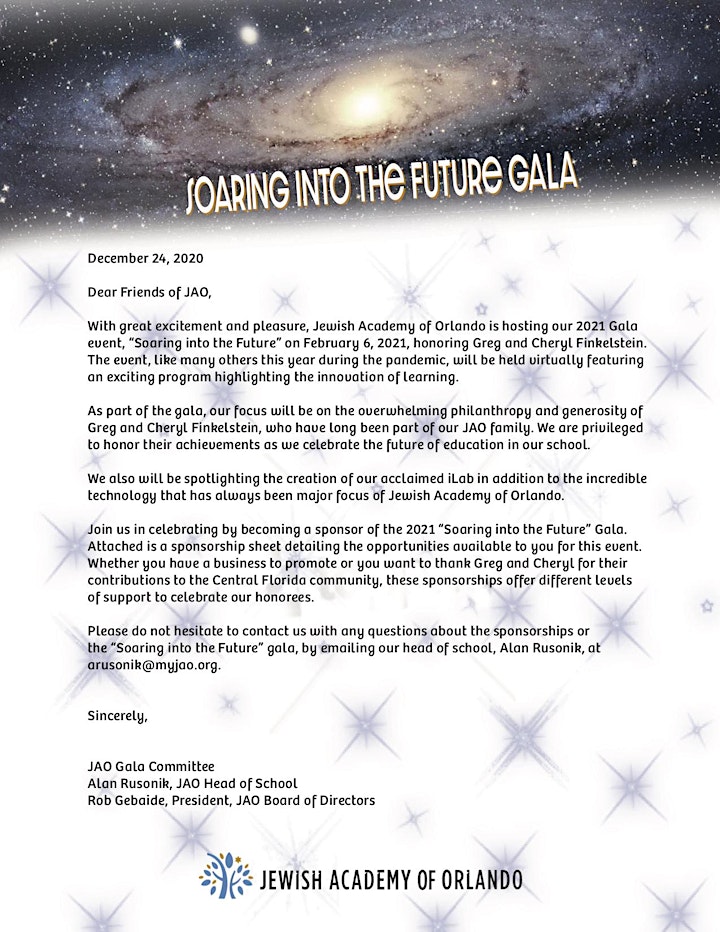 Sponsorship Opportunities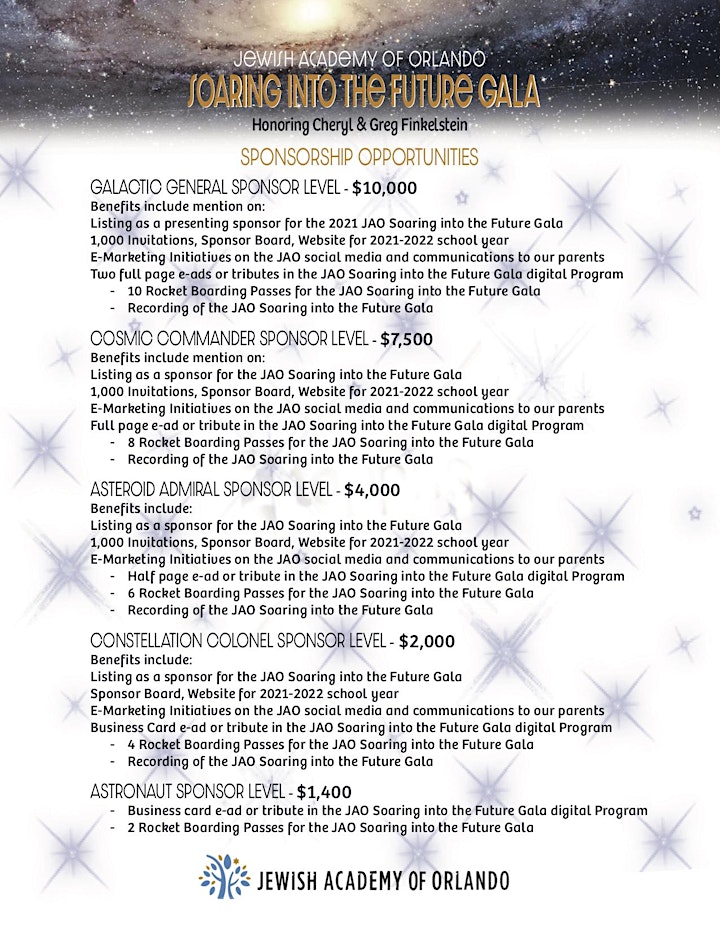 Tribute & Advertising Opportunities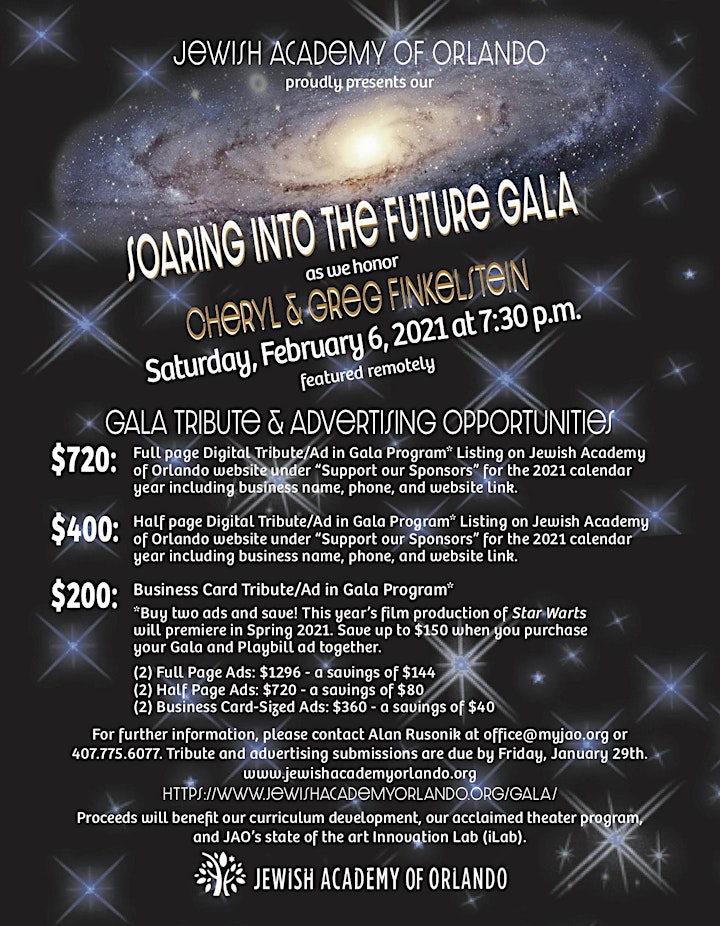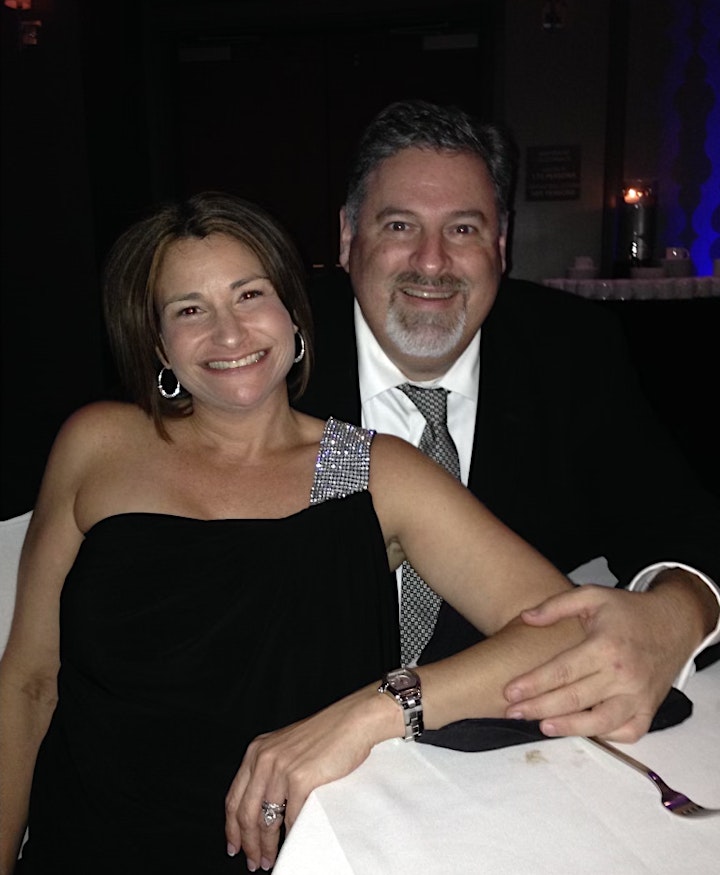 About Cheryl and Greg Finkelstein:
Cheryl and Greg Finkelstein, with their children Eli and Emily, moved to Orlando in 2003 shortly after Greg co-founded a local education technology firm. Greg and Cheryl immediately embraced our Jewish community, with their children attending the JCC Early Childhood Learning Center and the Jewish Academy of Orlando, and the family joining Congregation Ohev Shalom.
While continuing to advise academic institutions and education tech companies, Greg serves as special advisor to the JAO Board on a myriad of leadership, financial and operational issues and also sits on the Board of Central Florida Hillel.
Greg previously served on the JCC's Board and its Finance Committee and in 2014 led JAO's head of school search committee. A retired elementary school teacher, Cheryl joined the JCC/ECLC Board in 2003 and has worked tirelessly at JAO and the ECLC, serving on multiple committees.
In 2015, Cheryl joined the Jewish Federation's Momentum organization, JOIN, and is a founding Board member of SPARK. Cheryl serves as a Board member of the Friends of the Jewish Pavilion and is on the Advisory Board for J-Life magazine. Cheryl joined our JAO Board in 2017 and, along with Greg, continues to support the JAO with her leadership and unending generosity.
All donations will directly benefit the Jewish Academy of Orlando.