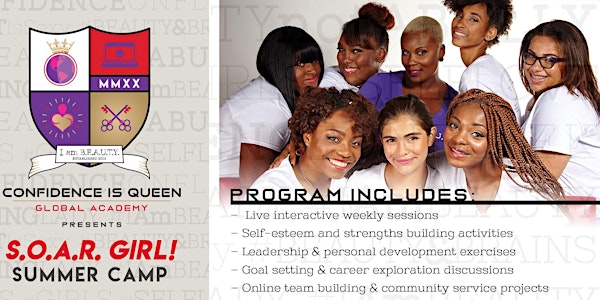 S.O.A.R. Girl! Summer Camp
Description
I AM BEAUTY Inc.
Confidence Is Queen Global Academy Presents
S.O.A.R. Girls! Summer Camp
An Online 8-Week Leadership & Self-Efficacy Program
June 6, 2020 - August 1, 2020
Saturdays 11:00 AM to 2:00 PM ( EST)
Summer Enrichment Programs and Camps are NOT Cancelled! S.O.A.R. Girls! Summer Camp is a virtual program for girls ( 8-18 years old) created to provide empowerment, development, recreation, mentorship and opportunities to build relationships with peers all across the world.
We want to encourage girls to S.O.A.R this summer!!!
S - Strive for EXCELLENCE
O- Overcome all Obstacles
A- Achieve Your Goals
R- REPEAT & reach HIGHER
Our motto: Strive ….Overcome….Achieve...Repeat.
What is I AM BEAUTY?
I AM BEAUTY Inc. is a global organization committed to empowering and inspiring girls and women to reach their fullest potential. We do this by providing trauma-informed educational services, strengths-based programming, self-esteem coaching and mental health counseling. Through our dynamic programming, counseling and coaching our goal is to help our clients love who they are, believe in the inner power they possess and equip them with the tools needed to accomplish their dreams.
S.O.A.R. Girls! Summer Camp is the first program of our newly formed Confidence is Queen Global Academy which focuses on developing virtual programing to reach our domestic and international participants. S.O.A.R. Girls! Summer Camp is our signature I AM BEAUTY Bootcamp/ Summer Leadership Academy in an online format. Since 2013, we have had over 5,000 girls participate in our one-day and multi-week programs in the U.S. , Jamaica, Haiti and Kenya.
Why is the S.OA.R. Girl! Summer Camp important?
According to Dove ( 2017) , only 4% of women around the world consider themselves beautiful and only 11% are comfortable describing themselves as "beautiful."

Over half the girls in the world do not have high body esteem which negatively impacts their assertiveness, self-efficacy and increases the likelihood of developing eating disorders or other health issues ( Dove, 2017)

Low self esteem is linked to negative emotions ( fear, anxiety or depression), bullying, violence, school dropout rates, teenage pregnancy and low academic achievement ( Misetich & Delis-Abrams, 2003)
Our goal is to provide interventions to help girls develop healthy self-esteem and evolve into powerful, courageous and confident leaders.
In addition, the current global pandemic will have significant emotional and mental health impacts on both children and adults. Our programs provide therapeutic interventions to support girls in expressing their emotions, develop coping strategies and improve their overall well-being.
What can a participant expect in S.O.A.R. GIRL?
Participants will be given tools to build healthy self-esteem, formulate goals, find their strengths, and hone life skills essential to success while having FUN! The program is facilitated by Akilah C. Bernard, a dynamic ,energetic and passionate Self-Esteem Guru, Teen Expert and Therapist with over 15 years of experience working in youth development. In addition, staff, former graduates, expert facilitators and wellness instructors join us throughout the program to participate in various sessions.
Sessions are facilitated using Zoom and various media sources including youtube, google documents and hangouts.
Program includes:
Online Interactive and Engaging weekly sessions

Group coaching and trauma informed counseling focused on expressing emotions and positive identity development.

Self-esteem, confidence and strengths building exercises

Leadership & Personal development workshops

Goal Setting & Career Exploration

Virtual Team Building & Community Service Projects

Yoga, Fitness & Mindfulness Segments

Opportunity to build relationships with other girls

Affirmation T-shirt , Wrist band and virtual SWAG Bag

Tons of FUN, GAMES and RECREATION activities!

And much more ...participants will NOT be disappointed
What will a participant need to attend sessions?
Computer or Tablet

Pair of Headphones

A Journal or Notebook ( 3-5 pieces of paper per session)

1 Pen or Pencil

Comfortable clothing
What are the Tuition Costs?
The S.O.A.R Girl Summer Camp tuition is only $195 USD ( Valued at $2,500 USD). We are offering the program at a deeply discounted rate to make the program as affordable as possible to assist families in need of programming for their girls this summer. In addition to participation in this program, participants will also get access to our portal to re-watch sessions and participate in future virtual activities.
Are scholarships available?
Yes, a limited amount of scholarships will be granted to families with household incomes of $50,000 USD or less. We are also seeking funding for tablets and laptops for participants that do not have them. You can apply for the scholarship by selecting the "Scholarship Ticket" and completing the form with all the required details. Scholarship applications must be submitted by Friday, May 29, 2020 at 5PM.
Want to sponsor a girl?
Thank you!!! We welcome you to sponsor girls so that finances is not a barrier for families that may want to take advantage of this great opportunity. "Sponsor Tickets" that are purchased will be used to provide scholarships.
More Questions?
We welcome any additional questions you have. Feel free to email bri@iambeautyinc.com or call us at 646-481-2679 . Additional details about the program including instructions on how to prepare will be provided in your email confirmations.
Stay safe and be WELL!