Description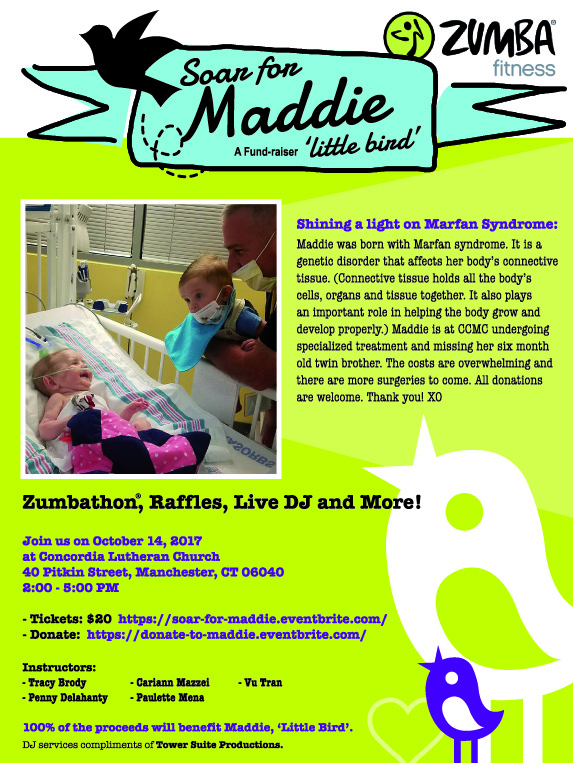 This family needs your help. They have a very long road ahead. Their sweet baby girl has been at CCMC , away from her twin brother and dad , Jim Barbieri for a long time. Madison had surgery to place a GJ tube to help with nutrition and hopefully resolve other issues she has, as well as a tracheostomy to help her breathe. You see Maddie has neonatal Marfan syndrome ( Marfan syndrome is a genetic disorder that affects the body's connective tissue. Connective tissue holds all the body's cells, organs and tissue together. It also plays an important role in helping the body grow and develop properly.). She has many other health issues going on that are going to require additional surgeries once she gets a little bigger and stronger.

This is a Zumba event, because we want to dance and send our energy out to Madison. "Little bird" and she needs our support, love and prayers. TICKETS $20
INSTRUCTORS: Penny Delahanty, Cariann Mazzei, Tracy Brody, Paulette Mena & Vu Tran will take the stage and you'll shake, shake, shake for a special cause
LIVE DJ ~ RAFFLE PRIZES ~ 50/50 RAFFLE ~ Support Wristbands ~
And don't forget to browse the vendor tables: PureHaven, Thirty-Gifts, PartyLite and more!
TO MAKE A DONATION: click here: https://donate-to-maddie.eventbrite.com
LET'S DO THIS, AND HELP GET MADDIE "LITTLE BIRD" BACK HOME WHERE SHE BELONGS.