Description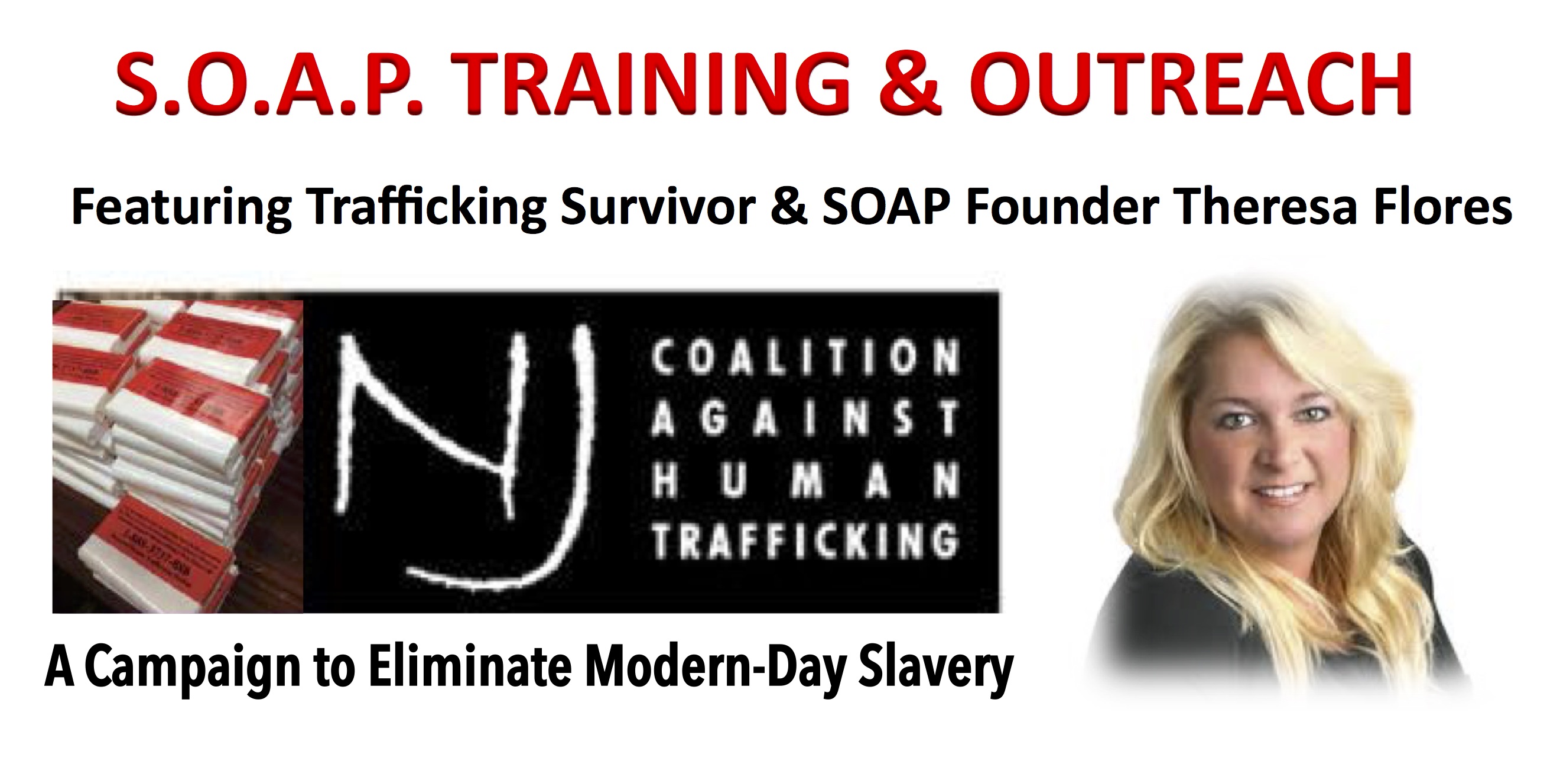 Help save local missing kids and prevent sex trafficking in our state by making hotels and motels aware of how to spot trafficked victims.
THIS IS A FREE COMMUNITY TRAINING OPEN TO ALL, WITH OPTIONAL OUTREACH MOBILIZATION.
Hear from Trafficking Survivor and S.O.A.P. (Save Our Adolescents from Prostitution) founder, Theresa Flores, about her experiences, and what we can all do to help save kids being trafficked in our local areas.
After a 2+ hour training, you will be organized into teams of 2-4. Each team will visit at least 4 hotels/motels in Union & Essex Counties. Teams will take posters with photos of missing kids to show front desk staff: explain the warning signs of sex trafficking; and to many offer free bars of soap labeled with the national human trafficking hotline number. Teams will set off at approximately 3:30pm and should have outreach visits at approximately 5pm. It is not necessary to return to the training venue - outreach reports are photographed and emailed to the Coalition.
This event is open to adults and youth. The training portion (up to 3:30pm) is suitable for ages 13 and up. The outreach mobilization is suitable for ages 18 and up (16-17 yr olds can attend the mobilization with a signed waiver). Community Service Certificates are available for students.
FAQs
I want to register a group - how do I do that?
We ask that you register each person with a unique email address, so that each attendee takes responsibility for being there on the day. However feel free to organize groups to attend this event.
Do I need to bring my paper ticket with me?
No, you don't need the paper ticket, check in when you arrive, and we'll have you on our list if you've completed your sign up on Eventbrite.
Is there parking at this venue?
Yes, there is plenty of free parking.
When does the training portion of the day begin?
The training begins at 1pm, so please arrive at least 15 minutes beforehand, so that you can check-in and find a seat.
How long is the training, and what does it consist of?
The training will last for 2+ hours. Our main trainer is Theresa Flores, who is an author, speaker and a survivor of sex trafficking. She is traveling from Columbus, Ohio to share her story and give an impactful training into what human trafficking is and what individuals can do to combat it.
It says this event runs until 5pm - what happens at 3:30pm when the training ends?
At approximately 3:30pm those who have signed up only as observers may leave. Those who have signed up to be full participants will be grouped into teams of 2-4 people (you can arrive as your own team) and given instructions on the 4 hotels/motels each team will visit.
Can I ask to visit hotels that are located on my route home?
Yes, we try our best to match hotel groups with where you are going anyway, especially if you're in one car traveling with others also going in that direction.
Can I go home right after visiting the hotels? If so, how do I hand in my report?
Yes, you can go right home after taking a photo of your report card and emailing it to the Coalition at INFO@njhumantrafficking.org. You will also be assigned a "liaison" and we ask that you call your liaison to let that person know you have finished your visits and you are heading home.
How do I cancel my registration if I find I can no longer attend?
Please cancel via Eventbrite as soon as possible. We have limited spots, so please allow someone else the chance to register instead.