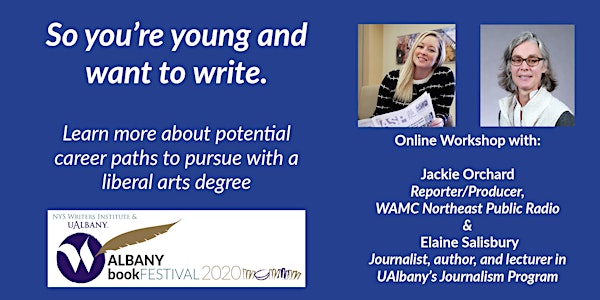 So you're young and want to write.
Learn more about potential career paths to pursue if you have a liberal arts degree or want to be a writer/journalist
About this event
Workshop will be conducted on Zoom--link will be sent to workshop participants closer to the event date.
Jackie Orchard is a reporter and producer at WAMC Northeast Public Radio. She previously served as an Army Officer working in the Signal Corps in Alaska. Orchard holds two bachelor's degrees and achieved a 4.0 GPA at the University at Albany while studying journalism and serving as editor-in-chief of the Albany Student Press campus newspaper.
Elaine Salisbury is a print journalist whose work has taken her abroad to the Middle East, Africa, Europe and throughout the United States. She is a lecturer in the University at Albany's Journalism program. She has worked as an editor for the Associated Press and as a reporter for Reuters. Salisbury's two published books include The Cruelest Miles (NY: Norton, 2003) and Provenance (NY: Penguin, 2009). The Cruelest Miles is in development for a film by Walden Media. Provenance has been named an ALA Notable Book, Edgar Award Finalist, and Oprah Reading Pick.