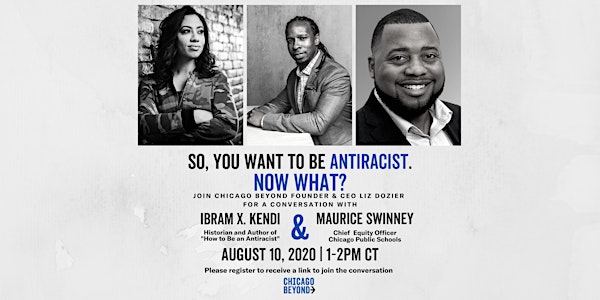 So, You Want to Be Antiracist. Now What?
If being antiracist means we have to rethink our most deeply held beliefs and biases, where do we even begin?
About this event
The first step to becoming antiracist is awareness. Over the course of the past several months, awareness of systemic racism is at an all-time high. However, awareness isn't enough to enact true change to arrive at a truly just and equitable society where Black people and people of color are truly free.  Join us for a conversation with Professor Ibram X. Kendi and Dr. Maurice Swinney as we explore the next session in our series on becoming antiracist with tangible steps to rethink, unlearn, and act. 
Speakers:
Professor Ibram X. Kendi, Author & Historian
Ibram X. Kendi is a #1 New York Times bestselling author, the Andrew W. Mellon Professor in the Humanities at Boston University, and the founding director of the BU Center for Antiracist Research. Kendi is a contributing writer at The Atlantic and a CBS News correspondent. He is also the 2020-2021 Frances B. Cashin Fellow at the Radcliffe Institute for the Advanced Study at Harvard University.
Kendi is the author of Stamped from the Begining: The Definitive History of Racist Ideas in America, which won the National Book Award for Nonfiction, and The Black Campus Movement, which won the W.E.B. Du Bois Book Prize. He is also the author of the #1 New York Times bestsellers, How to Be an Antiracist, and Stamped: Racism, Antiracism, and You, a young adult remix of Stamped from the Beginning, co-authored with Jason Reynolds. He most recently authored the #1 Indie bestseller, Antiracist Baby, available as a board book and picture book for caretakers and little ones.
Maurice Swinney, EdD. Chief Equity Officer, Chicago Public Schools
As Chicago Public Schools' (CPS) first Chief Equity Officer, Maurice is responsible for moving the district closer to achieving educational equity, which is a moral imperative for CPS. Prior to this role, Maurice served as the principal of Chicago's Tilden Community Career Academy, where his focus on college readiness and social-emotional learning was recognized by the University of Chicago's Consortium on School Research. As Chief Equity Officer, he is responsible for examining CPS' policies and programs for inequities and implementing strategies that minimize gaps in resources, staffing, and high-quality academic programming. Prior to joining CPS, Maurice was a teacher and school leader in Louisiana. Maurice holds a Bachelor's degree in English Education and Master's degree in Educational Leadership/School Principalship from Xavier University of Louisiana. Dr. Swinney has earned his EdD. in Public School Administration with a Superintendent endorsement from Oral Roberts University.
Moderator:
Liz Dozier, CEO & Founder of Chicago Beyond
Liz Dozier has spent her career working tirelessly to disrupt the culture of inequity that is often pervasive in urban neighborhoods. During her tenure as principal at Fenger High School, Liz and her team turned the school from one of the most violent and underperforming schools in Chicago to a leader in restorative justice practices, academic interventions and social emotional learning. In 2016 she founded Chicago Beyond, which has since invested $30 million in organizations, community leaders, and equitable research opportunities that are changing the lives of Chicago's youth.