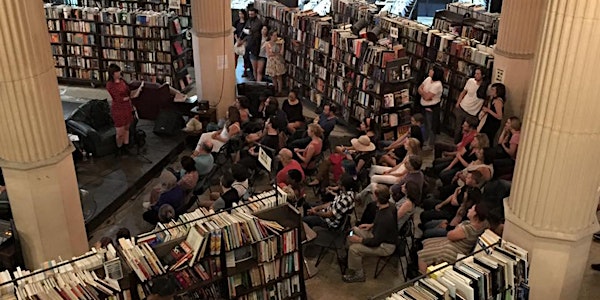 So You Want to Be an Author? Kids Writing Workshop
When and where
Location
The Last Bookstore 453 South Spring Street Los Angeles, CA 90013
Refund Policy
Contact the organizer to request a refund.
Description
[Note: your ticket includes - and is exactly the price of - whichever book you choose!]
The Last Bookstore is pleased announce a very special summer workshop for kids ages 8-18. This event will be presented by three children's book authors: Samantha Clark, author of The Boy, The Boat, and the Beast; Henry Lien, author of Peasprout Chen, Future Legend of Skate and Sword; and author Kim Tomsic (The 11:11 Wish). These novelist are ready to teach your kids insider tips on adding the secret sizzle to make a novel come alive and help you on your journey to becoming a published author. Learn 12 magical tips to make your fiction writing come alive.
The 11:11 Wish:
Wishes, magic, and dares abound when a tween math whiz tries to fit in at her new school by wishing on a magical cat clock only to suffer catastrophic consequences! Ingrid Law, Newbery Honor author of Savvy says it's, "...a "pawsitively" magical twist on middle school mayhem. Whimsical and wacky, The 11:11 Wish is a romp of a read sure to please young teens and tweens." And Kirkus Review praises it as, "...a fine, funny fix."

In The Boy, The Boat, and the Beast, a boy wakes up on a mysterious beach and he doesn't know who he is or how he got there. After seeing a light shining over a wall of trees, he gathers his courage and follows it in the hopes of finding answers. But when he finally discovers the terrifying truth, he must face his greatest fear—going home.

Peasprout Chen, Future Legend of Skate and Sword is a middle grade fantasy about a girl who comes to an academy to master an art form that combines figure skating with kung fu. Publishers Weekly's starred review calls it, "Massively entertaining. . . . Peasprout Chen is a future legend indeed." The New York Times says, "It's Hermione Granger meets Crouching Tiger, Hidden Dragon meets the Ice Capades meets Mean Girls. For all its disparate ingredients, though, Peasprout Chen, Future Legend of Skate and Sword speaks in a single, strong voice, thanks to its spirited heroine."
Kim Tomsic was the "new girl" at 8 different schools where she played four square, volleyball, and ghosty-ghosty. Yes, she believes in ghosts as well as miracles, magic, and music. Beyond writing, she is also a yoga teacher, a pet wrangler, and the Co-Regional advisor of the Rocky Mountain Chapter of the Society of Children's Book Writers and Illustrators (SCBWI). Kim's debut novel, THE 11:11 WISH, is for readers ages 8-13 who like fantasy and magic in a contemporary middle school (Katherine Tegen Books/HarperCollins in February 2018).

Samantha M Clark is the author of The Boy, The Boat, and the Beast (Paula Wiseman Books/Simon & Schuster) and has always loved stories about ordinary people in extraordinary circumstances. After all, if four ordinary brothers and sisters can find a magical world at the back of a wardrobe, why can't she? While she looks for her real-life Narnia, she writes about other ordinary children and teens who've stumbled into a wardrobe of their own. In a past life, Samantha was a photojournalist and managing editor for newspapers and magazines. She lives with her husband and two kooky dogs in Austin, Texas. Samantha is the Regional Advisor for the Austin chapter of the Society of Children's Book Writers & Illustrators, and explores wardrobes every chance she gets. Sign up for news and giveaways at www.SamanthaMClark.com.

Henry Lien, author of Peasprout Chen, is a 2012 graduate of Clarion West, and his short fiction has appeared in publications like Asimov's, earning multiple Nebula Award nominations. Born in Taiwan, Henry currently lives in Hollywood, California. Peasprout Chen, Future Legend of Skate and Sword (Holt/Macmillan 2018) is his debut novel.


All events are subject to cancellation, so please check back!