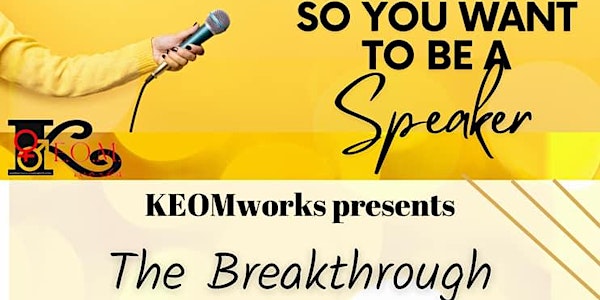 So You Want To Be A Speaker series
The ABC's of Becoming a Speaker
About this event
This will be a 1.5 hr / 3 day session to review a few of the basics every speaker can tap into to begin building their speaker confidence, delivery, and specific audience.
Things to note:
Practice zoom etiquette
Mics should stay muted unless speaking
Come with an open mind
Be camera ready
Limit background distractions
Be prepared to unmute when called on
Come with an open mind :-)
There will be two assignments. Be prepared to present homework.
Due to the session time limit of 1.5 hr and to assure we are respecting everyone's time please be aware of your individual shares / responses with the group
Complete the session survey that will be forwarded within 48hrs of the last day of the session
During sessions I would appreciate the social media currency by making post using #KEOMworks
Thank you