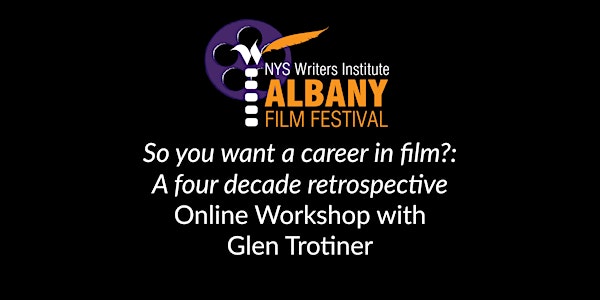 So you want a career in film?: A retrospective with Glen Trotiner
So you want a career in film?: A four decade retrospective with Glen Trotiner
About this event
*Workshop will be conducted on Zoom. Link to the Zoom meeting will be shared with registered participants before the workshop or click "View the Event" in your order confirmation.
Glen Trotiner, film producer and director, holds bachelor's and master's degrees from UAlbany.
He spent two years as Directors Guild of America Trainee and then went on to work as an assistant director on a long string of highly successful feature films, beginning with Brian De Palma's classic film, THE UNTOUCHABLES. Projects then took him all over the country, and all over the world, including BILOXI BLUES, JUNGLE2JUNGLE, PHONE BOOTH, LAST HOLIDAY, and WHAT HAPPENS IN VEGAS.
More recently, he has helped produce dozens of films, including BELLA, which won the Audience Award at TIFF, BERNARD AND DORIS, for which he was nominated for the DGA Award, FAM-I-LY and THE TRUST, which both premiered at South by Southwest, and BIG TIME ADOLESCENCE, which played in dramatic competition at The Sundance Film Festival.
Currently he serves on the Board of Trustees of the Directors Guild of America Training Program, the very program which launched his career in the motion picture industry. His term of service is the longest in the history of the program.
This virtual workshop is a featured event of the Albany Film Festival.
Special thanks to our Albany Film Festival sponsors:
Premier Sponsors: Chet & Karen Opalka, The Towne Law Firm, P.C., UAlbany Speaker Series
Presenting Sponsors: June M. DeSorbo; Film Albany, a division of Discover Albany, Times Union, The Touhey Family Foundation
Supporting Sponsors: Ellen Jabbur, New World Bistro Bar, O'Connell & Aronowitz / StudentDefenders.com, The Swyer Family Foundation, University Auxiliary Services
Friends: Add a Zero Productions, CDTA, Skip Casano & Bella Pipas, Brown & Weinraub, PLLC, Pernille Ægidius Dake, Foy Fund, Paul & Mary Grondahl, David & Lauren Hayes, Honest Weight Food Co-op, William & Mary Jean Krackeler, Cecilia Lauenstein & Ronald Nadeau, Betsy Lopez, H. Carl McCall and Dr. Joyce F. Brown, Roemer Wallens Gold & Mineaux LLP, Servico Inc./ Scott Schuster, Herb and Cynthia Shultz, UAlbany William L. Reese Emeritus Center, Hon. Leonard A. Weiss