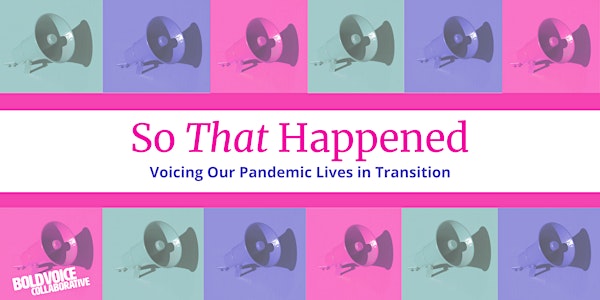 So That Happened: Voicing Our Pandemic Lives in Transition
Bold Voice Collaborative presents an evening of community, catharsis, and shared "WTF?" as six storytellers voice their pandemic truths.
About this event
Bold Voice Collaborative founder and author Deborah Siegel-Acevedo hosts as we hear stories started in or inspired by our course, Voice the Pandemic: A Flash Nonfiction Workshop to Capture Life Experience. Speaking truth to power can mean standing up and saying "THIS HAPPENED" in the face of all that is out of our control. Join us to hear some human truths born of individual and shared experience as, together, we face the world in flux.
Bold Voice Collaborative is an emerging consortium of master teachers with experience in journalism, media, book publishing, public speaking, and live performance. We believe that learning and creativity flourish in community, and that writers, speakers, and thinkers need not go it alone. Join us in our mission to transform lives through expression.
Connect with us and each other by joining our Facebook group. To learn more about BVC, check us out at boldvoicecollaborative.com and subscribe to our newsletter!
JOIN US FOR THIS LIVE EVENT at https://youtu.be/xKDo-H6xBKo.