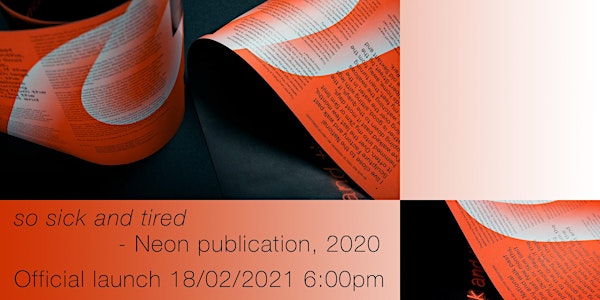 so sick and tired NSF Publication Launch
National Sculpture Factory is delighted to invite you to join us for the launch of its new publication so sick and tired - Neon Publication.
About this event
On Thursday the 18th of February at 6:00pm the National Sculpture Factory will host an online get-together to celebrate the launch of its new publication and we hope that you will join us, with a glass in hand, to toast the conclusion of the NSF's recent commission with artist and writer Sara Baume.
In the midst of the Covid-19 pandemic, in the Summer of 2020, National Sculpture Factory in association with Cork Midsummer Festival commissioned a new text-work by artist and writer Sara Baume, so sick and tired, for Midsummer Moments 2020 that would speak about our times.This manifested itself as a 4-metre long neon text work draped publicly on the front facade of the NSF building.
We wish to celebrate all the creative elements that have made this such a rewarding and enlightening project and we hope you'll join us in this celebration.
We will begin with a brief introduction to the overall project by National Sculpture Factory's Director Valerie Byrne which will be followed by a short conversation between Sara Baume and Sara Kelleher and this will also include a short discussion with unthink designers, Colin Farmer and Noelle Cooper, about their creative approaches to designing this publication.
We hope to see you all there.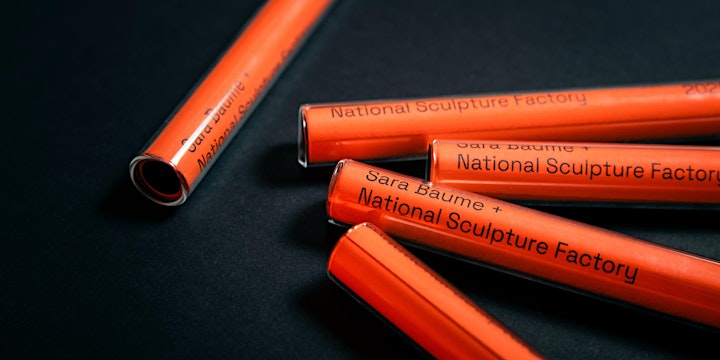 Commissioned by National Sculpture Factory in association with Cork Midsummer Festival
Neon Textwork by Sara Baume
Essay by Sarah Kelleher
Design by unthink
Documention Photos by Jedrzej Niezgoda
Photos of the Publication by Johnny Savage