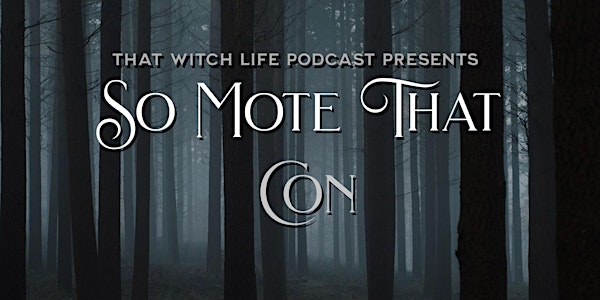 So Mote That Con Registration
A virtual conference on living as a Witch in today's world. Closed captioning provided. Sponsored by Llewellyn Books and Weiser Books.
Refund Policy
Refunds up to 7 days before event
Eventbrite's fee is nonrefundable.
About this event
Saturday, 10/16
9:00-9:15 a.m. Welcome with the TWL Hosts!
9:15-10:30 a.m. Land Spirits with David Shi
10:45 a.m.-12:00 p.m. Magickal Oil Crafting with J. Allen Cross
12:15-1:30 p.m. Magick In The Home with Najah Lightfoot
1:30-2:15 p.m. Break
2:15-3:30 p.m. Kitchen Witchery For Love And Romance with Dawn Hunt
3:45-5:00 p.m. Trading On The Goblin Market: Dealing with Fairies with Morgan Daimler
5:15-6:30 p.m. Discover Your Past Lives with Madame Pamita
6:30-7:00 p.m. Ritual with TWL Hosts
Sunday, 10/17
9:00-9:15 a.m Welcome with the TWL Hosts
9:15-10:15 a.m. Hekate: Goddess of Witches with Courtney Weber
10:30-11:45 a.m. 3 Magickal Crystal Secrets To Divine Wealth with Pamela Chen
12:00-1:30 p.m. Live Q&A with TWL Hosts and Amy Cesari
1:30-2:30 p.m. Break
2:30-3:45 p.m. The Heights And Depths of the Four Elements with Ivo Dominguez Jr.
4:00-5:15 p.m. Witches: Guardians of the Liminal with Amy Blackthorn
5:30-6:45 p.m. Saintwork: Catholic Folk Magik with Dakota St. Clare
6:45-7:00 p.m. TWL Closing (Meditation/Ritual Thing)