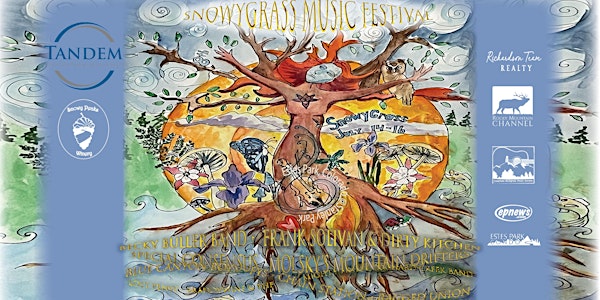 SnowyGrass Music Festival 2023
8th Annual SnowyGrass Music Festival in Estes Park! Featuring Bluegrass and Americana music On-site camping now available! Mountain views.
By SnowyGrass Music Festival in Estes Park
Location
380 Community Dr 380 Community Drive Estes Park, CO 80517
About this event
2 days 3 hours

Mobile eTicket

Free parking

Paid parking
The 8th Annual SnowyGrass Music Festival will be held July 14-16, 2023 at Stanley Park (380 Community Drive) in Estes Park, presented by Upstream Concerts--in partnership with Snowy Peaks Winery, Richardson Team Realty, Rocky Mountain Channel, Estes Park Condos, Colorado Bluegrass Music Society, Oskar Blues Brewery, and Estes Arts District.
The festival will feature Becky Buller Band, Frank Solivan & Dirty Kitchen, Special Consensus, Molsky's Mountain Drifters, Blue Canyon Boys, FY5, Chain Station, Ragged Union, Lost Penny, Brandywine & the Mighty Fines, and Orchard Creek Band.
On Friday afternoon, a bluegrass jam hosted by Kevin Slick of Colorado Bluegrass Music Society will precede music for the evening. All levels welcome. Saturday morning will have fiddle and banjo workshops hosted by Mosky's Mountain Drifters; Sunday morning will begin with fiddle and banjo workshops hosted by the Becky Buller Band.
On-site camping
​Kids 12 and under FREE with paying adult
Kids 17-13 1/2 price under Add-ons
Young Adults 18-22 contact us for a 1/2 price discount code.
Dog-friendly
On Friday afternoon, a bluegrass jam hosted by Colorado Bluegrass Music Society will precede music for the evening. Saturday morning will have fiddle and banjo workshops hosted by Molsky's Mountain Drifters; Sunday morning will begin with fiddle and banjo workshops hosted by the Becky Buller Band.
Visit www.snowygrass.com for schedule and more information.
Friday, July 14
​5:30 SPECIAL CONSENSUS
7:00 FRANK SOLIVAN & DIRTY KITCHEN
Saturday, July 15
​10:00 am FIDDLE WORKSHOP (BRUCE MOLSKY)
11:15 am BANJO WORKSHOP (ALISON DE GROOT)
1:00 BRANDYWINE & THE MIGHTYFINES
2:15 ORCHARD CREEK BAND
4:00 BLUE CANYON BOYS
5:45 MOLSKY'S MOUNTAIN DRIFTERS
7:30 SPECIAL CONSENSUS
Sunday, July 16​
10:00 am BANJO WORKSHOP (NEDSKY)
11:15 am FIDDLE WORKSHOP (BECKY BULLER)
1:00 LOST PENNY
2:15 RAGGED UNION
4:00 FY5
5:45 CHAIN STATION
7:30 BECKY BULLER BAND
3-day pass if per person. It is your admission to the festival Friday-Sunday. You wil receive one wristband per person when you show your QR code is scanned at the entrance. The wristband is not transferable to different people on different days.
3-day pass with camping is per person. It is your admission to the festival Friday-Sunday, and it allows you to camp, whether in a tent or in a vehicle. A vehicle pass must be purchased in addition to this if you wish to park it in the camping area. That pass is per vehicle and not per person. (Example: 4 people would buy 4 3-day with camping passes, but one vehicle pass if sleeping in an RV)
Vehicle Pass for camping 20' and under is for the RV/campervan etc. itself and is per vehicle and not per person. This allows you to park in the grass along with tents.
Vehicle Pass for camping 20-26' is for the RV/campervan etc. that is over 20 ft. but not longer than 26' itself and is per vehicle and not per person. This allows you to park in the lot adjacent to the grassy camping area. It still makes you a part of the camping. You will pull in or back in with one end to the grass. A space of 19' will be allotted in width for each vehicle.
On-site parking pass. We don't have a way in this application to limit this to campers, but we prefer that campers buy these tickets. There are not very many. It is for the convenience of having your car nearby. You can certainly unload your gear and then go park for free in the school parking lot that is free and not too far away.
State issued on-site accessible parking. You will be able to park on-site if your state issued permit is displayed.
VIP Upgrade. This is per person and gives you back stage access with side stage covered seating. (First come first serve) Purchase this with along with either 3-day passes or 3-day with camping passes.
Donations. You could receive tickets, pre-ordered shirts, and VIP access depending on how much you donate.
CAMPING: Campers can arrive on Thursday afternoon, at 3 pm and must vacate by Monday at 11 am. There is no electrical or water hookup. There are not shower facilities but there are restrooms. The Rec center is nearby and day passes can be purchase for using their facilities. They have showers, a pool, a hot tub and all the features of a gym. There is also a laundromat on Hwy 7 that has showers for a fee.
DOGS: SnowyGrass is dog-friendly for well-behaved dogs. You are responsible for any liability regarding your own dog. Enter the festival and camping grounds with your dog is an agreement that your dog is up-to-date on vaccinations and is not aggressive or disruptive. Any incident where we deem it necessary to ask you to leave with your animal is at our discretion and there will be no refund of tickets of any kind. However, there is a veterinarian nearby with pet lodging. This may be something to consider for at least portions of the festival. There is also an adjacent dog park open to the public as well as miles of walking path.
KIDS: We love kids being part of our festival! Please grab a FREE ticket for kids 12 and under. If you have kids that are 13-17, we offer half-price tickets. We offer to young adults, aged 18-22, to also get a ticket at half price. They should contact us and ask for a code to discount regularly priced tickets.
Becky Buller is a multi-instrumentalist, singer, and songwriter from St. James, Minn., who has traversed the globe over performing bluegrass music to underwrite her insatiable songwriting habit. Her compositions can be heard on records by Ricky Skaggs, Rhonda Vincent and Doyle Lawson & Quicksilver, to name just a few. Becky has written songs for Grammy award-winning albums: she co-wrote "Freedom," the lead-off track of The Infamous Stringdusters 2018 Grammy-winning album Laws of Gravity as well as "The Shaker" on The Travelin' McCoury's self-titled release that brought home the 2019 Best Bluegrass Grammy. Becky is the recipient of 10 IBMA awards, including the 2016 Fiddler and Female Vocalist Of The Year. She is the first woman in the history of the awards to receive the Fiddler nod; she is also the first person ever to win in both vocal and instrumental categories. Her other awards include the 2020 Collaborative Recording Of The Year for "The Barber's Fiddle" and the 2020 Song Of The Year for co-writing and fiddling on Special Consensus' "Chicago Barn Dance." She is a frequent guest artist on WSM's Grand Ole Opry and tours extensively with the Becky Buller Band. Becky is also a member of the First Ladies Of Bluegrass, an all-female ensemble composed of the first women to win in their respective instrumental categories at the IBMA awards: Alison Brown (banjo), Missy Raines (bass), Sierra Hull (mandolin), Becky (fiddle), and Molly Tuttle (guitar).
Multi-Grammy nominated Frank Solivan and Dirty Kitchen is a torrent of mind-blowing bluegrass. Known for their meaty pile-driving rhythms and Frank's dynamic and bold vocals, the band's last two albums have both received a Grammy nomination for Best Bluegrass Album. They have twice been named IBMA Instrumental Group of the Year and earned numerous other IBMA noms including Male Vocalist of the Year, Mandolin Player of the Year, and in 2013, received Banjo Player of the Year. Their massive sound and show stealing performances command the most prestigious stages in the country and abroad; from The Grand Ole Opry to the biggest international festivals across Europe, South America and Australia. The band has performed at the biggest bluegrass festivals including Telluride, MerleFest, Grey Fox, RockyGrass, Delfest, Strawberry Music Festival, Pickin' in the Pines, ROMP, and countless more. Frank Solivan and Dirty Kitchen is among the most respected and sought-after bands in the business. FS&DK's respect and deep understanding of the bluegrass tradition collides, live on stage, with rock-tinged fiery virtuosity that pushes the boundaries of the genre. Other influences include country, jazz, blues, southern rock, and soul.
The Special Consensus is a bluegrass band that has achieved a contemporary sound in their four decades of performing, making their music a modern classic. The band is led by Greg Cahill (banjo player and recipient of the prestigious Distinguished Achievement Award from the International Bluegrass Music Association (IBMA) and inducted into the Society for the Preservation of Bluegrass Music in America Hall of Greats) and includes Dan Eubanks (bass), Greg Blake (guitar) and Michael Prewitt (mandolin). Special Consensus has received six awards from the IBMA and two Grammy nominations. They are four talented vocalists and instrumentalists who follow their creative desires without straying too far from their bluegrass roots. The 19th band recording, Rivers and Roads (Compass Records, 2018), was nominated for the 2018 Best Bluegrass Album GRAMMY award and received 2018 IBMA awards for Album of the Year and Instrumental Recorded Performance of the Year (for the tune "Squirrel Hunters"). Chicago Barn Dance, released by Compass Records in 2020, is the 20th Special C recording that celebrates both the 45th band anniversary and the long-standing connection of country and bluegrass music with Chicago from the time of the WLS "National Barn Dance" that was a precursor to the Grand Ole Opry. The songs on this recording relate to Chicago and/or are written by artists who once lived in Chicago. The title song "Chicago Barn Dance" received the 2020 IBMA Song of the Year Award.
Molsky's Mountain Drifters – Tradition steeped in possibility.–featuring Brucky Molsky, Allison de Groot, and Stash Wyslouch
Bruce Molsky, "one of America's premier fiddling talents" (Mother Jones) and Grammy-nominated artist on fiddle, banjo, guitar and song is delighted to present his new group already on tour in the US. Bruce's previous collaborations, with Anonymous 4, 1865 – Songs of Hope and Home from the American Civil War, was released to rave reviews and was on the top 10 Billboard charts for weeks. He is also a special guest on legendary guitarist Mark Knopfler's latest CD, Tracker and is working on his 3rd album with Andy Irvine & Donal Lunny's supergroup Mozaik. You can also hear Bruce on BBC TV Transatlantic Sessions singing with Joan Osborne, Julie Fowlis and fiddling with Scottish legend Aly Bain and America's great dobroist Jerry Douglas. Bruce is also Berklee College of Music's Visiting Scholar in the American Roots Program.