About this Event
Our staff lead activities provide Snow Peak'ers the opportunity to explore and experience the Columbia River Gorge, which provides some of the most breathtaking scenery the Pacific Northwest has to offer. In addition, customers can take part in a variety traditional Japanese arts and crafts for all ages.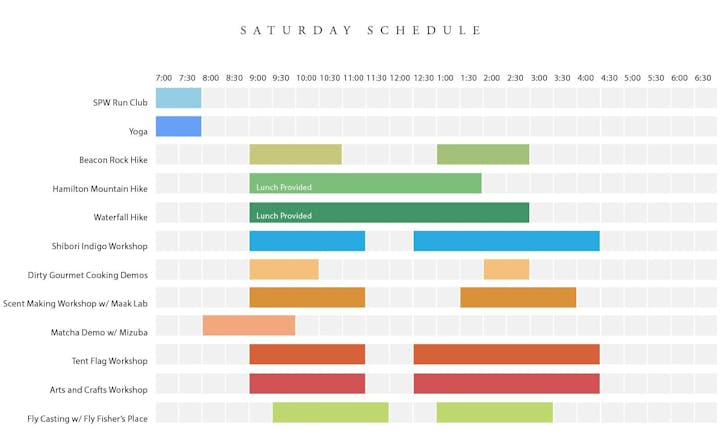 Please note: that many of the activities may overlap but over the course of three days, you should have more than enough time to experience everything that's available. The Shibori, Tent Flag and Arts & Crafts workshop are all open ended, so feel free to come and participate whenever you are free.
MORNING YOGA PRESENTED BY VIV - Free
7a-8a
Each morning, Vivian Zhang, a Portland based yoga instructor will be guiding customers through a special yoga class to get people limber and connected with nature before embarking on the activities of the day. Vivian is a friend of the Snow Peak brand who has lead multiple classes for Snow Peak'ers in our Portland retail store. Please note: a yoga mat will not be provided for this activity.
MORNING SNOW PEAK RUN CLUB - Free
7a-8a
Get the day started with an easy 5k run with Jake and Ross. It's the perfect, low-impact way to get the blood flowing and your body aligned with your surroundings.
HAMILTON MOUNTAIN HIKE - $10 for Sack Lunch by Giraffe Goods
9a-2p
An outstanding hike with all the incredible features of the Columbia River Gorge such as water falls, steep cliffy areas, superb views, ridge line hiking, and deep forested areas, complete with a loop for minimal repeat scenery. All of which can be experienced when you take this trail 8 miles round trip. A Japanese themed sack lunch by Giraffe Goods will be provided for hikers on this activity for $10.
BEACON ROCK HIKE - Free
Group B: 9a-11a, Group C: 1p-3p
Beacon Rock is one of the most prominent and distinctive geological features in the Columbia River Gorge, an 848-foot landmark that was once the core of a volcano; what remains is what was not washed away by the massive force of ice-age flooding. Take part in the easy 2 mile round trip hike on paved paths to a breathtaking view of the surrounding area.
COLUMBIA RIVER GORGE WATERFALL TOUR - $10 for Sack Lunch by Giraffe Goods
Group A: 9a-4:30p
The Columbia River Gorge is one of the most unique geological areas in the country in that it hosts over 50 waterfalls on both the Oregon and Washington sides. Join us as we take a trip across the Bridge of the Gods and guide customers on an Oregon waterfall tour exploring the largest and most majestic falls the gorge has to offer. A Japanese themed sack lunch by Giraffe Goods will be provided for hikers on this activity for $10.
SHIBORI TIE-DYE WORKSHOP - Free or $7.50 for a blank t-shirt to dye
9a-11:30a, 12:30p-4:30p
For centuries, Japanese culture has been practicing the art of Shibori Tie-Dying and now we are providing customers with the opportunity to connect with our roots though this unique craft activity. We will be guiding customers through each step to help them create unique patterns on a variety of white fabrics provided by both our staff and items brought from home.
COOKING DEMOS PRESENTED BY DIRTY GOURMET - Free
Backpacking Workshop Group B (hands-on): 9a-10:30a, Car Camping Demonstration Group A: 2p-3p
Dirty Gourmet believes that their is no more satisfying a meal than one you earned in the backcountry. They have developed recipes for the soul-nourishing experience of exploring the outdoors. The group will be on site to lead cooking demos for recipes you can take with you on the trail, at your campsite, or even in the comforts of your home. Choose between backpacking and car camping focused workshops.
SCENT MAKING WORKSHOP PRESENTED BY MAAK LAB - $30
Group A: 9a-11:30a, Group B: 1:30p-4p
Enjoy a lesson in fragrance ingredients; how they are extracted, what it means to be natural, and what their physical properties can tell us about how they will smell. Make use of locally foraged ingredients in addition to a handful of ingredients from their scent lab to create your own unique roll on perfume.
MATCHA DEMO WITH MIZUBA - Free
8a-10a
Discover the tradition and history of matcha through this immersive, and tasty, morning demonstration lead by the team at Mizuba. Hosted at the all Ivory cafe, a fun new addition to this year's Snow Peak Way.
TENT FLAG DESIGN WORKSHOP - Free
1:30p-6p
On the campfield, your tent becomes your home and we are providing campers with an opportunity to decorate your tent and make it your own. Our Japan headquarters has graciously sent us fabric triangles repurposed from Snow Peak tents for customers to design and hang from their site. We provide you with all the art supplies you will need for this special activity that truly connects you with the tradition of Snow Peak Way.
FLY CASTING PRESENTED BY THE FLY FISHERS PLACE - $30
Group A: 9:30a-12p, Group B: 1p-3:30p
Nothing is more meditative and relaxing than the rhythm of casting a fly line. Our friends from The Fly Fisher's Place in Sisters Oregon will be on site to teach customers the art of casting and as well insights for fly fishing in the Pacific Northwest.