Description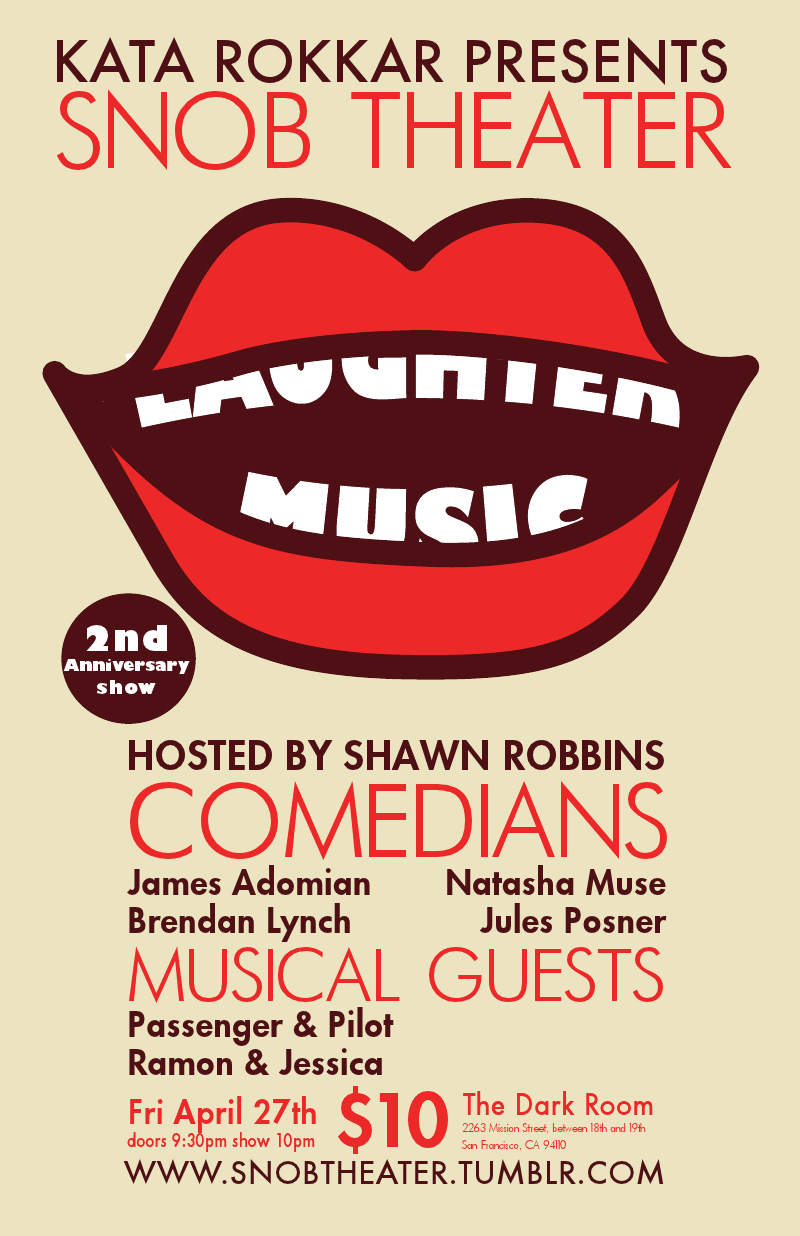 Snob Theater featuring James Adomian with musical guests Ramon & Jessica and Passenger & Pilot


The Dark Room Theater
San Francisco, CA
---
You are cordially invited to the 2nd Anniversary of Snob Theater. This night of smart humor and brilliant music will be accompanied by Snob Theater alumni (and performers at our first show) Jules Posner and Natasha Muse; as well as the brilliant Brendan Lynch. In addition, the amazingly talented James Adomian (Comedy Bang Bang, Last Comic Standing) will grace the Snob Theater stage.

And of course our musical guests will include indie-pop duo Ramon & Jessica and the uplifting folk rock outfit Passenger & Pilot.

This is a rare chance to experience these artists in an intimate environment, in affect, seating is very limited.
---
Snob Theater has also been featured in events by SF Sketchfest, Noise Pop Festival, and Bridgetown Comedy Festival.

"Snob Theater is genius. It's a beautiful and truly awesome fusion of great comedy and great local music. I came out for Snob Theater a little while back and was beyond impressed. It was such a fun concept and housed in the Dark Room, it's got a ton of character."
- Jessica T., Yelp.com

" When I reluctantly performed on it a few months ago, I quickly realized the "Snobs" know what they're doing. I don't know how they know, but the show and the flow of show between musicians and comedians is Tony the Tiger quality grrrrrrrrrrrreat! It doesn't really matter who's on the show, it's just a cool mix. The whole is greater than the sum of its blah blah blah. You get it. It's like Voltron."
- W. Kamau Bell, SF Weekly + The W. Kamau Bell Curve

"The Snob Theater showcase at The Hawthorne Theater (at Bridgetown Comedy Festival 2011 in Portland, OR) was pretty solid gold."
- Alison Hallett, Portland Mercury
---
Organizer of Snob Theater (2 YEAR ANNIVERSARY SHOW)
Snob Theater is a show that features the best in the Bay Area's indie rock bands and stand-up comedians. The small 60+ seat theater setting makes for the most intimate of performances and provides a unique and exciting atmosphere. Created and organized by Bay Area comedian/music blogger Shawn Robbins, Snob Theater is an event that showcases the comfort of the performers as they take chances in a stripped-down setting.

Snob Theater has been featured in the SF Sketchfest, Noise Pop Music Festival, Bridgetown Comedy Festival, and Yelp.com's Yelpin' La Vida Local. Also featured in SF Weekly, 7x7, SF Station, Scoutmob, The Portland Mercury, Punchline Magazine, RE: Comedy Magazine, The Bay Bridged, The Deli SF, Future Sounds, and Broke-Ass Stuart's Goddamn Website.