Multiple Dates
SNL star Comedian Darrell Hammond Live in Naples, Florida
Description
SPECIAL ENGAGEMENT
Actor/comedian Darrell Hammond fondly recalls his first taste of show business at age five practicing the impressions of his family members on the porch of their home in Melbourne Florida. It wasn't many years later when Darrell realized he wanted to submerse himself in the pursuit of bringing his comedy and impressions to a much bigger stage. For years now, Hammond has brought to life a cavalcade of politicians, media figures, celebrities and newsmakers on television. Darrell is known for being one of the most prolific comedians of his time. He holds the title for being the longest running cast member on SNL. He frequently tours comedy clubs and theaters boasting a number of brilliant impressions in his act that keep people laughing nationwide.
Hammond has brought a number of wonderful impressions to SNL over the years. Television critics and viewers alike, for their accuracy and range, have applauded each and every one of his impressions. Amongst the great number of people he has mimicked include; Bill Clinton, Sean Connery, Regis Philbin, Dan Rather, John Travolta, Jesse Jackson, Richard Dreyfus, Jay Leno, Donald Trump and Ted Koppel.
In addition to his SNL appearances, Hammond has been seen in a number of feature films and television shows. As a truly versatile actor Darrell has displayed his talents in both dramatic and comedic roles. Some of his feature films include: Screen Gems feature WEINERS and the Regency feature BOB BAILEY'S DISCO BALLS. He has also starred opposite Mary Kate and Ashley Olsen in Warner Bros' NEW YORK MINUTE and in the Dimension features SCARY MOVIE 3 and SCARY MOVIE 6. He shared the screen with Frankie Muniz and Hillary Duff in MGM's AGENT CODY BANKS. Darrell also starred with Anthony Hopkins and Alec Baldwin in El Dorado Picture's THE DEVIL AND DANIEL WEBSTER. He received tremendous amount of reviews for his portrayal as a deranged but intense criminal defense lawyer in Dick Wolf's LAW AND ORDER: SVU. Darrell also disturbed audiences with his masterfully creepy roll as The Deacon in the television series DAMAGES. Additionally, he did a guest spot on NBC's THIRD ROCK FROM THE SUN. His other film credits include an appearance in Universal's BLUES BROTHERS 2000 which also starred Dan Aykroyd, and Disney's CELTIC PRIDE. In 1999 he moved audiences everywhere by playing the voice of Master Little in Disney's animated hit THE KING AND I.
Recently, Darrell has starred in Bay Street Theatre's TRU, written by Jay Presson Allen and directed by Matt McGarth. Darrell also finished shooting a TBS pilot, HOUND DOGS, as Harry Hound, with director Ron Shelton (Bull Durham & White Men Can't Jump). Darrell is also the author of the critically acclaimed memoir, "God If You're Not Up There, I'm F***ed: Misadventures with Fake Noses, Funny Accents, Addiction, and Saturday Night Live", which was released by Harper Collins in October of 2011 to rave reviews.
A Native of Florida, Darrell began doing his impressions and comedy early on in life, but his real pursuit of a career in performing began after graduating from the University of Florida at Gainesville. After college, Hammond spent several years in New York appearing in many off-Broadway productions and honing his stand up at the local comedy clubs. With his acerbic wit and masterful impressions Darrell quickly became a favorite on the comedy circuit. He would also frequently display his comedic styles performing on a wide array of local and national radio stations.
Although it has been a dream come true for Darrell to be a regular on NBC's SATURDAY NIGHT LIVE, one of Hammond's biggest honors came at our nation's capital in April 1997. During a surprise appearance with President Bill Clinton, Hammond was widely praised by the media for his dead-on impression of the President at an event before a great number of government officials and members of the Washington Press Corps. In an equally as impressive fete at 2001's WHITE HOUSE CORRESPONDENTS DINNER, Darrell received a standing ovation for his performance in front of 2000 press people and President George W. Bush.
Darrell continues to move audiences with his comedy, performing in New York and throughout the entire country. Darrell gave Comedy Central it's biggest ratings to date for a 1/2 hour comedy special performing in his own COMEDY CENTRAL PRESENTS: DARRELL HAMMOND. Darrell also appears frequently on CBS' "LATE SHOW WITH DAVID LETTERMAN", and NBC's "THE TONIGHT SHOW WITH JAY LENO", and "LATE NIGHT WITH CONAN O'BRIEN". As an actor he continually looks for new challenging roles to expand his talents in Film and Television.
Recently, Darrell has seen a massive resurgence in national notoriety due to his uncanny impression of Donald Trump. From his first impression of Trump on SNL 15 years ago (earning him the praise of Trump himself), Darrell's imitation of the outspoken presidential candidate has evolved along with all of the extreme changes in his public appearance. Hailed as "The Comeback Kid" by the Wall Street Journal, Darrell's impression has become a favorite of the country, drawing some of the largest viewership to SNL in recent history.
Live Comedy : Rated PG-18
Please NOTE* the floor chart provided is only a visual reference chart and not to be used for specific seating. The colors indicate the general location of the seats you are purchasing in each section.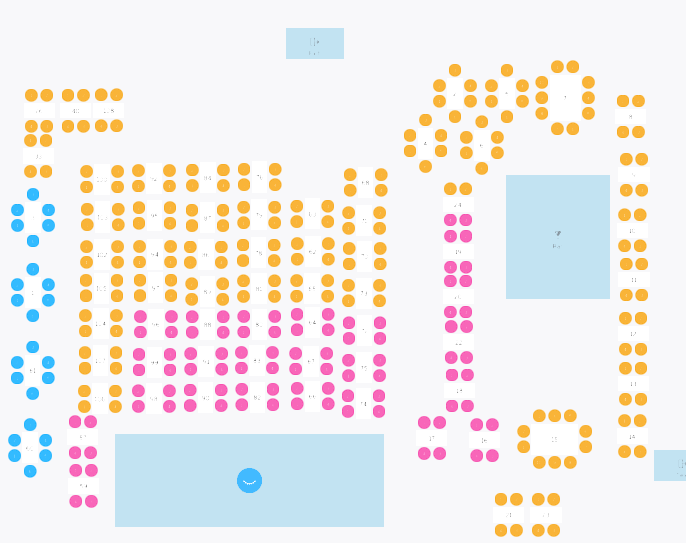 FAQs
Are there ID requirements or an age limit to enter the event?
Yes you must be 18 to attend events with valid photo ID. 21 to drink Alcohol
Where can I contact the organizer with any questions?
You can call the box office anytime at 239-389-6901 or email us directly boxoffice@offthehookcomedy.com
Is my registration/ticket transferrable?
All ticket are Non Transferable and Non Refundable please double and triple check your ticket purchase
Can I update my registration information?
Yes you can update your information
Are you wheelchair accessible?
Yes we are please call in advance so we can assist your needs
Does Off the hook comedy club serve food in the showroom?
Yes, Off the hook comedy has amazing food and serves a full menu throught the performance so plan on coming hungry! Here is link to our menu
Do I need to make a seperate dinner reservation?
No all tickets are seated tableside and we offer full dinner and full bar menu before and during the performance.
Sell these tickets on your social media today!
***DO YOU LIKE WHAT YOU SEE AND WANT TO BECOME A TICKET AFFILIATE WHO CAN MAKE MONEY SELLING THESE TICKETS? EMAIL US info@offthehookcomedy.com and you will start earning cash for each sale today! Just a promo code and click away***
TERMS & CONDITIONS
This event is 18 and over. Any Ticket holder unable to present valid identification indicating that they are at least 18 years of age will not be admitted to this event, and will not be eligible for a refund. By purchasing tickets to this event, you are authorizing this charge and acknowledging our terms and conditions below. There are no refunds, transfers or exchanges. There is a two item minimum purchase per person in the showroom. Any two item combination of food or beverage satisfies the minimum. Unless otherwise stated, there are no food or beverages included with your ticket purchase. We charge three dollars for bottle water and do not offer free ice water in the showroom. All events are 18 years of age or older, unless otherwise stated in the event description. You must have a valid state or government issued photo ID to show proof age. All seating is on a first come first serve basis. For best seating, arrive early. In order to be seated at least half of your party must be present. Under certain circumstances, we may not be able to seat your entire party together. Venue reserves the right to resell tickets of any person/party that has not been seated by scheduled show time. No refunds will be issued. Valid Photo ID and the Credit Card used for the Reservation must be presented to pick up Tickets. Tickets will only be released to the purchaser unless prior arrangements have been made. Venue is a non-smoking property. Vape pens are also prohibited. Management reserves the right to deny and refuse entry or remove parties that may be deemed a distraction to other guests. This includes those that may appear intoxicated or not abiding by venue policies. Dress Code: Guests are asked to wear casual evening attire. Attire shall be deemed appropriate at the sole discretion of management. For security and safety of all patrons, management reserves the right to search all personal items and bags, we may request that personal belongings not be permitted into the venue. Photography, videography, filming or any recording during the show is strictly prohibited. By entering the venue, you acknowledge that the venue and its parent companies, affiliates or subsidiaries, are not responsible for any lost, stolen or damaged property and you are entering at your own risk. All events are 18 and up unless otherwise specified.