Snip, Sip & Sew CINCY

Friday, May 20, 2016 at 3:00 PM

-

Sunday, May 22, 2016 at 5:00 PM (EDT)
Event Details
Snip, Sip & Sew Cincy Retreat 
with Kecia Deveney and Linda Willis 
Contemplative Journal review of our weekend host:
St. Mary's Retreat Center, Glendale, OH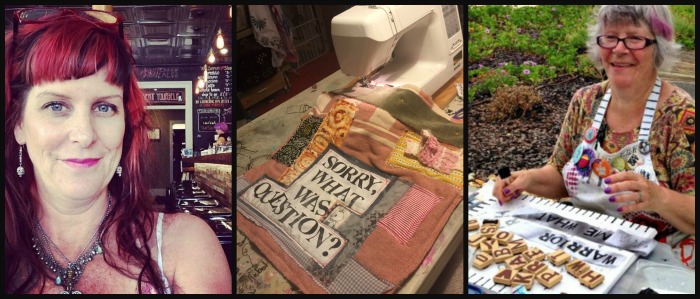 Friday, May 20, 2016 ---- Sunday, May 22, 2016
Creativity  
Fabric Surface Design: stamping, stenciling, painting, mark making, image transfers, resists, & more techniques. 
Make your own Awesome Art Bag by hand/machine stitch sewing fabric and adding tassels, yo-yo's, crazy quilting, and other embellishments. 
All experience levels welcome- you don't have to sew to participate - we'll show you how! 
Connection   
SAT. night Trunk Show featuring the SSS instructors & invited artisans 




SAT. night house concert, pARTy & sewing circle with other makers & kindred spirits

feel free to BYOB alcohol, chocoloate & snacks to share [retreat center has coffee, tea & light snacks] 

time & space for introverting [solo time on comfy couches/rocking chairs/sanctuary rooms]
time & space for extrovering [hanging/socializing w/ others inside & out]
Community   

on site groovy music, yummy meals & sweet treats 

relaxation, pampering & inspiring environment of re-treating

hanging out with besties & making new life long ones 

all the feels of "outrageous hope and extravagant hospitality"

  at St. Mary's Retreat Center

swag bagging, networking & make & take tables
COZY St. Mary Accomodations:  
private guest rooms with private baths- view TSC 

gallery

.

Sat/Sun Breakfast at 8:15AM, Sat/Sun Lunch at 12:30PM, Fri/Sat Dinner 6PM 

library and sitting room with sofas, rocking chairs, a large flat-screen television with cable reception and a working fireplace

additional guest kitchen adjacent to the bedrooms, with full-size refrigerator, microwave, coffee pot and tea kettle

[feel free to bring your own speciality treats to put in the fridge] 

cozy seating areas with tables on two outside patios and in a gazebo

wireless internet access
When not creating or if needing some quiet solitude, enjoy wandering the grounds of Transfiguration Spirituality Center. Grap a cup of tea or glass of wine and explore the wooded paths, benches, a swing and other areas for meditation or quiet reflection located throughout the tranquil campus.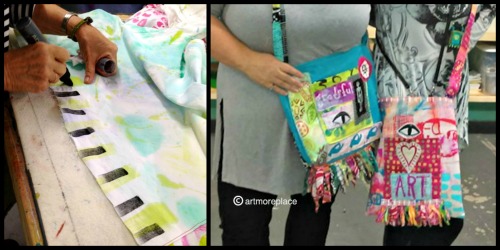 Friday 5/20/16 evening: check in at 3pm-4pm We'll start off the weekend making embellishments, such as, fringe, yo-yo's, fabric flowers, tassels, stamping on fabric, and embroidered covered buttons, all the awesome design elements we'll be adding to our purses/bags/totes. Friday evening, Kari McKnight Holbrook will be offering an "Power Words" hand lettering class - just in time for you to sew onto your projects for the weekend! 
Saturday 5/21/16: Saturday is all about fabric surface design. We'll be using stamps, stencils, fabric paints, acrylics, found objects, and thermofax screens. This is the fabric we will use to create our bags on Sunday. 

Saturday evening 7-9PM you'll be invited to partake in: 
Sunday 5/22/16: It's all. About. The bags! We'll be cutting patterns, adding pockets, sewing and finally embellishing to your hearts content. After lunch the remainder of the day will be devoted to creation, sewing & embellishing. Parting will be such sweet sorrow as we pack up around 4:30 and head out by 5:00 with our ah-maz-ing totes/bags/purses, swag, AND extra fabric goodies for clothing, journaling, prayer flags, etc and new friends. 
Do you need Lodging for Sunday? 
If visiting from out of town and you need accommodations for Sunday night - hotels are 2.7 miles away in Sharonville, Ohio. Here is a link to the top 10 hotels in Sharonville according to Trip Advisor.
What to bring: BTK [Basic Took Kit]
Basic sewing kit 

Sewing machine [sharing with a friend is fine] and manual 

Extension cord 

Extra sewing machine needles 

A variety of threads/colors 

Extra bobbins 

Scissors, pins, measuring tape

Hand needles, embroidery needles and floss 

1 1/2 yard bleached or unbleached muslin [washed and ironed] 

1 yard 100% cotton batting 

1 yard cotton fabric for lining [or 2 1/2 yards of different materials -like duck, twill, heavy duty muslin all available at JoAnn's or your fave fabric store.]

Kit fee $20 for generous use of: extra fabrics, paints, stamps, stencils, thermofax screens & more! 
Extra funds for ephemera & art for sale at the artist instructor pop-up shops AND for the Saturday night Trunk show featuring amazing crafters & creatives wares.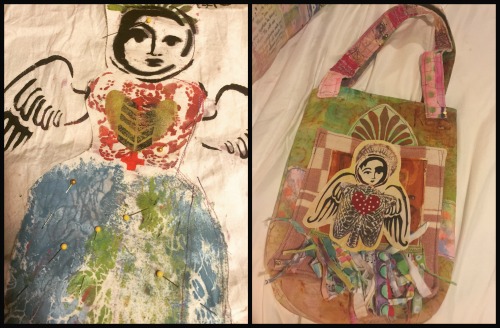 What is Fabric Surface Design [FSD]?
(FSD) is the process of enhancing fabric through various techniques such as dyeing, screen printing, painting and stamping (to name a few).
A few words from Kecia & Linda: 
"In this 2.5 day workshop, we will be playing with a variety of these techniques to create our own unique fabric, which lends itself to be used in many other mixed media projects; such as making a journal cover, sewing a purse, creating a textile wall hanging, maybe create an apron, an art doll, use for curtains, cloth napkins, etc. You get the picture! This is an addicting process and I find that the more personal touch that I add to my art (with less consumer bought materials), the more my own distinct style outshines mass produced commercial products. For this class, we will be making a purse."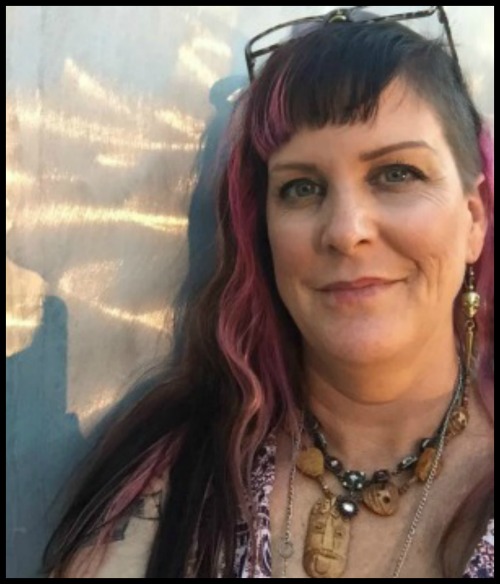 Kecia Deveney 
"My art is about craftsmanship and virtue but not perfection. By removing perfectionism, I free my imagination to play and ultimately, this freedom results in whimsical pieces of grace and beauty." Lemoncholy's Flight of Fancy  / Kecia's Art & Style Pinterest  /  keeshagirl on Instagram  Published artist featured in Belle Amour Jewelry and Altered Couture.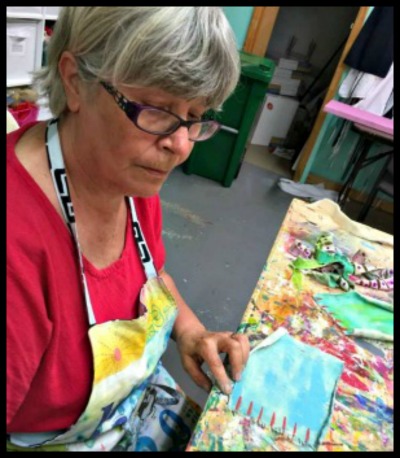 Linda Willis 
A traditional quilter who likes to break the rules, Linda often asks "What if, and why not?" when developing her own unique and creative style. She works by instincts and is influenced by travels, found objects, hunting and gathering, hand crafted items, sights, sounds, and colors. A beloved a generous instructor at: Art-is-You Retreats instructor / Art More Place in FLA / Published Cloth Paper Scissors.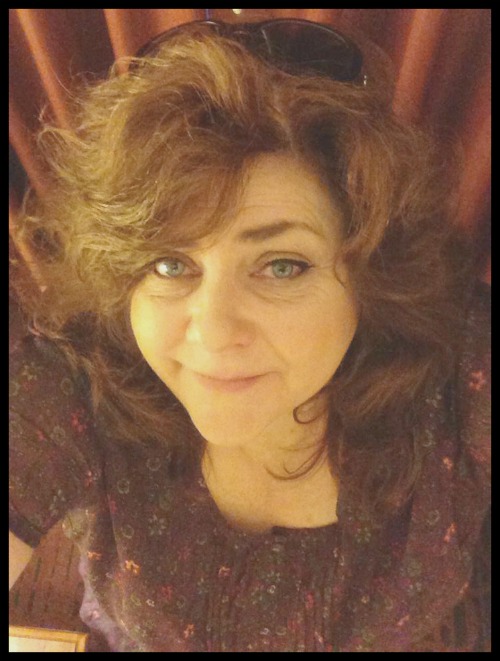 Kari McKnight Holbrook 
" I delight in sharing art and encouraging you to bloom in your personal artistic journey."  
The Backporch Artessa, AKA as Kari McKnight Holbrook offers engaging classes designed with your pleasure and success in mind. A seasoned instructor, Art and Soul, CREATE, Art Is You, Art Unraveled, Artiscape, and Smitten Dust are just a few events she really enjoys. Kari's Art at Cloth Paper Scissors / Her many workshops/videos at Interweave / Backporch Artessa Etsy Store / Kari's Pinspiration  / Sneaky-Peek at her Backgrounds to Bindings Video. 
Kari will be demonstrating DecoArts fantastic new Media line of products created specially for todays mixed media artist. There will be make 'n takes that will work wonderfully with your weekends projects, allowing you to play with our sponsors wonderful products!  Roc-lon® Fabrics and Sculpey will also provide wonderful door prizes and luscious swag bags, along with other vendors that will thrill and amaze.
Hosted by: Creative Communion with Glenda Miles -contact me with any questions or concerns at glenda@glendasmiles.com or 937.405.7500

 We look forward to seeing you at Snip, Sip & Sew! 
Glenda, Kecia, Linda & Kari 
Best Practices:  
We're hard wired for connection, community, and a sense of belonging. Being part of a group promotes being seen, heard, valued and understood. It is the intention of Creative Communion to manifest warm, inviting spaces and authentic experiences. Permission to play, curiosity to explore and vulnerability are highly encouraged.
Cancellation and refund policy:
Creative Communion reserves the right to cancel events with insufficient enrollment. The decision to cancel, and notification to ticket holders will be made 3-5 days prior to the date of the event. Full refunds will be given and processed via paypal within 5 business days when  events are cancelled due to low enrollemnt. Notification of cancellations due to inclement weather or unexpected circumstances will be made as soon as possible via text message, email and provided contact information. Full refunds will given and processed vial paypal within 5 days of the date of the cancellation.
It is understandable that "life happens" and unforseen circumstances may prevent you from attending a ticketed event. In the case where you can not participate, please notify me as soon as possible. Full refunds are only available up until 30 days prior to your ticketed event. Because instructors have already financially committed to their scheduled event, tickets are non-refundable after this 30 day prior period.
When & Where

Transfiguration Spirituality Center
St. Mary's Retreat Center
461 Albion Avenue
Cincinnati, OH 45246


Friday, May 20, 2016 at 3:00 PM

-

Sunday, May 22, 2016 at 5:00 PM (EDT)
Add to my calendar
Organizer
Spotlight holder for maker experiences. Unstoppable enthusiast for creative living. 
The maker in me, honors the maker in you, ✨
Glenda Miles 

#CreativeCommunion