A buy/sell/trade sneaker tradeshow + lifestyle event with vendors, food trucks, DJ's, raffles, giveaways, opening deals, & much more
About this event
MSXC & Chris Smokes Present: Sneaks Beats & Treats Volume 1! October 17th, 5-10PM, Royal Oak Farmers Market
A buy/sell/trade sneaker tradeshow + lifestyle event with vendors, food trucks, DJ's, raffles, giveaways, opening deals, & much more. The first 50 people will also receive free gift bags upon entry. A LINE MAY BEGIN FORMING AT 4:20PM! PLEASE FOLLOW THE MARKINGS TO REMAIN SOCIAL DISTANCED IN LINE!
Social Distancing Info: The event will be indoors with outdoor patio area, and the venue has an enormous amount of space that will allow us to keep this event socially distanced. We will be strictly enforcing a 200 person capacity, as that is the safe amount allowed currently based on the square footage of the venue. We will have a 50 vendor capacity. We are following the state mandated capacity limitations based on square footage of the venue, and also following the Farmers Market setup & capacity plan that has been successful for them every weekend. Interested vendors can email msneakerxchange@gmail.com to receive a vendor application. Masks must be worn AT ALL TIMES. Masks must be covering your nose and mouth at all times. There are no exceptions to this rule and it will be strictly enforced throughout the entirety of the event for both attendees & vendors. Please be considerate if you have been inside of the event for awhile, and step out for a few minutes to enjoy music, food, & seating so we can keep the line moving and make sure everyone gets in :)
Non-vendors can carry in as many items as they can hold - there is absolutely no setting up on the ground. If you set your items on the ground to relax, please do not be offended if we ask you to keep moving around or step outside to relax/sit down at one of our benches. We are simply doing this to keep people coming in and out of the event, it does NOT mean you have been permanently removed from the event!
This event is open to the public. We will have food trucks, live DJ's, sneaker vendors, streetwear vendors, vintage vendors, local companies doing giveaways, sponsor giveaways, & much more. Stay tuned as we announce some of the deals that'll be dropping & much more on Instagram - @michigansneakerxchange @chrissmokes
TICKETS ARE NON-REFUNDABLE. ALL SALES ARE FINAL.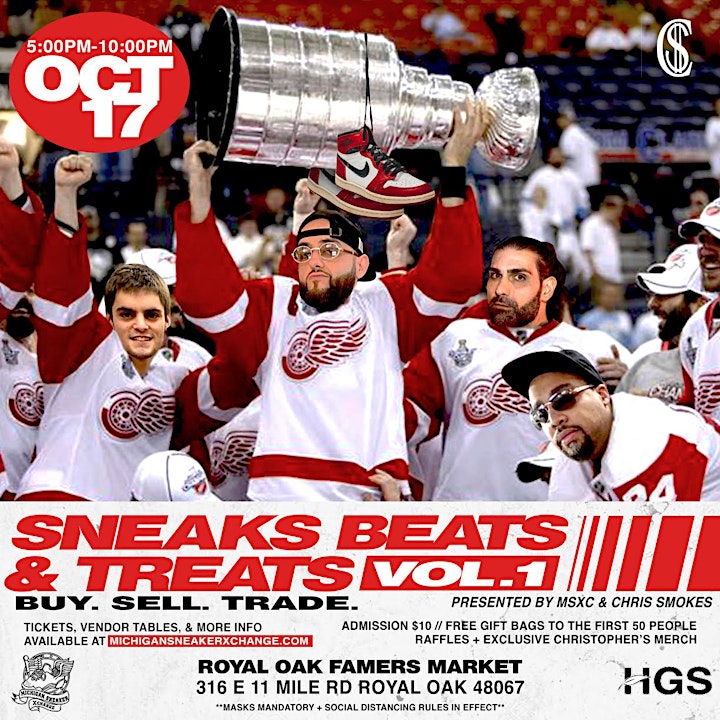 Organizer of SNEAKS BEATS & TREATS - OCT 17TH 5-10PM PRESENTED BY MSXC & CHRIS SMOKES