A buy/sell/trade sneaker & streetwear lifestyle tradeshow with vendors, food trucks, DJ's, giveaways, opening deals, & much more!
About this event
MICHIGAN'S LARGEST SNEAKER & STREETWEAR TRADESHOW IS BACK!
MSXC & Chris Smokes Present: Sneaks Beats & Treats Volume 2! JULY 31st, 5-10PM, Royal Oak Farmers Market
A buy/sell/trade sneaker & streetwear tradeshow + lifestyle event with vendors, food trucks, DJ's, giveaways, opening deals, & much more. This is just like our past Michigan Sneaker XChange events, but with more lifestyle factors included like food, live music, giveaways, collaborations, exclusive Christopher's merch drops, & much more.
Non-vendors can carry in as many items as they can hold - there is absolutely no setting up on the ground. NO ROLLING CARTS, DUFFLES, WAGONS, ETC MAY BE BROUGHT IN BY NON-VENDORS. ONLY BRING WHAT YOU CAN CARRY. Setup space is strictly reserved to tables purchased in advance by vendors.
VENDORS: PLEASE MESSAGE @MICHIGANSNEAKERXCHANGE ON INSTAGRAM TO SECURE YOUR VENDOR SPACE. PLEASE SEND US YOUR NAME, COMPANY NAME, & WHAT TYPE OF ITEMS YOU WILL BE SELLING AT THE EVENT. VENDOR TABLES ARE $150 WITH 2 ADMISSION TICKETS. SNEAKER & STREETWEAR VENDORS TAKE PRIORITY OVER ALL OTHER VENDOR CATEGORIES. ALL VENDOR DETAILS SUCH AS VENDOR LOAD-IN, ARRIVAL TIME, ETC WILL BE SENT TO VENDORS THE WEEK OF THE EVENT.
**SELLING FOOD/DRINKS WITHIN THE VENUE IS STRICTLY PROHIBITED. FOOD/DRINKS ARE PROVIDED & APPROVED BY MICHIGAN SNEAKER XCHANGE. NO OUTSIDE PARTIES ARE ALLOWED TO SELL FOOD/DRINKS OF ANY KIND**
This event is open to the public. We will have food trucks, live DJ's, sneaker vendors, streetwear vendors, vintage vendors, local companies doing giveaways, sponsor giveaways, & much more. Stay tuned as we announce more details on Instagram - @michigansneakerxchange @chrissmokes
**MICHIGAN SNEAKER XCHANGE (MSXC) HAS A ZERO TOLERANCE POLICY FOR FAKE/UN-AUTHENTIC MERCHANDISE AS WELL AS FRAUDULENT BUSINESS. ALL SHOES AND MERCHANDISE BEING SOLD ARE EXPECTED TO BE 100% AUTHENTIC AND NOT FAKES OR VARIANTS OF ANY KIND. IF YOU ARE FOUND TO BE SELLING UN-AUTHENTIC MERCHANDISE AT THE EVENT, YOU WILL BE REMOVED FROM THE EVENT. YOUR TICKET(S) AND TABLE(S) COST WILL NOT BE REFUNDED. ADDITIONALLY, YOU WILL BE PERMANENTLY BANNED FROM ALL FUTURE MICHIGAN SNEAKER XCHANGE EVENTS.**
**MICHIGAN SNEAKER XCHANGE, CHRIS SMOKES & THE ROYAL OAK FARMERS MARKET ARE NOT RESPONSIBLE FOR ANY LOST, STOLEN, OR DAMAGED PROPERTY. WATCH YOUR ITEMS AT ALL TIMES!
**TICKETS ARE NON-REFUNDABLE. ALL SALES ARE FINAL. TICKETS ALSO AVAILABLE AT THE DOOR AT THE EVENT.**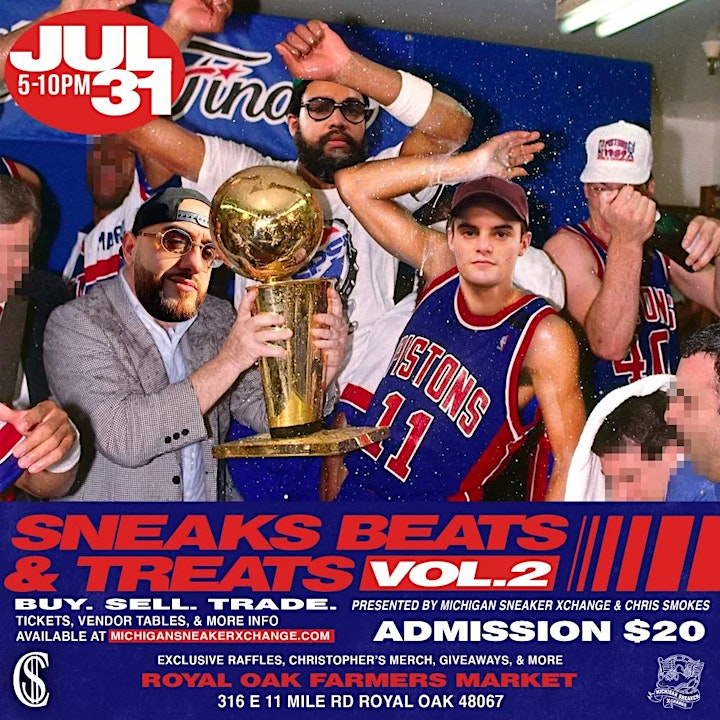 Organizer of SNEAKS BEATS & TREATS - JULY 31ST 5-10PM PRESENTED BY MSXC & CHRIS SMOKES