The night will start with a red carpet entrance make sure you dress in your best formal wear and rock your sneakers (J's, gym shoes, kicks)
About this event
Come Get S.O.M. Presents Sneakers & Barz: A Poetry Slam Infused With A Formal Sneaker Ball
Sneakers & Barz is a poetry slam infused with a formal sneaker ball. Get ready for a night of poetry and partying. This event will showcase 10 dynamic poets taking us on a journey walking in their shoes and battling it out for a cash prize...And after the show is the after party! Dress in your best formal wear and let's get it!
Ladies don't worry about those heels, everyone is in sneakers.
Are you up for the challenge? The audience will be selecting the winner for this competition.
This poetry slam competition writing prompt is "Walk In My Shoes." Do you think you have what it takes to win the $400 cash prize? If you think you'd like to be a part of this slam DM us @_comegetsom
Interested Vendors DM @_comegetsom
Serious inquires only please
- 10 Poets
- No time limit
- Audience voting
- VIP Seating includes hors d'oeuvres, raffle ticket
- General Seating (seating only)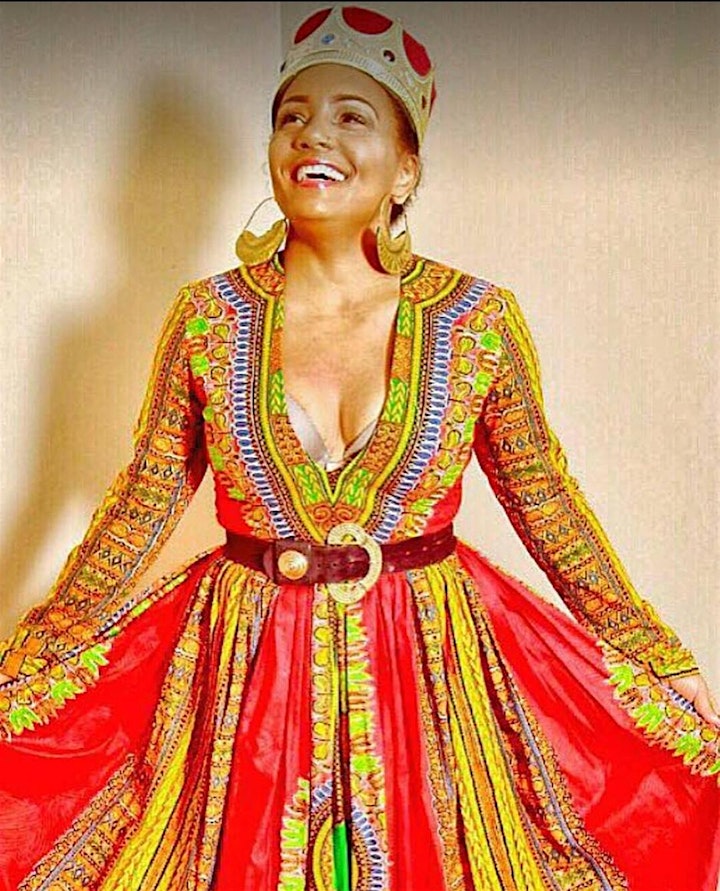 DJ on CrOwD COnTrOL the Legendary Queen Sheba
Born in Detroit, MI, now living in Atlanta GA - 2021 Grammy Nominated Queen Sheba for works featured on Robert Glasper's latest album "F-Yo Feelings".Sheba has six albums, two of which were up for a Grammy under the Spoken Word category and she is a two-time NAACP Image Award Nominee. And for fun, Queen Sheba is an RRCA Certified Run Coach and a two-term brand ambassador for lululemon Athletica – teaching adult athletes all over the country how to fall in love with running again! Lastly, she has just announced running for District #2 Atlanta Board of Education.
Follow Queen Sheba @thequeensheba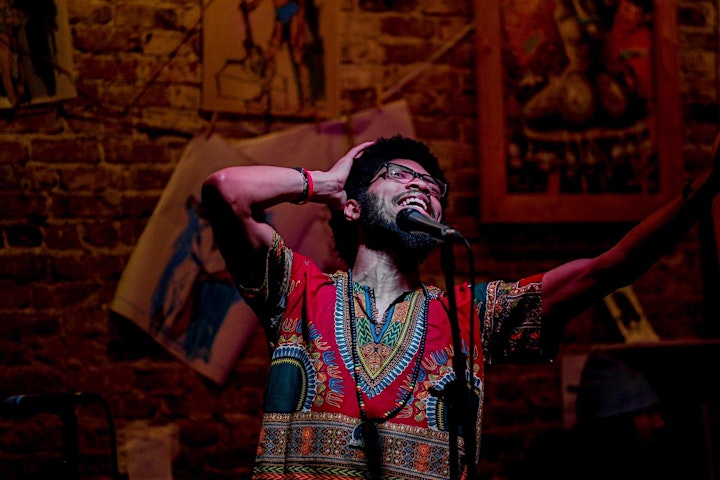 One of the Dopest Poets in the game Mr B Rock ROCK STAR POET your Host for the evening.
Brandon Brockington, also known as Mr B Rock the Rockstar Poet, is a full-time creative entrepreneur specifically in the area of Spoken Word Poetry. Recording music, curating events, crafting buttons and producing digital content are other talents in the repertoire of his professional portfolio. His upcoming endeavor, "Poetry on the Spot w/ Mr B Rock" (or POTS w/ B Rock) involves providing performance workshops for poets looking to improve the quality of their performance on the stage. His goal with POTS is to personally assist over 100 poets who want to get their work to the next level as well as boost the overall quality and diversity of the performance poetry industry.
Follow Mr. B Rock @Mr_B_Rock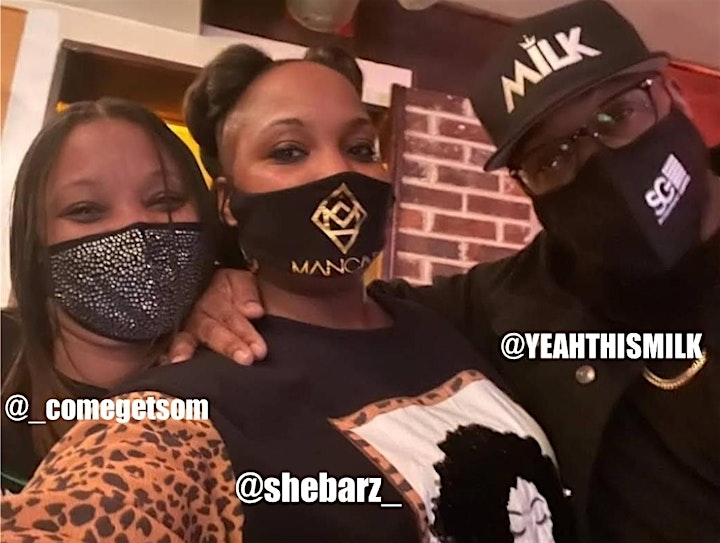 Come Get S.O.M. was started in October 2018 as an open mic for Poetry and all talents. Our 90s Day Party/Open Mic is held every 3rd Saturday and Hosted by @yeahthismilk
We also have an open mic held every 1st Wednesday our Poetic Justice Open Mic Hosted by @shebarz_
You can catch us at Kat's Cafe in Midtown twice a month follow us @_comegetsom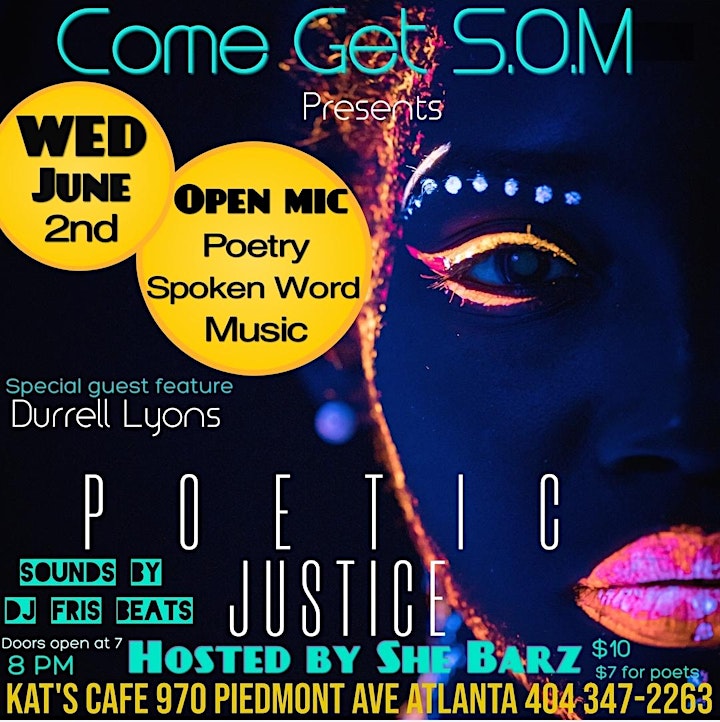 June's event has already passed but you can catch us every 1st Wednesday for Poetic Justice Hosted by @shebarz_
Catch us next Wednesday, August 4 ...Doors open at 7pm show at 8pm Poetic Justice Open Mic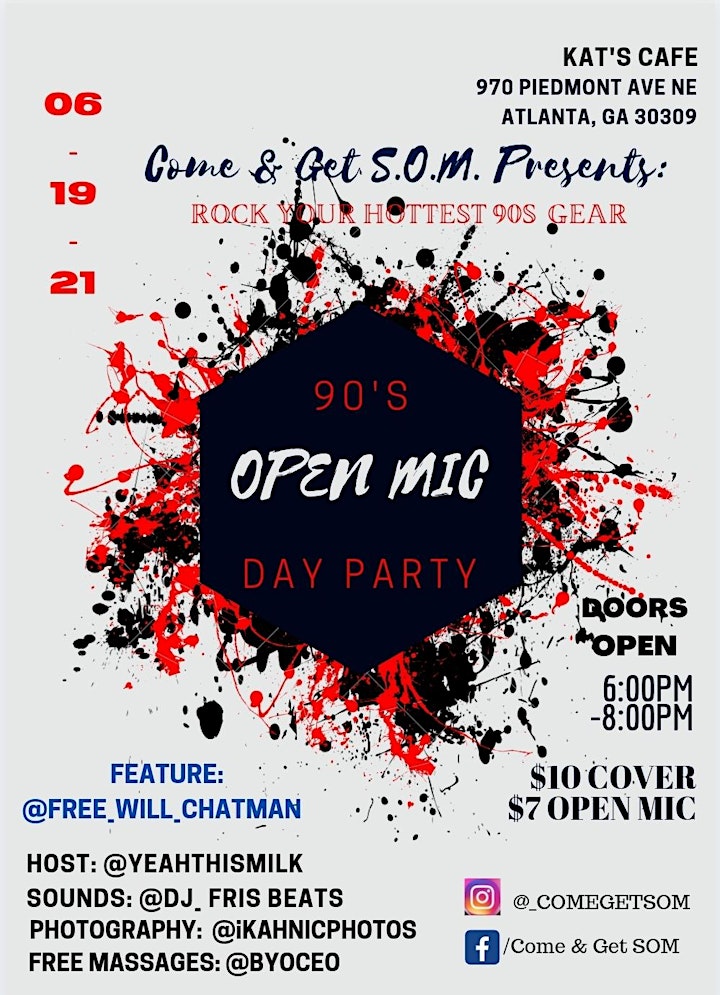 Coming up is our 90s Open Mic/Day Party Hosted by @yeahthismilk Featuring @free_will_chatman
Catch us every 3rd Saturday
Next Show Saturday, August 21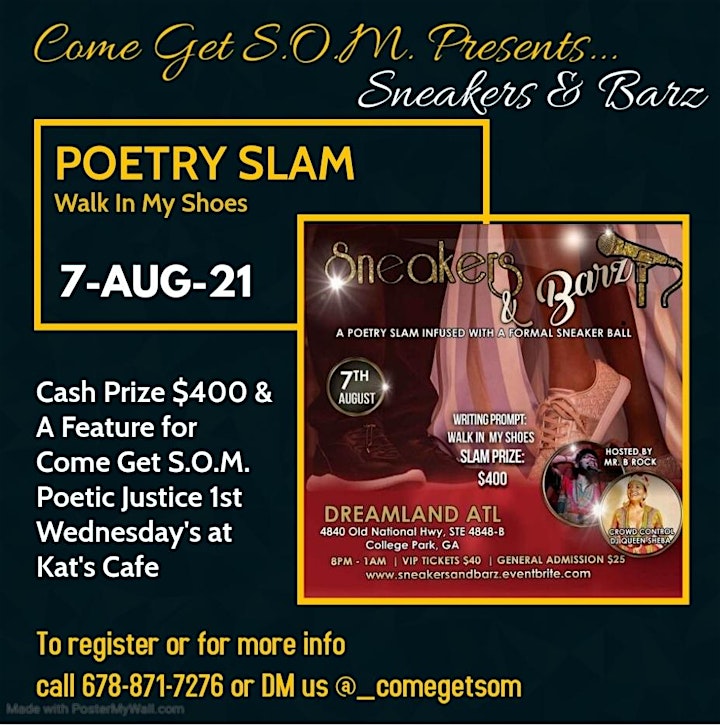 Please note there is a ticket selection for the Slam Contestants Only
If you are a slam contestant there is a ticket option listed. We will reach out by email to be sure you purchased the correct ticket. We will also need a headshot for the final flyer. You may also DM us for more information before you purchase your ticket.
Cash Prize is $400
🔥🔥🔥 Just added! The winner of the Walk In My Shoes Sneakers & Barz slam competition will also Feature at one of our Poetic Justice 1st Wednesday's Open Mic @katscafe. It's about to go down!!!! #feature #cashprize #poetsandwritersfeature #poets #writers #suitandtie #sexydresses #wearwhatyouwant #redcarpetfresh #poetry #spokenword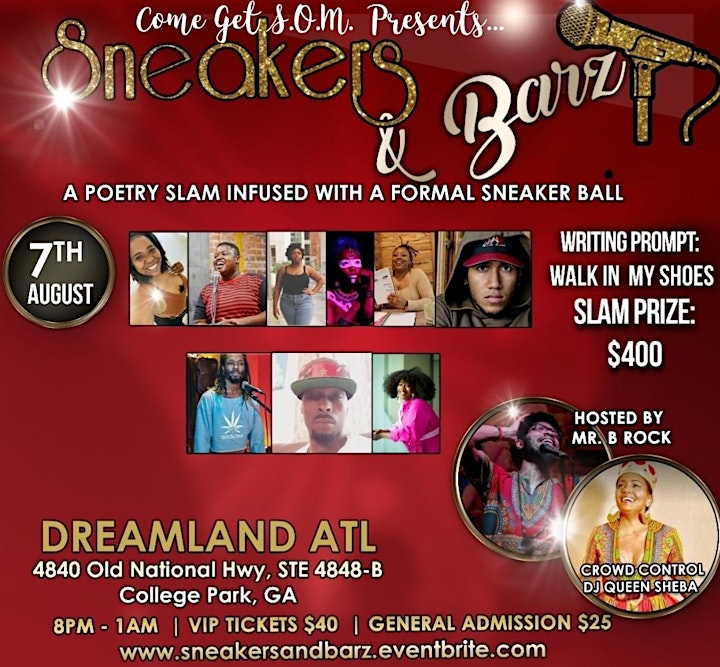 Sneakers & Barz A Poetry Slam Infused with a Sneaker Ball. It's about to be lit 🔥🔥🔥...Saturday, August 7th ....We got some of the hottest poets ready to compete in the Walk In My Shoes Poetry Slam! Issa grown folks prom and we wearing sneakers 👟...If you love Poetry and love to Party you should pull up. Hosting this amazing event @mr_b_rock and on the 1's and 2's @thequeensheba
and some of the dopest poets in the ATL (make sure ya'll follow them) competing for a $400 cash prize and a Feature at our 1st Wednesday's Poetic Justice Open Mic at Kat's Cafe. The audience will be selecting the winner.
@being_starry
@britbratcoolcat
@she.pharaoh
@kahnscience
@agsaminel
@taniadeshawnwrites
@erika_renee_land
@lango_actual
@wizdomthehealerllc
#poetryislife #walkinyshoes #poetry #spokenword #sneakers #barz #bars #grownandsexy #suitandtie #reddress #redcarpetaffair #becausesneakers #itslit #dreamlandatl #getyourtickets #linkinbio👆 #followyourdreams #weoutchea #leoseason #bookyourparty #itsmybirthdaycelebration
For flyers hit up @mistafunn