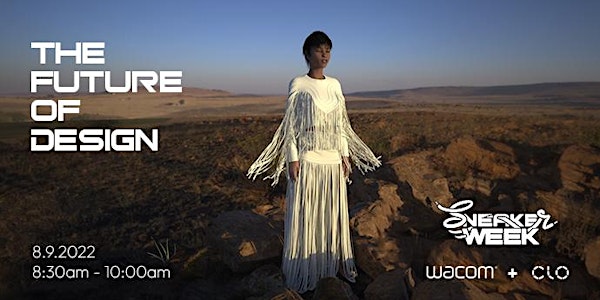 Sneaker Week + Wacom Present: The Future of Design with CLO 3D
Join us for a journey through the 3D deisgn process and future of apparel deisgn with CLO 3D
About this event
Brought to you by SneakerWeek PDX and Tech Day sponsors, Wacom
Join us for a journey through the 3D design process and future of apparel design with CLO 3D
Brought to you by SneakerWeek PDX and Tech Day sponsors, Wacom
Join us for this demo, discussion and Q&A, featuring 3D Design Lead Joy Douglas of CLO 3D.
During this discussion Joy will share her journey as a designer and share insights on what its like to work and design in CLO, one of the leading edge 3D design programs for the apparel and soft industry.
Learn more about CLO features and tools designed to tackle many of the limits of the fashion industry as well as CLO's impact on the industry beyond just fashion.
zoom password will be sent out the evening of 8.8.2022
Tickets are free for all Sneaker Week members. Sign up today or visit our website for the full sneaker week schedule.
About CLO
CLO Virtual Fashion is a multinational technology company founded in 2009. With a vision to change the world through virtual garments, CLO Virtual Fashion is leading the market by digitally merging, consolidating, and converging all components relating to digital and physical garments through its state-of-the-art 3D Cloth Simulation Algorithm.
From 3D garment design software, digital asset management and design development collaborative platform, to consumer-facing services such as virtual fitting on e-commerce, all of CLO Virtual Fashion's products and services are interconnected to provide clients and users with a more consolidated experience.
CLO is the market-leading 3D design software that allows apparel designers and brands to easily and accurately construct creative garment designs digitally. Used by bix-box retailers, vertical brands, freelancers, and creative agencies, CLO has continued to innovate the market through the introduction of groundbreaking features as part of each new release and cutting-edge integrations with industry leaders providing apparel brands and users a seamless workflow.
Designer Bio
Joy is a 3D designer that specializes in digital apparel and equipment products. As a Design Lead at CLO Virtual Fashion, Joy primarily focuses on digital design strategy and implementation for apparel and pattern based brands. Before joining CLO, Joy primarily worked in the luxury fashion industry. Her experience includes many aspects of the industry including design, production, and marketing.