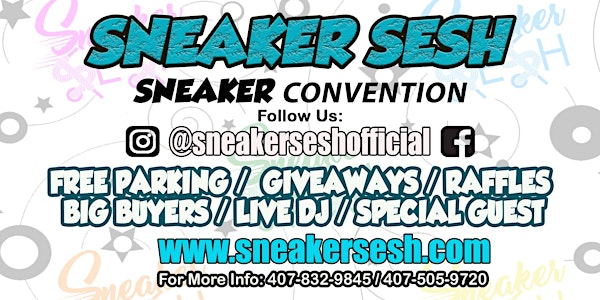 Sneaker Sesh - The Exclusive Sneaker Convention
Central Florida's Top sneaker trade show with.Vendors Ranging From Sneakers - Art - Vintage - Collectibles & More!!!
Date and time
Sunday, July 16 · 11am - 5pm EDT
Location
Avanti Palms Resort and Conference Center 6515 International Dr Orlando, FL 32819
About this event
Sneaker Sesh Sneaker Convention invites you to this premier event!
There will be buying, selling & trading of shoes, apparel and accessories as well as, Live Music by DJ Oacekid, Special guest TBA will be in the building, Sneaker bloggers and influencers, Raffle's, live auctions, and getting to meet people in the culture. Food, beverages, and cocktails will be available.
By participating in any events planned and controlled by Sneaker Sesh Sneaker Convention you agree to the following:
Sneaker Sesh events are provided with no special warranty either express or implied. The Organizers, including but not limited to the Advisory , Staff and Sponsors, of Sneaker Sesh events assume no liability for any loss, theft, damage, or injury to property or persons, including death, whether arising in contract, negligence, equity, or otherwise.
You assume all risks when participating in Sneaker Sesh events. All participants must use care and good judgment and must obey all rules and regulations of SNEAKER SESH. You will comply with all requests made by employees of Sneaker Sesh. You must obey all laws of the State of Florida. Sneaker Sesh reserves the right to eject any participant who does not comply with the terms of this section. Ejected participants will not be entitled to a refund or any further recourse.
You will defend, indemnify and hold harmless Sneaker Sesh Sneaker Convention and its organizers, directors, employees, consultants, agents, affiliates for any and all legal actions arising out of participation in Sneaker Sesh event. You further agree to pay all legal fees incurred by Sneaker Sesh that arise due to this agreement.
You give Sneaker Sesh authorization to use and post any photographs, videotapes, recordings or any other record of our events, including full names of any participants, before during or after the event for promotional use, reporting to the media and to publish on our website or blog. You will not be entitled to any compensation for the use of your name or image.
Refunds for any reason will be at the discretion of Sneaker Sesh Sneaker Convention
Sneaker Sesh Sneaker Convention reserves the right to exclude anyone from becoming a Sneaker Sesh Sneaker Convention participant should they choose not to accept this Agreement
No food, exotic snacks, or drinks of any kind are allowed to be sold during the event
*No refunds
General Admission with Wagons or Hand trucks are allowed at an additional charge!!!
Time: 11am-5pm
Avanti Palms Resort Conference Center
6515 International Dr. Orlando Fl 32819
Frequently asked questions