SND LinkedIn Training w/Visuals Workshops (Part 1 of 2)

Thursday, May 14, 2015 from 9:30 AM to 4:00 PM (CDT)
Event Details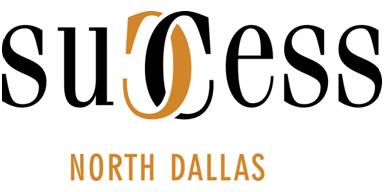 Welcome Success North Dallas & other guests!  
We are offering LinkedIn Training and Visuals that you won't find anywhere else and at a 35-66% savings for you: 
LinkedIn classroom training on 5/14  (Part 1) 

Schedule your 1-on-1 photo/video shoots before the next classroom training  (Tentative dates will be either 5/21 or 5/28 or both if enough sign up)

LinkedIn classroom training on 6/4     (Part 2)  Learn how to load your photo/videos & all other visuals plus the rest of the series
You will have the option to select from the following offerings, those that best meet your needs:
LinkedIn Hands-On Classroom Training Series 6-8 hrs

Professional Headshot

30 Sec Video 

1-2 Min Video 

1-on-1 Coaching/Advice in preparation of Video Taping
Detailed descriptions of each of these offerings are as follows:   
LinkedIn classroom training on 5/14  (Part 1)  
Class #1: LinkedIn Essentials - "Dress for Success on LinkedIn"
Roadmap to navigating LinkedIn®; Focused on the individual. It's not a resume so think differently. Branding for the most ROI. What do I have to do to make my relationships / business development work effectively? Making the most of your touch points in the shortest time
Class #2: Build Attraction – "Setting the Mouse Trap"
Explore the tools and suggestions LinkedIn® offers. Sharpen up on how these tools can offer even better suggestions for you. Building your Network. Don't just accept an invite! Business Etiquette. Making impactful first impressions on LinkedIn® with minimal effort…
LinkedIn classroom training on 6/4  (Part 2)  
Class #3: Visuals – "Sizzle your Brand"
Add Marketing Info (brochures, videos, headshots …) to your presence. New features in LinkedIn for visuals. Maximizing your first impression's impact on LinkedIn® to differentiate yourself/business…
Class #4: Business Development - "Prospecting for that Golden Nugget"
Where & how to look for leads, searching, targeting. Do's & Don'ts on LinkedIn®. Group participation. Business Etiquette. Search, search & more searches from beginner to advanced level. How many ways can I get into that company or get to that prospect? How to work a lead through that pipeline funnel?
In all the classes you will learn tips, tricks, techniques, best practices, successes and best of all, gotcha's. Throughout the classes there is an emphasis on dispelling common misperceptions and natural behaviors on LinkedIn, that are not in your best interest when you understand the full potential of LinkedIn. Examples include, "Here is something a naive person would naturally do, it seems reasonable, but don't hit that button!" Here are the reasons why you don't want to fall for it." All the classes are instructions on the free version of LinkedIn. Once you've completed the series, then you will be able to determine if you still need to pay for the premium services.
All classes are taught with you hands-on on your laptop following the instructor's 2 screens. One screen will be the Instructor "Live" on LinkedIn. The other screen will show the PowerPoint training materials, templates, tools, and examples. You will have copies of all the materials. This course is taught on the pc rather than any mobile device. This is due to:  less control on the mobile device, very limited functionality, and a different navigation.
Where can I contact the organizer with any questions?
| | |
| --- | --- |
| Success North Dallas | Bill Wallace  (214) 686-7778 |
| LinkedIn Training & Loading Visuals to LinkedIn | LucindaRuch@LinkForSuccess.com |
| Headshots & Videos | Winn Fuqua  (469) 867-3782 |
| Organizer & All other | LucindaRuch@LinkForSuccess.com |
Did you find the right package you want to sign up for?
If not, please contact the Organizer above.
What if I want more details on each class?
In Eventbrite, under this organizer, "Link For Success" or www.Linkforsuccess.eventbrite.com you will see each class individually listed there either in upcoming or past events.  When you open those events you will see 2-3 pages of detailed descriptions, objectives, takeaways, handouts & materials, exercises, prerequisites and much more.  For example, our 1st session on 5/14/15 is LinkedIn Essentials.   You will see in Eventbrite that LinkedIn Essentials was taught March 19, 2015.  When you open it for details you will see 2-3 pages of these details.
How will I learn when my appointment is for my headshot &/or video?
If you signed up for a package that includes either headshots or videos, then you should have been prompted for your availability for two dates.  The questions are a survey for us to know how many appointments we need to schedule between the 2 LinkedIn classroom training dates (5/14 & 6/4) and how many rooms.  If you have selected a package with headshots or video taping we will be contacting you to schedule your appointment.  If May 28, 2015 appointments fill up we will open up appointments for May 21, 2015.  We will not book appointments and rent the rooms on May 21st until May 28th is full.  So this survey allows us to confirm how many rooms we need on which dates for headshots, coaching and video taping.  Thanks for answering the questions.
How is this a special savings of 35-66%?
| | | | | | |
| --- | --- | --- | --- | --- | --- |
| |   | | | | |
| A | 1 Class in the series of 4 classes  (2-2.5 hrs) | | | | |
| B | LI Training Series (w/o) the Visuals class (3 classes) | | | | |
| C | LI Training Series  All 4 classes (Don't want a new headshot/video but want to load your Visuals) | | Not Offerred! |   |   |
|   |   |   |   | | |
| D | | | | | |
| E | A 30 sec. video in studio (includes Youtube hosting) | | | | |
| F | 1-2 min Video  (includes Youtube hosting) | | | | |
|   |   |   |   | | |
Can I update my registration information / change my order?
Yes, the questions above are more of a survey for us to confirm how many rooms we need on which dates for headshots, coaching and video taping.  You can come back and update your answers at any time.  You can also update your contact information at any time.  You can also come back and add additional purchases.  The only thing you can't do is request a refund.  If for some reason you can't make the dates, you can apply your funds to the next time the LinkedIn classes are taught or you can schedule your photo/video appointment for when we are setup again for shoots.
Can I pay at the door?  Can I be a Walk-in?
For the classroom training, no.  You won't have materials.  You won't have a seat. The instructor will be attentive to starting class, with the exercises while everyone is getting connected to the Wi-Fi.  In addition if you haven't signed up then you will not have received the confirmation with the prerequisites for coming to class and special instructions.
For the day(s) of the photo & Video shoots, no.  We will be on a tight schedule rotating attendees through 4 main areas: from the sign-in, waiting area into coaching, then headshots, then video,  etc...
 Tags:  Social Media Breakfast, Dallas, DFW, Addison, Social Selling
When & Where

Girl Scouts of NorthEast Texas
6001 Summerside Dr.
Dallas, TX 75252


Thursday, May 14, 2015 from 9:30 AM to 4:00 PM (CDT)
Add to my calendar
Organizer
Lucinda Ruch, Link For Success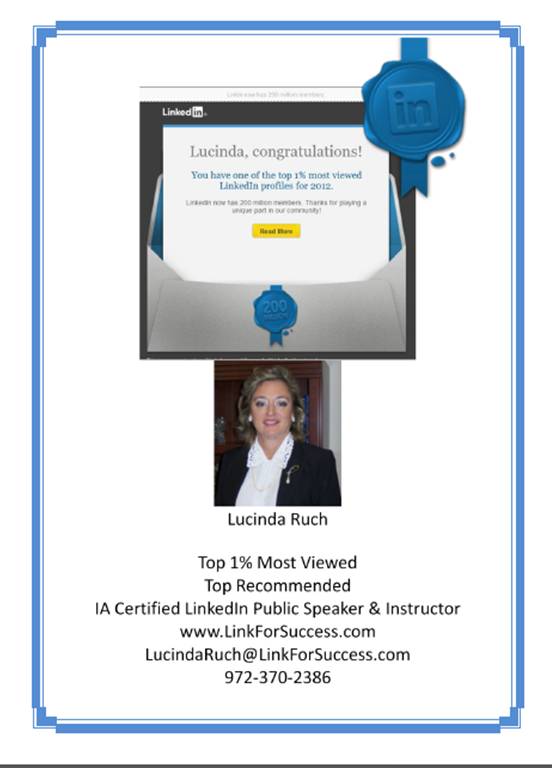 LinkedIn Consulting, Training & Public Speaking, serving the DFW Area:  Dallas, Ft. Worth, Denton, Irving, Arlington and surrounding areas.  Founding Board Member of Social Media Breakfast (SMB) Dallas.  It's now the 2nd largest in N. Texas.  Communications/PR (LinkedIn) for Success North Dallas (SND) and Americas Future Series (AFS).
SND LinkedIn Training w/Visuals Workshops (Part 1 of 2)