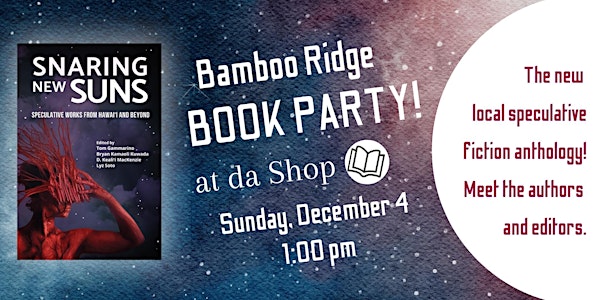 Snaring New Suns: Book Party & Readings by authors, editors, artists
Calling all sci-fi and fantasy fans! Come celebrate the first speculative issue of Bamboo Ridge with local stories that "imagine otherwise."
When and where
Location
da Shop: books + curiosities 3565 Harding Avenue Honolulu, HI 96816
About this event
Meet and talk story with editors, writers, and artists who collaborated on Bamboo Ridge's first-of-its-kind anthology of local short stories and works across speculative genres. Book signing to follow the readings and Q & A.
Bamboo Ridge Press and guest editors Tom Gammarino, Bryan Kamaoli Kuwada, D. Kealiʻi MacKenzie, and Lyz Soto put out a call for submissions and challenged writers to create speculative narratives that "imagine otherwise." The result is a collection of pieces from forty-eight established and emerging authors and artists whose work goes beyond science fiction and fantasy into a new realm of speculative work. Thoughtfully curated and arranged to amplify each piece within a larger reading experience, SNARING NEW SUNS is a special anthology that experiments with form and mixes genres to include stories and poetry of the supernatural, alternate reality, climate fiction, and more. Plus, art, graphic stories, nonfiction, and even a stage play.
About Bamboo Ridge:
Bamboo Ridge Press was founded in 1978 to publish literature by, for, and about Hawaiʻi's people. In forty plus years, they have published a diverse catalog of poetry, prose, screenplays, stage plays, novels, and more, and continue to nurture the voices of emerging and established writers in honor of our Islands' literary tradition
About the bookstore:
da Shop: books + curiosities is Honolulu's favorite community bookstore. Located in Kaimuki and uniquely curated for locals, da Shop is where books, print publishing, and community converge to celebrate independent bookselling, books as artifacts, and bookstores as a cultural space where anyone may encounter ideas to enrich and inspire their lives.