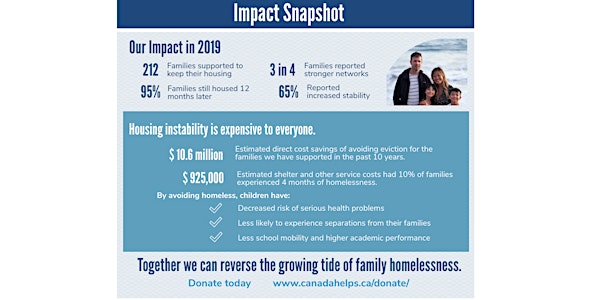 Snapshot Design: Dashboards, Impact Reports and Infographics
Design an Engaging Summary of Impact and Value
By Vancity Community Foundation
Date and time
Thursday, June 3, 2021 · 10:30am - 12pm PDT
About this event
Demonstrating Value (DV) is a measurement framework that lets you take control of the data your organization collects and how it's used. Most organizations like yours want to use data more effectively to make better decisions, support planning and demonstrate impact and value. A 'Snapshot' report, whether it's a dashboard, infographic or impact report, is a great communications tool to bring your organization's data to life.
In this 1 ½ hour, interactive workshop we'll design a Snapshot together using Piktochart, an on-line design tool available at low cost to nonprofits. Through this demonstration, participants will learn how they can design Snapshots themselves using the process outlined in the free-to-download Guide: Developing a Snapshot: Communicating Your Value. In addition to Piktochart, Snapshots can be designed in many software programs that nonprofits use regularly (like MS Word, Google Docs, Powerpoint, etc) as well as more specialized graphic design and 'data visualization' tools.
This workshop is directed to social purpose organizations (e.g. social enterprise, non-profit organization, impact business) and is suitable for executive directors, program staff, social entrepreneurs, communications staff and others directly involved in running organizations.
The workshop is facilitated by:
Bryn Sadownik, Consultant, Evaluation and Learning (Vancity Community Foundation)
Karen Gelb Research, Evaluation, Knowledge Mobilization Consultant
Feel free to share this invite link with others you think would benefit. Before the session, we'll reach out to you with a few short activities that you can do ahead of time to get the most of this session.
Workshop partners
Vancity Community Foundation is a public charitable foundation that supports Vancity Credit Union's vision of redefining wealth in a way that furthers the financial, social and environmental well-being of its members and their communities
Demonstrating Value Resource Society is a non-profit organization based in Vancouver, Canada. The Demonstrating Value Framework is aligned with the
Common Approach to Impact Measurement, is an emerging, flexible standard for Impact Measurement in Canada.
Going Further
Following the workshop there are some opportunities for participants to apply what they've learned through the following:
• 'Discussion Circles' that will enable participants of our workshops to bring the specific issues they face in evaluation and measurement for feedback and discussion with peers and workshop facilitators.
•The Opportunity to book an hour to discuss a specific measurement-related issue with a workshop facilitator (limited hours at no charge are available).
Each session will also describe resources and opportunities to support further learning.