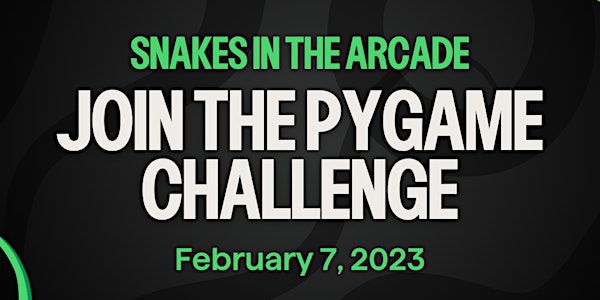 Snakes in the Arcade
Join our meet-up to broaden your Pygame skills, network with your peers, and enjoy free beers & snacks.
Date and time
Starts on Tuesday, February 7 · 6:30pm EET
Location
Gustava Zemgala gat. 74 74 Gustava Zemgala gatve 1039 Rīga Latvia
About this event
We are excited to host our second Life of Py meet-up "Snakes in the Arcade" on the 7th of February, this time "with a cherry on top"!
"Snakes in the Arcade '' will be a workshop about everything and anything around Pygame! Grab your laptop and come to learn interesting features, play original Pygames and network with like-minded people.
Our event host will be the one and only Aleksandrs Safronovs, our beloved Tech Support Manager. Matīss Žilko, Pygame enthusiast, will give the workshop on Pygame features.
Seems interesting? Then join us!
If you have an idea for a game and would already like to start building, then join our pre-event Pygame Jam!
The Pygame Jam is a remote, retro style game challenge in which you can participate individually or in teams of no more than 3 people.The aim of this jam is to have fun and broaden your Python skills and knowledge. If you need a little push then we are happy to announce that there will be prizes for the best games!
Game evaluators and our panel of judges will be revealed in the upcoming weeks.
More info about the Snakes in the Arcade Pygame Jam Challenge
Challenge : Snakes in the Arcade Pygame Jam
Theme: Retro games
Time: 13.12.2022 - 16.01.2023
Registration form: https://forms.gle/M8M92oGhp7VVJfKw9
Rules:
All submissions must be created during the jam period. Games started before the jam are not allowed.
Primary language must be Python and participants must use the Pygame library for most of their game (core logic and most of the drawing must be written using Pygame). Additional libraries (such as pygame_gui, numpy, built-in libraries, ModernGL to name a few) and generic code from previous projects is allowed, however, it should not be overused so that most of the game would be written during the jam.
Assets such as sprites and models should be at least half original. If you use someone else's work then you must be clear about the copyright status!
Teams are allowed but no more than 3 people per team.
You must submit the entire source code of your game, including the assets you used.
You MUST be clear about the copyright status of anything you use that is not your own work (this means that you should know whether existing code needs to be referenced and you should provide source information; more info) .
Criteria:
Theme
How accurately and creatively does the game resemble a retro style game. Whether it generally follows the set theme or does it follow the theme in a creative manner.
Polish
How much effort has been put into the game to make it feel complete and detailed. This includes various complementary visual effects and detail, visual aid for the player, how many levels have been created and how big and detailed they are. Animations will be judged by how good the animation looks, if its movements match with animation and with action, how many frames it will have. If there are any easter eggs.
! Buggy and rushed parts of the game will receive a lower rating based on this criterion.
Innovation
How the game is different from existing games and the work other participants have submitted. How creative and unique the implemented ideas are, not how well they have been implemented.
Code Quality
An unusual criterion, however, given the long period of time given for this jam, it should be possible to produce high-quality Python code. This means following the PEP 8 style guide as closely as possible, writing code that can easily be expanded upon, readable code, consistent style, and other general good coding practices.
Game Feel
This will be based on the smoothness of the game, its framerate, controls, motions, ease of use, game balance (i.e., how different items, entities or maps are balanced against each other), etc.
Submitting the game
To submit the game, you must create a public GitHub repository at github.com and upload your game files to it before the 16th of January, 2023, using a version control system like Git (for ease of use you can also use GitHub Desktop). If you are struggling with using a version control system, you can also compress your project into an archive (usually a .zip file) and upload that to the repository by simply clicking the "Add file" button. You will then be required to share a link to the file location. You are not allowed to make any further changes to the repository after the jam has ended and before the grading period ends.
You have to send your GitHub repository link to: gerda.grobina@nordigen.com
Let's not lose any time and get started with our fun Pygame challenge! You can show off your game at the meetup and find out if you are the winner of the prize!
Disclaimer!
Anyone attending the event who does not wish to have their image recorded for distribution should make their wishes known to the photographer, and/or the event organizers, and/or contact Life of Py at gerda.grobina@nordigen.com.