SMPTE PDA Now Webcast: High Frame Rates

Thursday, September 13, 2012 at 1:00 PM (EDT)
Event Details
High Frame Rates – A Technical Discussion on the Impact it Will Have on Motion Imaging Workflows
Thursday, 13 September 2012
17:00 UTC / 13:00 Eastern / 10:00 Pacific
Login Details to Be Provided
Guest Speaker: Jim Whittlesey, Deluxe
With an eye on the ever evolving motion imaging technology horizon, high frame rate (HFR) content is the next challenge to impact the entire theatrical workflow. So what are the benefits of HFR technology? How will HFR affect the media workflow, including:
lest we forget,  "The theatrical experience"
What challenges stand between current workflows and widespread adoption of HFR? Please join our very special guest speakers as they explore the essentials of High Frame Rate media.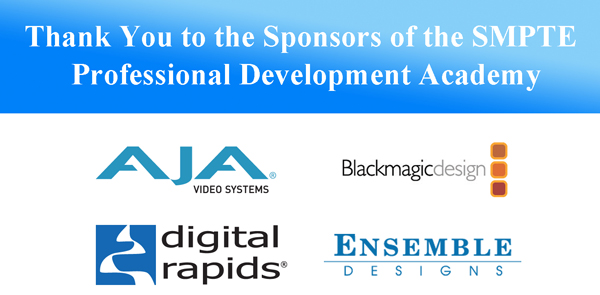 Have questions about SMPTE PDA Now Webcast: High Frame Rates?
Contact SMPTE
Organizer
SMPTE
For the past 100 years, the people of the Society of Motion Pictures and Television Engineers (SMPTE, pronounced "simp-tee") have sorted out the details of many significant advances in entertainment technology, from the introduction of "talkies" and color television to HD and UHD (4K, 8K) TV. Since its founding in 1916, the Society has earned an Oscar® and multiple Emmy® Awards for its work in advancing moving-imagery education and engineering across the communications, technology, media, and entertainment industries. The Society has developed thousands of standards, recommended practices, and engineering guidelines, more than 800 of which are currently in force.
SMPTE's global membership today includes 7,000 members, who are motion-imaging executives, engineers, creative and technology professionals, researchers, scientists, educators, and students. A partnership with the Hollywood Professional Association (HPA®) connects SMPTE and its membership with the professional community of businesses and individuals who provide the expertise, support, tools, and infrastructure for the creation and finishing of motion pictures, television programs, commercials, digital media, and other dynamic media content. Information on joining SMPTE is available at www.smpte.org/join.