Description
Back by popular demand! Presented in a mixer format, event attendees travel to two tables of 10 during the evening. Each table is headed with a carefully selected owner/ developer/ potential client in key industry markets. The moderator for each table will lead a business development related discussion (lasting 30 minutes), during which attendees are free to ask questions and join in on the lively conversation.


Agenda
4:00 – 4:30 Registration / Table Sign Ups + Networking (Arrive on time to sign up for your two table options)
4:30 – 5:00 First Table Discussion (Event starts promptly! Late attendees will have limited table options)
5:00 – 5:30 Break
5:30 – 6:00 Second Table Discussion
6:00 – 6:30 Networking


Table Sponsors/Speakers
Adaptive Reuse: Leonard Barrett, Beam Development [R&H Construction]
Affordable Housing: Jessica Woodruff, REACH [Walsh Construction]
Higher Ed: Linda Degman, PCC [Emerick Construction]
Industrial: Sean Coletta, PROLOGIS [VLMK Engineering + Design]
K-12 Education: Adam Stewart, Hillsboro School District [Bremik Construction]
Multifamily (Luxury): Wade Lange, American Assets Trust [Cochran]
Multifamily (Market Rate): Seth Henderson, Urban Asset Advisors [LCG Pence Construction]
Commercial Office: Jordan Menashe, Menashe Properties [Turner Construction]
Suburban Growth: Michael Williams, City of Beaverton [P&C Construction]
Tenant Improvement: Tara Platt, Specht Properties [ctrl+shift+space]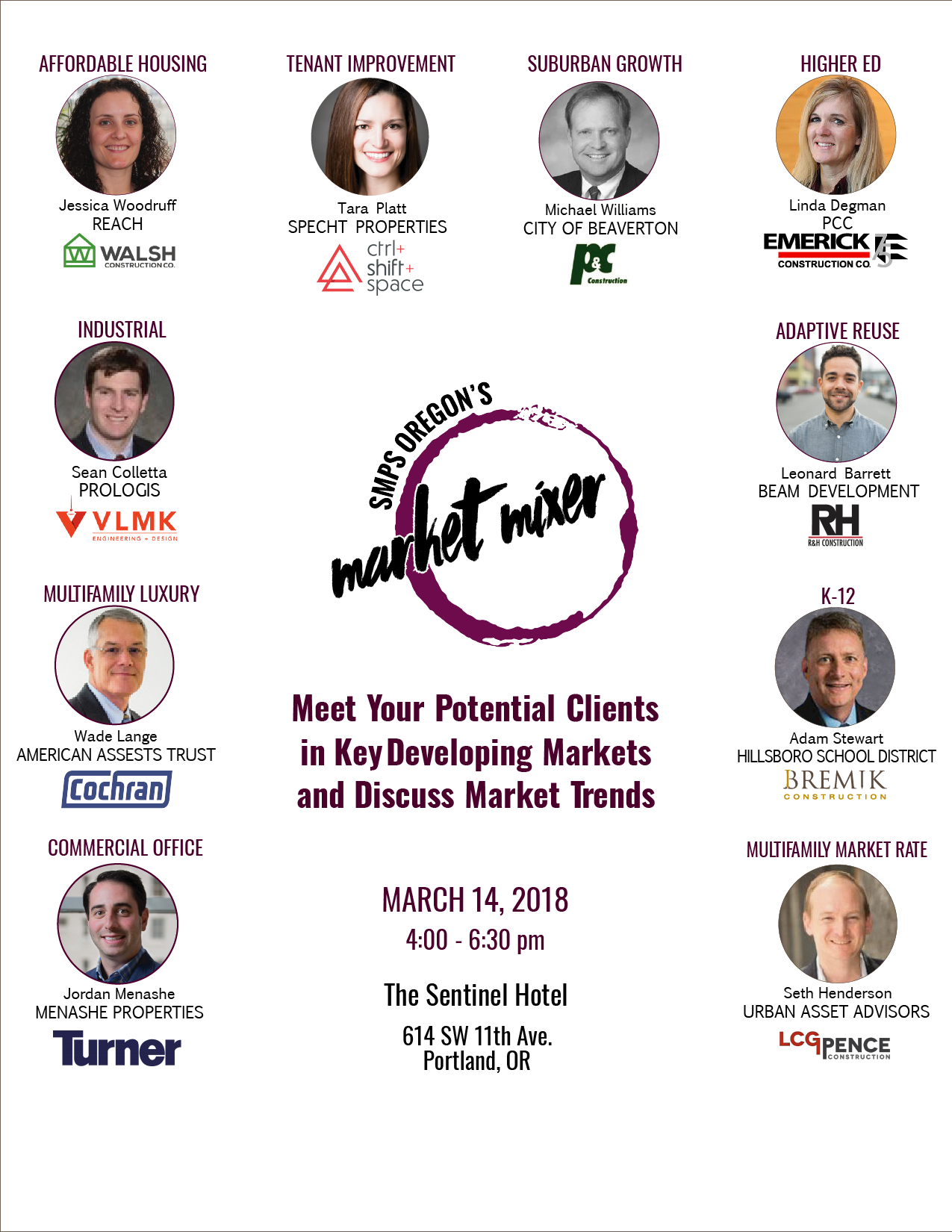 For sponsorship opportunities, please contact Christina Blaser at ChristinaB@harsch.com.