Description
Please join SMPS Pittsburgh as we return to the Rivers Club on Wednesday, May 15th for a panel discussion on transportation and infrastructure in the Pittsburgh region. Learn how your A/E/C firm fits into this diverse industry.
PANELISTS:
Brad Heigel, PE, Chief Engineer, Pennsylvania Turnpike Commission
Cheryl Moon-Sirianni, PE, District Executive, PennDOT District 11-0
David Huffaker, Chief Development Officer, Port Authority of Allegheny County
Kimberly Kennedy, PE, Director of Engineering & Construction, ALCOSAN
Tom Woodrow, PE, Vice President of Engineering, Allegheny County Airport Authority
Moderator:
Bill Flanagan, Chief Corporate Relations Officer for the Allegheny Conference on Community Development
TIME
11:00 AM – 11:30 AM | Members Only "Meet & Greet" (Details below)*
11:30 AM – 12:00 PM | Registration and Networking
12:00 PM – 1:30 PM | Lunch, Panel Discussion, and Q&A
*SMPS MEMBER'S ONLY SPECIAL!
Join the speakers in the Duquesne Room of the Rivers Club from 11:00 – 11:30 a.m. for "Meet & Greet" time. This is for SMPS MEMBERS ONLY and you will be required to be pre-registered and provide your SMPS Member Number to be able to attend this portion of the lunch.
COST
Members: $45
Non-members: $65
Late Registration / Walk-ins: $75*
*Please note regular registration will close on Friday, May 10th at 5:00 PM. After that, late registration cost will apply. We will try to accommodate late registrations and walk-ins up until the day of event, but walk-ins will be subject to space availability.
SMPS SPONSORS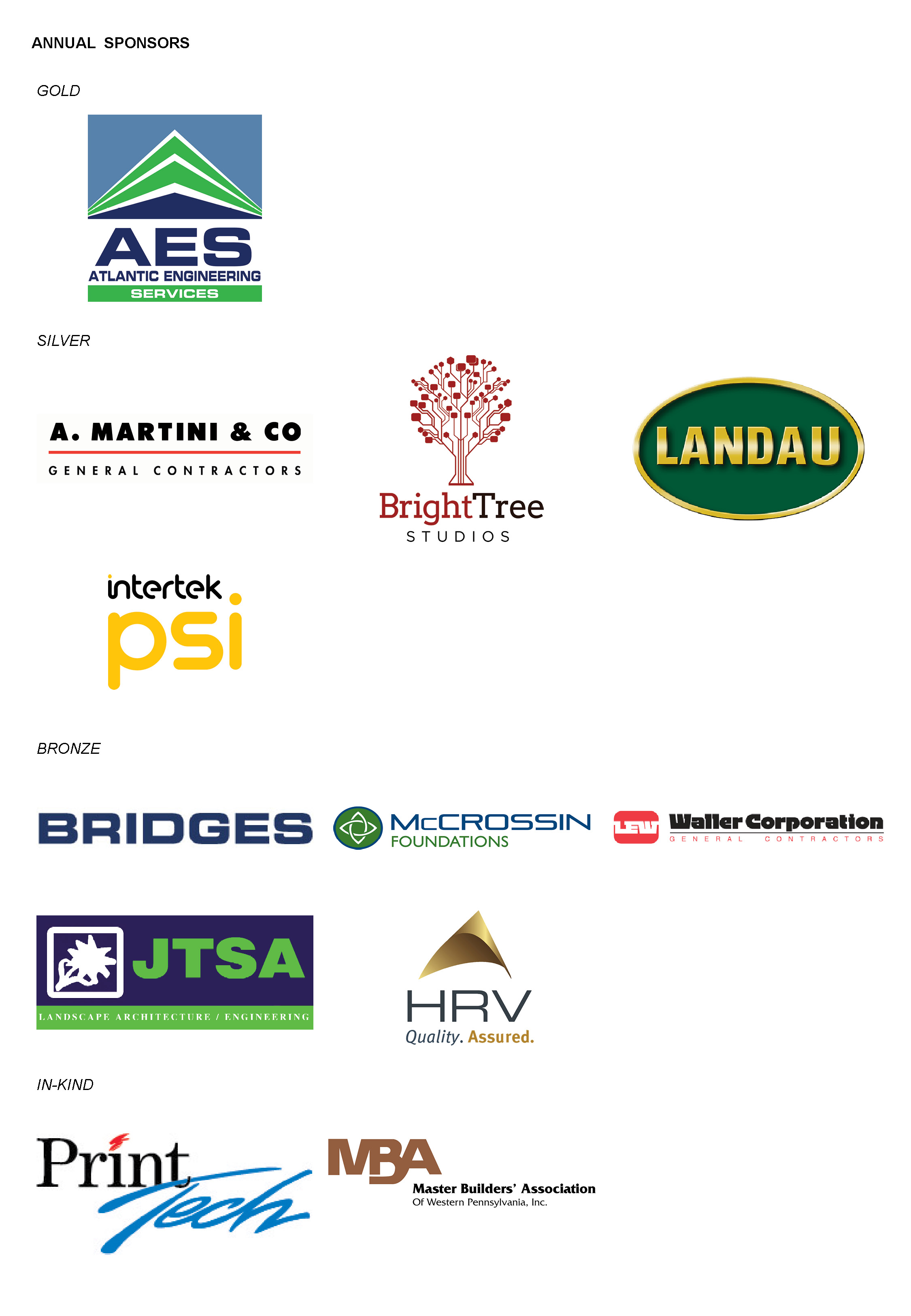 Program Sponsorships are still available! For additional information and sponsorship opportunities, please contact our sponsorship team (Michael Len or Katie Stern) at Sponsorship@SMPSPittsburgh.org if you are interested in sponsoring.
---
The "Transportation and Infrastructure" program is ideal for professionals who are:
Principals and Owners interested in pursuing opportunities in Southwestern PA
A/E/C professionals looking for current and upcoming business opportunities
Business development and marketing professionals desiring to expand their professional network
Professionals invested in supporting growth in the A/E/C industry
Benefits of Attending:
Opportunities for face-time with decisionmakers
Learn about current and upcoming business opportunities
Network with colleagues and clients
---
Cancellation Policy: Cancellations may be made up to 48 hours in advance for a full refund by contacting treasurer@smpspittsburgh.org. If you paid by credit card, your card will be credited. If you paid by check, a refund will be mailed to you within 10 business days. Pre-registered "no-shows" are responsible for the full cost of registration plus a service charge and will be billed accordingly.
Photography Disclaimer: Photos are frequently taken at our chapter events. SMPS Pittsburgh has the right to use photos for the purpose of, but not limited to the following: social media, website, and promotional materials/media.