SMPS-LA Business Development Symposium 2018

Friday, September 28, 2018 from 8:00 AM to 4:30 PM (PDT)
Event Details
SMPS SoCal Chapters Present Business Development Symposium 2018!
Straightforward, no nonsense advice that will immediately up your Business Development Game.
This team knows Marketing and Business Development having helped dozens of A/E/C firms succeed in building business. They bring a pragmatic, real-world approach to winning work. In an industry of hidden agendas, politics and endless circular activities, this team cuts to the chase.
Frank, Stacy, and Deidre have strong industry backgrounds earned by working as employees or consultants to A/E/C firms throughout their careers. They build relationships with people, interacting through intelligent and thoughtful communication, professionalism, and a genuine, fun sense of humor.
Marketing, business development, project manager, principal or all of the above; no matter what hat you wear, come ready to learn about Business Development as it evolves in a new generational model. Come hear from experts who've seen it all and see it all coming head-on. Come prepared to re-adjust your approach and definitely come to laugh.. a lot!
Symposium Leaders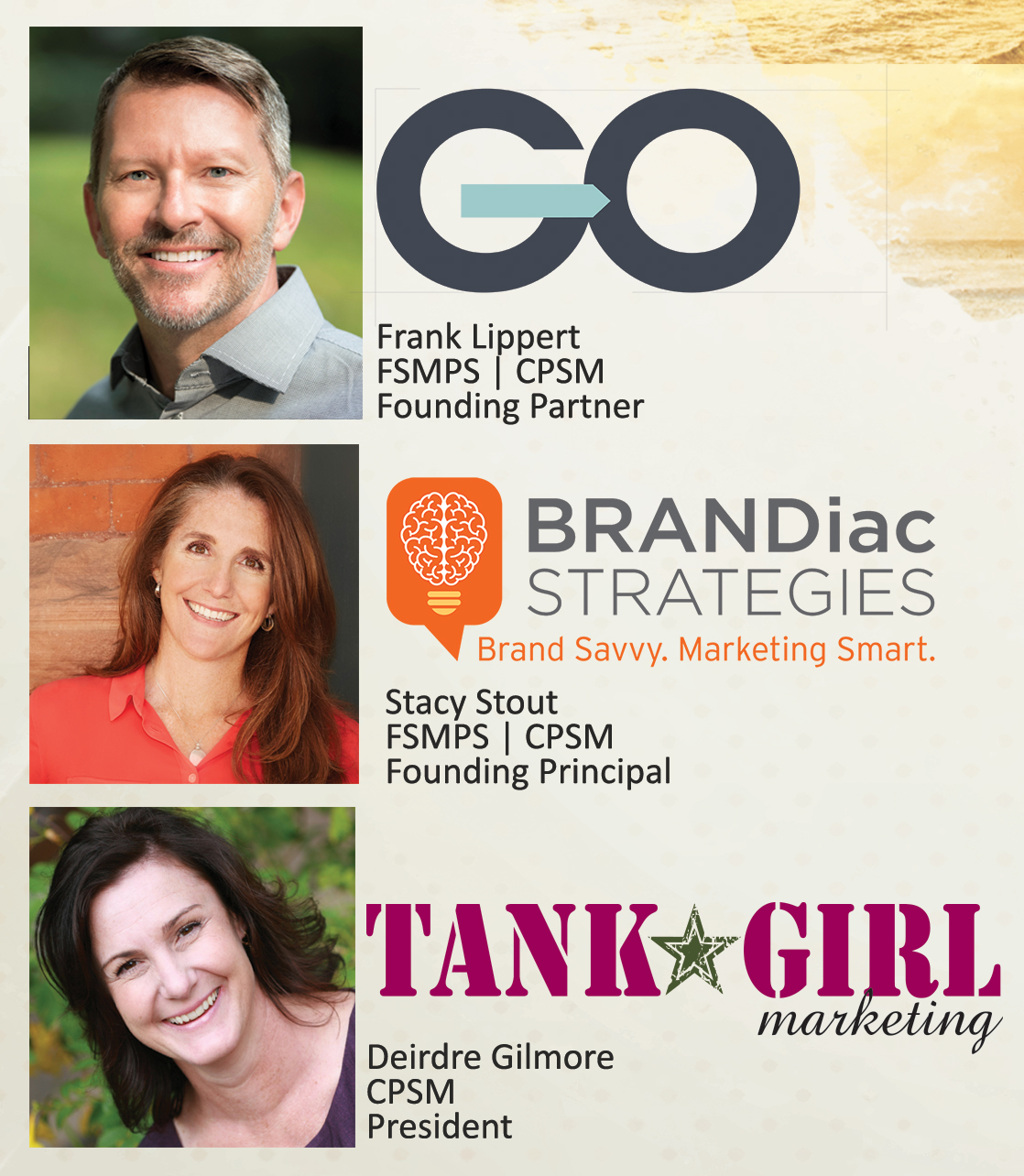 Morning Session
• Business Development 101
• Generational Shifts
• Business Development for Marketers
Lunch Session
Featuring:   
   ‣ Eco-Rapid Transit - Michael Kodama, Executive Director
   ‣ City of Los Angeles - Michael Owh, Inaugural Chief Procurement Officer
   ‣ NBC Universal Parks & Resorts - Gladys Bustamante, Director of Sourcing
   ‣ Gafcon - Gerry Rodriguez, Client Development for the Southwest Region
   ‣ PCL Construction - Paula Stamp, Director of Business Development

• Panel: Procurement Strategies
• Roundtables: Business Development Challenges & Strategies

 Afternoon Session
• Small Group Exercises | Business Development Action Planning
• Closing Remarks + Q&A

Schedule of Events:
8:00 AM - 8:30 AM: Registration & Networking
8:30 AM - 11:00 AM: Morning Session
11:00 AM - 11:30 PM: Break
11:30 AM - 1:30 PM: Lunch Session
1:30 PM - 2:00 PM: Break
2:00 PM - 4:30 PM: Afternoon Session
Price:
$150 - Members
$200 - Non-Members
For general questions, contact Cindy Ionita (cindy.ionita@swaarch.com)
For sponsorship opportunities, please contact Matthew Sullivan (matthew@MSMarketingSolutions.net)
When & Where

AECOM (Conference Facility)
300 South Grand Avenue
Los Angeles, CA 90071


Friday, September 28, 2018 from 8:00 AM to 4:30 PM (PDT)
Add to my calendar
Organizer
The Society for Marketing Professional Services (SMPS) is a national, non-profit organization whose mission is to advocate for, educate and connect leaders in the building industry. The Los Angeles Chapter, known as SMPS/LA, advances that mission by providing tools for career advancement and building business through educational training, client-based programming, networking events and much, much more!