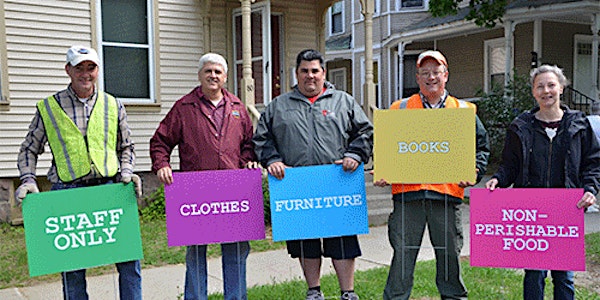 SMOP 2018 Volunteer Registration
When and where
Location
Downtown Burlington Burlington, VT 05401
Description
Sign up to volunteer for the 18th annual Spring Move Out Project (SMOP) - help us out for an hour or two, maybe the whole event!
WEDNESDAY MAY 23, 2018
Downtown Burlington
50 Volunteers needed between 11:00 am and 4:00 pm
SMOP happens, rain or shine!
SMOP provides students and area residents the opportunity to bring clothing, books, household items, furniture, and non-perishable food items to this community recycling and swap event. This popular street swap encourages reuse, recycling, and overall better management of unwanted items during move-out each May.
Furniture in poor condition and other trash is accepted for a fee ($5 to $25) at dumpsters on site. Items not claimed during the event will be donated to local charities, including ReSOURCE and the Chittenden Emergency Food Shelf.
Thank you for your time! The SMOP Team and greater Burlington community depend on you to make this event a success. Without volunteers, this event couldn't happen!
The Spring Move Out Project (SMOP) is a partnership of Burlington Code Enforcement, University of Vermont, Champlain College, CEDO, Chittenden Solid Waste District, ReSOURCE, Casella Waste Systems, and Myers Container Service
---
FREQUENTLY ASKED QUESTIONS
Do I really need to register to volunteer? Can I just show up?
We are very appreciative of all our volunteers throughout the day and we put a lot of time, thought, and organization into figuring out volunteer schedules. Registering as a volunteer helps us understand how the day will flow and where we need to place volunteers. While we won't turn away anyone who shows up during SMOP ready to volunteer, we do ask that you be patient as we find the best volunteer assignment for you.
What am I signing up for?
Volunteers help monitor drop-off stations; several volunteers may be asked to conduct surveys. Most volunteers do not handle donated items. If you are able to lift heavy objects, it's greatly appreciated - but not at all necessary. All volunteers will be outside throughout their shift and there will be rest opportunities for those who are volunteering for longer periods.
Why isn't a specific location available?
Both locations are within Downtown Burlington (a few blocks apart) where there are a high number of rental properties. For us to best coordinate where assistance is needed, registered volunteers will receive a location assignment closer to the event.
I'm available at any time during the day. When is the best time to help?
If you're able to volunteer for the entire event, that's great! If you're only available for a few hours but are flexible, consider hanging out with us during a later shift (1:00 to 4:00 pm).
What should I bring?
Close-toed shoes: there will be many obstacles and moving things during the event.
Water bottle: regardless of how short your shift is, you will be outside and it is important to stay hydrated. If you need a refill, there will be water available at the Volunteer Station.
Bike lock, if applicable: there will be some street signs and trees that can hold your bike near the Volunteer Station.
What do I do when I get to the location?
Upon arrival to the site, please check in at the Volunteer Station Tent. You will receive your volunteer assignment(s) and a volunteer hat to wear during your shift.
There will be a small area to keep your belongings, but there is very limited space and it's best to not bring much with you. We advise that you not bring any valuables. If you arrive by bicycle, don't forget a lock!
Bagels will be available in the morning and ice cream in the afternoon. The Volunteer Station will also have water, other beverages, sunscreen, and a first aid kit.
For more information about SMOP, click here.