Description
SmoothParos 2 - Innovation and Ethics in Travel and Tourism.
April 29 - 30, 2012

Innovaros invites local leaders and business owners on Paros Island to SmoothParos 2 , a unique two-day workshop!

More than ever we need to create and work together towards a common vision of the island.

We have uniquely crafted the workshop to help local leaders and business owners develop expertise in the use of new media technologies while working in a socially responsible and sustainable way.


The Seminar is led by Jennifer Barth and Chris Brauer directors of Smoothmedia, a London-based strategic advisory and interactive services firm solving digital media challenges for a global portfolio of clients.


This is a unique opportunity to work with London-based consultants and academics with expertise in a range of useful tools and techniques that are not delivering these workshops for financial gain but instead out of a shared love of Paros. We are compensating them through in-kind donations of accommodation, meals, and travel from Innovaros members during their stay on the island. Non-Innovaros members are charged a small fee for participation to help cover these costs and develop a working budget for the group and our future projects.

Chris Brauer, PhD, is Identity, Innovation, and Enterprise Director for Smoothmedia, co-director of the centre for Creative and Social Technologies (CAST). and senior lecturer in media and computing at Goldsmiths, University of London. He regularly appears on TV and in print media as an expert on social and digital media. Chris has advised and conducted workshops for a global portfolio of clients from IBM to the Canadian Government and PricewaterhouseCoopers (PwC).

Jennifer Barth, PhD, is Research Director for Smoothmedia and lecturer in the centre for Creative and Social Technologies at Goldsmiths, University of London. She is experienced in qualitative research methods and analytical assessment informing policy and practice on ethics and community impact. She lives and works in London, UK and consults on social investment strategies for non-profit organizations and companies.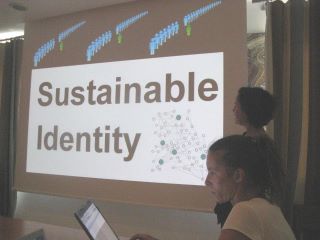 They are returning to Paros to continue the work that started by the establishment of Innovaros in September 2010.

The inspiration for the event was a meeting in February 2010 between Athena Perantinou, owner of Paros-based Perantinos Travel & Tourism, and Dr Chris Brauer. They came together to discuss possibilities for using innovation and emerging technologies to promote new opportunities and global awareness of the unique qualities and motivations of travel and tourism in Paros. The first Smoothparos session introduced a vast range of technologies and techniques to the participants and set the stage for the growth and development of the project. The Innovaros group emerged from these sessions as a means for stakeholders in the future of Paros to build on new skills and work together. Over the first year of its operation the group slowly built digital and social media networks and used these techniques in promoting the Paros Jazz Festival and in developing a virtual tour of the island. SmoothParos 2 is the opportunity to pull together concrete action plans based on a series of case studies of similar successful projects in other regions and the introduction of an intensive format of workshops transferring specific skills helping the group to realise its ambitions. These include project management, creating and measuring innovative content in digital and social media, and brand development and management.

Paros is determined to do things differently from other islands who are losing their soul and sense of balance in desperate attempts to secure market share in an increasingly competitive travel and tourism industry. The members of Innovaros are united in a vision and charter for an authentic, sustainable, and economically viable island. Now, more than ever, is a chance for us to work together and all benefit from the results. Please join us in our collaboration by attending SmoothParos 2 where we will set the agenda for the next year of operations and possibilities.

PROGRAM
Day 1:
10.00 am -13.00 pm: Innovaros members
- Running successful campaigns and promoting services
(13.30 -14.30 pm lunch)
14.30 -17.30 pm: Bootcamp 1 (two bootcamps running at the same time)
- Project management
- Creating Innovative Content

Day 2:
10.00 am -13.00 pm: Bootcamp 2 (two bootcamps running at the same time)
- Marketing, analytics and networking
- Managing the Innovaros brand
(13.30-14.30 pm lunch)
14.30 -17.30 : Innovaros members
- Pushing Innovaros forward using the skills learned

- Any potential members who actually do want to become members can attend to the entire two days for the fee of 110 € including lunches.and/or become sponsors.

- The two bootcamps (Day 1, 2-5pm and Day 2, 10am-1pm) are open to other individuals to attend. One bootcamp is €50 to attend and both is €75 . Participants can choose one of the two bootcamp options in each of the two sessions.
For more info and/or registrations please contact Mrs Athena Perantinou/Perantinos Travel & Tourism, mob. 6934338578 / e-mail: perantin@otenet.gr or athenaperantinou@gmail.com
Organiser of SmoothParos 2 Innovation & Ethics in Travel and Tourism
Perantinos Travel & Tourism has been established now more than 30 years on Paros.
Currently organizes workshops, seminars, events and all travel and tourism activities on Paros island including alternative tours, daily cruises, accommodations, transfers, group handling, hire of cars etc..
Perantinos travel is a member of the non profit organization Innovaros (group of business and community leaders on the island of Paros). Its purpose is to develop skills and share insights into the use of emerging technologies and sustainable practices to promote events, commerce, travel and tourism on Paros
Perantinos travel new activities include the organization of a Jazz Academy and Festival on the island on Paros that will be held this summer from the 5th to the 12th of July. For more info visit the web site www.parosjazzacademy.com and www.jazzfestivalparos.wordpress.com