Description
We invite you to our Smooth Sunday Sioree, a fundraiser for the Miss Jabberwock Program Scholarship Pageant! The illustrious Knightdale-Wake Forest Alumnae Chapter of Delta Sigma Theta Sorority, Incorporated has afforded Miss Jayda McNeil, daughter of Owen & "TracyMac" McNeil, with an opportunity to participate in the 2017 – 2018 Miss Jabberwock Scholarship Pageant: "Magical Moments in Red". Jayda and her parents will be hosting a Fundraising Event on December 17th "Smooth Sunday Soiree" to raise donations for the schlolarship pageant!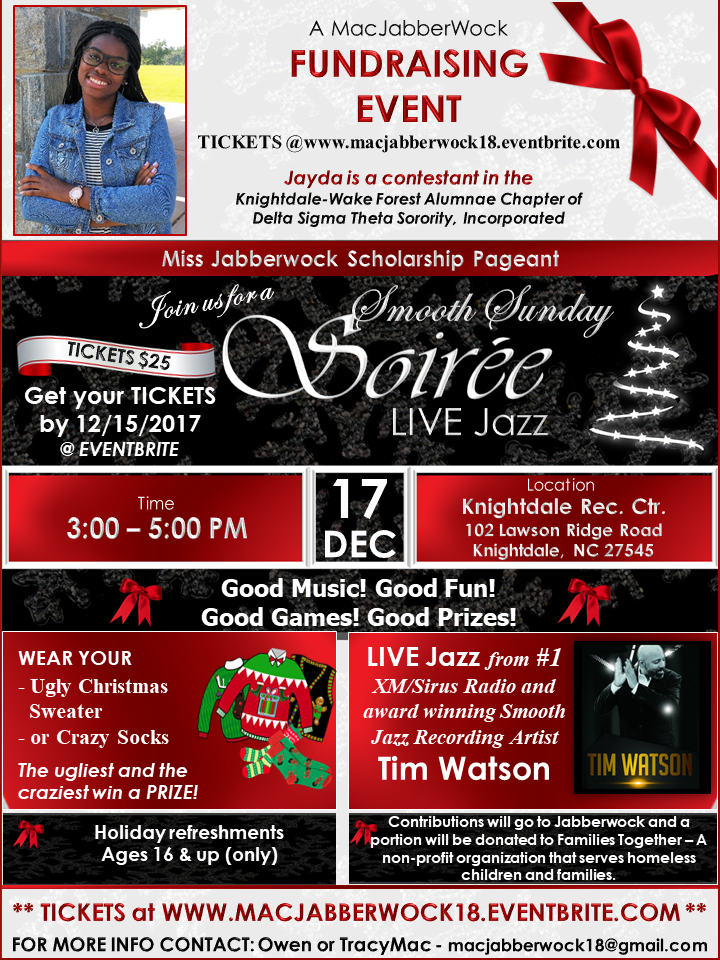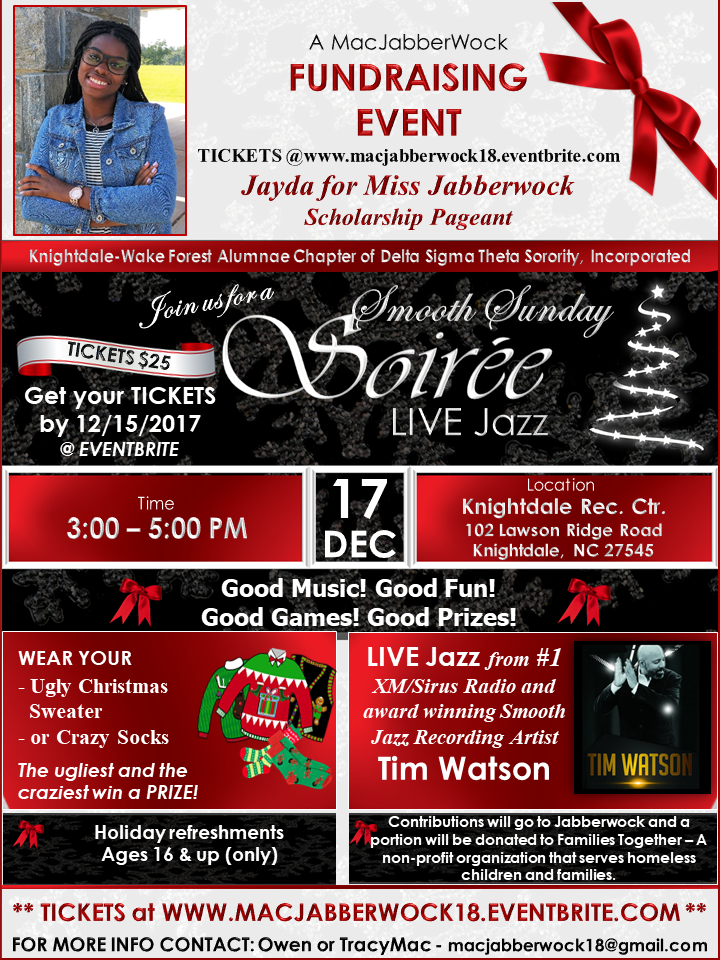 FEATURING - Smooth Jazz Artist Tim Watson!
Mr. Watson's chart-topping project, "Up & At 'Em" , #1 on Sirus Radio and his latest release "Status", on his latest album "Pen 2 Paper", is THE #1 download on iTunes! Get a taste at Tim Watson Music, and hear him LIVE at the Smooth Sunday Jazz Soiree!
The Jabberwock Pageant rewards participants with monetary incentives towards their education as well as promotes and inspires the achievement of scholastic excellence, high ethical and moral standards, sisterhood and community service. The Sorority works with contestants over a six month period to teach the importance of community involvement and social responsibility through various functions and events.

The program culminates in May 2018 with the Jabberwock event where all of the chosen young ladies are presented to the community. A winner for the event is selected based on fundraising efforts and level of participation in the program. Being crowned this year's Miss Jabberwock 2018 is my goal. To get there, please help support me in my quest to become Miss Jabberwock 2018 by making your best monetary donation.

Jayda is currently a junior at Millbrook High School and is taking grade-level AP and Honors classes. She has been on the A/B Honor roll, repeatedly, as well as the Principal's List. It has not been easy and she succeeds because she works very hard, even when it means twice as hard, because of her dyslexia. She has to learn differently, but enjoys learning and chooses to continue to learn by going to and graduating from college. She enjoys spending time with her friends, playing tennis for Millbrook's girls' varsity team, being enrolled in Millbrook's Sports Med program, She is an active member of several clubs at school and community service organizations outside of school as well. That balance helps her overcome my many challenges, manage her time and maintain oustanding work ethic. With your donation, Jayda will be able to achieve her aspirations in higher education and be a champion who continues to prove hard work pays off.
Goals and Aspirations

With your financial support, Jayda will be able to further her education and start embarking on making my dreams reality! As Jayda stated when interviewed, "My dream and desire is to become a Sports Medicine physician and to have my own practice. Being an athlete, I have experienced injuries and want to help others mend and continue their sports activities as I have. I am motivated to continue my education for the opportunity to help others heal properly. I would like to help professional athletes and non-professional athletes, who experience injuries, back to good physical health. Initially, I would like to earn a degree in Kinesiology or Sports Medicine. My undergraduate colleges of choice are North Carolina A&T State University or UNC Charlotte, and from there, I want to reach my ultimate goal of being a Sports Medicine physician."
Register TODAY and join us for this great event!
Come and enjoy: Good LIVE music! Good Fun! Good Games! Good Prizes! See the flyer above for more information.
We look forward to seeing you there!
Contact info:
Owen or "TracyMac" McNeil
macjabberwock18@gmail.com
NO REFUNDS!