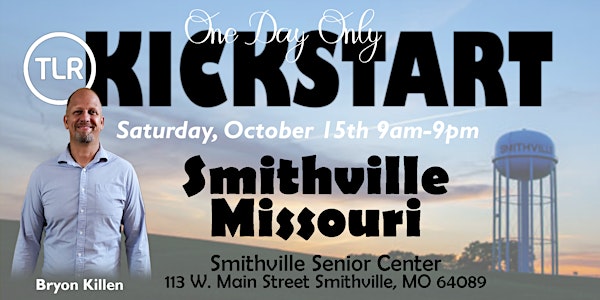 Smithville MO One Day Kickstart
Join us for a day Kickstart in Smithville, MO - October 15, 2022
When and where
Location
113 W Main St 113 West Main Street Smithville, MO 64089
About this event
About this event
Please join us for this 'FREE EVENT' led by Bryon Killen! This event will open you up to the call of Jesus!!
*** Torben Søndergaard will not be at this event ***
ABOUT:
Kickstart weekends, whether they are 1, 2 or 3 day events, always produce much fruit. We need the fruit especially in these days!
This seminar will have 6 sessions, we will not just be having teaching, fellowship and connections, but hands on and practical. This Kickstart, as others throughout the world, will enable and help you to step out in faith, walking as disciples.
In this one-day seminar on the new birth, healing, deliverance, baptism and so much more.
Come and be a part of what is happening all over the world, in Jesus' name!
Be sure to come to all sessions including prayer if possible. And bring a friend!