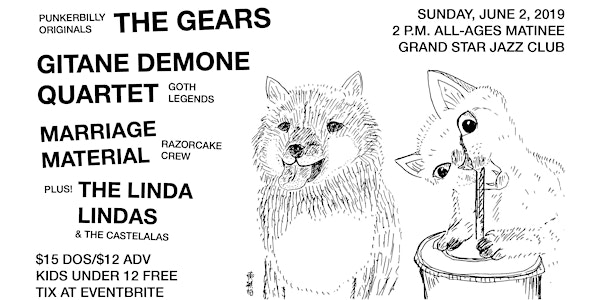 SMIC 18: The Gears, Gitane Demone Quartet, Marriage Material, The Linda Lindas
When and where
Location
Grand Star Jazz Club 943 Sun Mun Way Los Angeles, CA 90012
Refund Policy
Refunds up to 1 day before event
Description
THE SHOW
This is the eighteenth in a series of fundraising concerts organized to pay for the underfunded music education program at Castelar Elementary School. Established in 1882 and sitting right in the middle of Chinatown, the inner-city public school serves mostly immigrant kids who don't get much exposure to performing arts or creative outlets. Chinatown has an unbeatable musical past (mostly punk) and rad art scene in the present (post punk). Neither subculture crosses paths often with the residents in Chinatown but we're trying to create a bridge for them to help out the local kids.
Previous shows have included Adolescents, Alley Cats, Dils, Phranc, Alice Bag, PHAG (Phranc and Alice Bag), Channel 3, Mike Watt (with the Missingmen and Secondmen), Hector Penalosa (with Neko Neko, My Revenge, and Baja Bugs), Bob Forrest (solo and with the Bicycle Thief), The Crowd, Rikk Agnew Band, Chuck Dukowski Sextet, Midget Oddjob (with Keith Morris), California, Sean Wheeler & Zander Schloss (and Zander solo), Ford Madox Ford, LP3 & The Tragedy, Horseheads, Money Mark, Dengue Fever, Carsick Cars, Birdstriking, Chui Wan, Neptunas, Bombon, Bad Cop/Bad Cop, Upset, Rachel Haden, Rough Kids... A real nice mix of original L.A. punks and underground bands that carry on the tradition.
This particular lineup includes the following:
• The Gears - Original rockabilly punks and Hong Kong Cafe regulars who played our fifth Save Music in Chinatown show back at Human Resources.
• Gitane Demone Quartet - Goth legends and lifers with members of Christian Death, Adolescents, and Screamers.
• Marriage Material - The Razorcake-spawned punk band attends every show, so we asked them to play for us!
• The Linda Lindas - Our in-house garage punk band featuring girls who have grown up coming to our all-ages matinees and are now opening for bands like Bikini KIll and Bleached.
• Plus a special appearance The Castelalas, featuring third, fourth, and fifth graders from Castelar!
That's a lot of cool music for 12 lousy bucks (and maybe some raffle tickets).
SCHEDULE
TBA
In addition to donating for admission, guests will be able to donate money toward raffle tickets for a chance to score prizes. $1 = 1 ticket. So far, and it's still early, prizes include the following:
• Vinyl from Frontier Records
• Gift certificates from Scoops Chinatown
• Gift certificates from Pho 87
• Rock 'n' roll goodies from Berndt Offerings
• Joe Strummer star from Mike Magrann/Channel Three
• Castelar gear, as worn by Adolescents, CH3, Hurry Up, Neptunas...
• Save Music in Chinatown zines: The First Two Years, The Second Two Years, The Fifth Year
• More to come!
Check this site regularly for additions as the show draws nearer, and contact us if you'd like to donate something cool to the cause!
PARKING
There is free metered parking on the streets (try going north on Broadway) and pretty cheap parking on College.
All ticket proceeds minus Eventbrite surcharges will be donated directly to FACES (Friends and Alumni of
Castelar Elementary School
, a registered nonprofit organization) to be applied specifically to the music education program.