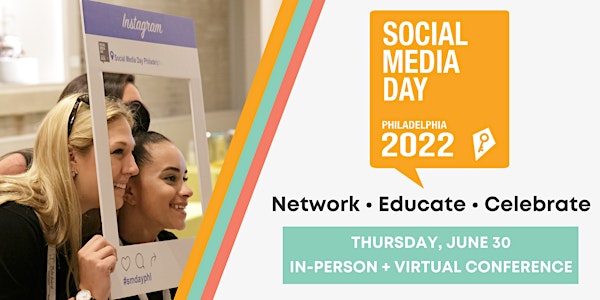 #SMDayPHL 2022
#SMDayPHL is a premier conference for social media, communications, and digital marketing professionals.
When and where
Location
Live! Casino & Hotel Philadelphia 900 Packer Avenue Philadelphia, PA 19148
About this event
Our annual #SMDayPHL conference is back! This year's parallel conference will offer an in-person conference and a virtual conference for attendees to join. No matter how you join us, June 30th will be packed with flash talks and speaker sessions from industry experts and thought leaders from top brands like LinkedIn, IBM, Meta, Comcast, Hasbro, and more.
Plus, after the conference, we will host our awards ceremony for the Social Media Stars in partnership with the Philadelphia Business Journal. Across 17 categories, we will be honoring the best people, projects, and campaigns in digital and social media marketing.
In-person conference: Registration opens at 8 AM. Conference runs 9 AM - 5 PM at Live! Casino & Hotel Philadelphia.
Virtual conference: 10 AM - 5 PM hosted via YouTube
Social Media Stars: hosted after the #SMDayPHL 2022 conference at Live! Casino & Hotel Philadelphia. Cocktail hour 5 PM - 6 PM. Awards ceremony 6 PM - 8 PM. All in-person tickets include access to the Social Media Stars awards ceremony.
Our in-person conference will be divided into 3 breakout rooms with dedicated speaker sessions for professionals at different levels.
Level Up Room: advanced talks aimed at professionals with 5+ years of experience
Emerging Room: introductory talks for people new to social media
Flash Talks Room: quick 14-minute talks about a case study or big ah-hah moment
We have an incredible lineup of industry-leading speakers sharing their expertise at this year's conference. Click here to download the full schedule. Check out who will be joining us in-person and virtually:
In-person conference speakers
Rachel Abbe, LinkedIn
Andrew Athias, Silvi Materials & 'The Reese's Guy'
Brandi Boatner, IBM
Ray Boyd, The Philadelphia Inquirer
Marissa Bruette, Slice Communications
Christine Buck, Hootsuite
Tom Carusona, Insomnia Cookies
Victoria Chhor, Temple University
Megan Coyne, State of New Jersey
Grace Dollarton, Drexel University
Amy Falco, Campbell Soup Company
James Gregson, The Lego Group
Elizabeth Hefner, Sunday Breakfast Rescue Mission
Caroline Hromy, Slice Communications
Julia Hurvitz Aliaga, CMI Media Group
Linda Huss, Endo International
Greg Ippolito, IMA
Sophie Jamison, Nerf / Hasbro & 'Sophie Lightning'
Audrey Ann Kadow, Temple University
Colleen Kendrick, Rowan University
Megan Kilcullen, Drexel University
Thomas Kramer, Measure Studio
Melisa Martinez, HumanCare
Hannah Merschen, Drexel University
Kevin Murray, Drexel University
Ashley Lynne Nicole, Skai Blue Media
Mark Pappas, CMI Media Group
Jennifer Saienni, Spur Impact
Samantha Samayoa, Dun & Bradstreet
Tamara Scott, Comcast Advertising
Sara Smith, KYW Newsradio
Will Warren, Meta
Tiffany Wilson, Comcast
Virtual conference speakers
Carmen Collins, Wish
Chaka Cumberbatch, Google
Sarah Dawley, Hootsuite
Erika Nardini, Barstool Sports
Lauren LaChance, Diageo
Abbey Lunney, The Harris Poll
Darryl Praill, Agorapulse