Description
SMCLA + SMBLA Presents: Meet The Bloggers, Holiday Party Event
We subscribe, share and discuss their posts. We send them press releases and ask for their attention. Bloggers are the darlings of social media and public relations for good reason, they have defined audiences and often a lot of credibility. They help us connect with people passionate about various niches. We've assembled a group of these influential bloggers in niches such as Fashion, Food/Drinks, Lifestyle, Moms, Travel and More…
The event will feature a short program in which we introduce some of top the bloggers in the area, and they each share a bit about their passions for their topics. This will be preceded and followed by festive networking, schmoozing, food, drinks and giveaways.
CONFIRMED SPEAKERS
EVENT DETAILS
Tickets are $10 before December 18th; $15 day of/at the door. 100% of ticket sales and donations will be donated to our featured charity, InvisiblePeople.TV.

Time: 6:30 PM registration, cocktails, light food, and networking

Location: Cross Campus, 820 Broadway in Santa Monica

Parking: Street parking - check the signs!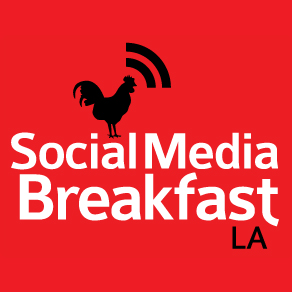 This month, we're extra excited to partner with our friends Social Media Breakfast LA (SMBLA) for this festive event! SMBLA is a monthly breakfast meetup where digital pros and newbies come together to network, learn and of course, grab breakfast. Founders Justin Michael Williams and Jessica Springer founded SMBLA in 2010, and their monthly events are always informative and educational. If you haven't attended their events, consider joining the next one!
We keep our ticket prices affordable with the support of members like you and sponsors. This time around, we're turning around and giving to an important cause.

100% of profits will be donated to our featured charity,

InvisiblePeople.TV

.
InvisiblePeople.tv has leveraged the power of video and the massive reach of social media to share the compelling, gritty, and unfiltered stories of homeless people from Los Angeles to Washington, D.C.
Donate an unwrapped item (value $10 or more) that we can give to Invisible People's community, and be entered in a raffle to win a gift under our tree.
Suggested donation items include:
Burger King gift cards (2 $5 is great!)

Men's socks

Gloves/hat/scarfs (winter)

Travel-sized baby wipes

Toothbrushes

Q-tips

Chapstick

Wide tooth comns

Candy

Gum

Mints

Batteries (AA and AAA)

Earphone headsets

Travel-sized shampoo/conditioners

Travel-sized body wash

Travel-sized face wash

Travel-sized toothpaste

Travel-sized lotion

Travel-sized Kleenex

Travel-sized hand sanitizer
SHOUT OUT TO OUR SPONSORS
Huge thank yous go out to our sponsors. These are the brands and businesses that help us bring great programming to you.
Cross Campus has donated their space!
Janrain helps businesses with social login
Zenify – the "stress free drink…. That keeps you calm, sharp, and focused"
Coupa Cafe Beverly Hills regularly hosts SMBLA meetups, and they are also sponsors of this holiday evening event.
O.N.E. Coconut Water will be hydrating you on December 18.
Snacky? Pop Chips will be on-hand to satiate you
Fresh Brothers pizza and salad station providing snack sized bites
Need a little more kick in your liquids? Lovoka chocolate and caramel liquers is dropping by, and DAMA Tequila are mixing drinks for us. OM Cocktails will also be on-hand to make our holiday party a little more fun!
SPONSOR THIS EVENT
We rely on your tickets, donations, and sponsorships to keep our events low cost for everyone to join in. If you are interested in sponsoring an event, please contact Board member Charles Miller at @chasmiller or email us at socialmediaclubla@gmail.com.
SMCLA MINI BOILERPLATE
Want to learn more about SMCLA? Check out our blog: socialmediaclub.la
Follow us on Twitter: @SMC_LA and our livetweets at hashtag #SMCLA.
Join the conversation on our Facebook Page: facebook.com/socialmediaclubLA
We're also on Pinterest, Foursquare and Google Plus.
More questions? Email us at socialmediaclubLA@gmail.com
Organizer of SMCLA + SMBLA: Meet the Bloggers Holiday Party!
Social Media Club Los Angeles designs monthly educational networking events focused on new and emerging social media trends and tools for business, case studies, and best practices.
We strive to bring in speakers and hold interactive sessions and workshops useful to social media newbies and experts alike.
Join SMC today at http://socialmediaclub.org/membership