SMCKC March Breakfast -Humanize the Science: Trust-Building in Social Media
Description
The National Weather Service Kansas City office has become recognized nationwide for its unique way of interacting with its users through social media. By engaging its users using humor, creativity and a sense of understanding of their interests, the NWS in Kansas City has built a solid relationship with the community it serves, including thousands of people who would be otherwise unfamiliar with the NWS and its services. This relationship building has become critical to maximizing the reach and effectiveness of potentially life-saving information when the weather takes a turn for the worse.
At this breakfast you'll learn how the NWS:
Breaks down complicated scientific processes to a basic level of understanding.

Maximizes the effectiveness of critical information by establishing a foundation of trust among your users.

Builds trust by showing the human behind your service and connecting to users on a personal level.
About our speaker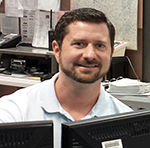 Dan Hawblitzel is a senior meteorologist at the National Weather Service in Kansas City. He is in charge of the social media program at the office which has become one of the most recognized NWS social media programs in the nation. His work to improve the communication of forecast and weather hazards is now in use at multiple NWS offices across the country.
Refunds/Cancellations: We know that issues come up and sometimes you cannot attend our events after you have registered. Please let us know if you cannot attend immediately as we are financially responsible for accurate guest, food and drink counts. No refunds can be offered if you cancel less than five (5) days prior to an event. Thank you.