About this Event
Social Media Club Des Moines (SMCDSM) is excited to be a co-host for the latest Collaborate DSM Member Spotlight Series event.
Appetizers & refreshments will be served. This event is free and open to the public, but please RSVP so we can ensure enough refreshments for everyone!
Are you in the market for a new professional headshot? Event guests can take advantage of a special opportunity for a $50 professional headshot session, courtesy of Ism Public Relations. The package includes professional posing, editing, and black and white and color digital images. Give your social media profiles an upgrade, just in time for Social Media Day.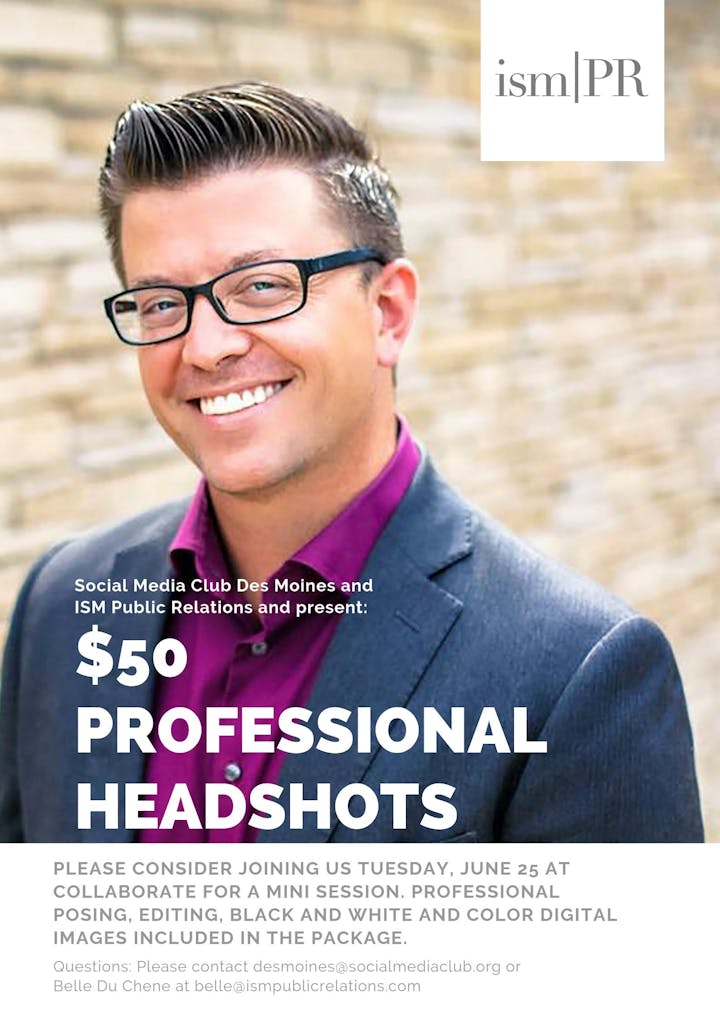 Summer is an exciting time for Social Media Club Des Moines!
On June 30 the club celebrates their statewide holiday for Social Media Day, and on August 22, the club will host The 2019 Hashie Awards in recognition of Iowa businesses, organizations and agencies who have demonstrated excellence in social media marketing. July 15 is the deadline to submit entries for #Hashies2019.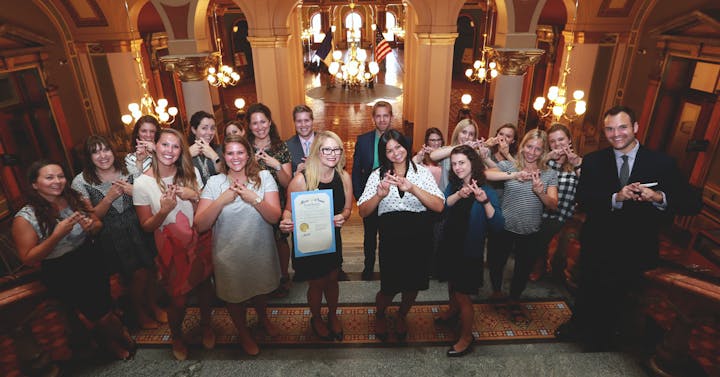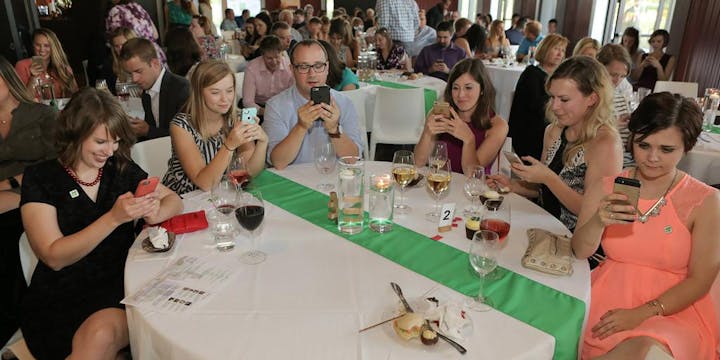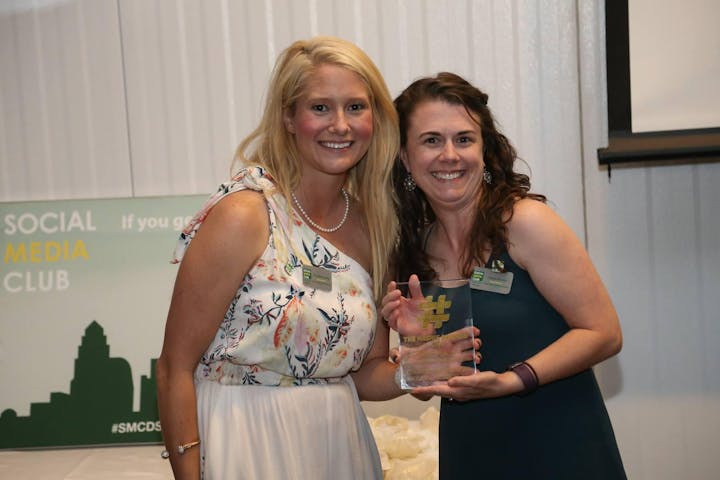 Social Media Club Des Moines is a local chapter of Social Media Club, Inc. a global membership-based 501c6 non-profit association.
Social Media Club Des Moines first began gathering and hosting meetups in 2008. In 2012, the chapter officially became a part of the global SMC network.
In March 2018, SMC and SMCDSM became a Member of Collaborate DSM and moved into their office space.
"Initially, we were drawn to Collaborate DSM because we were looking for a new space to host our monthly board meetings. Our board enjoys regular use of the executive conference room, which has state-of-the-art technology for conferencing and it's been a perfect spot for us to host luncheons, workshops and small gatherings," says Caroline Jones, founding board member for SMCDSM and Executive Director of Social Media Club, Inc.
At the time, Caroline was working from home and was ready for a more professional and productive workspace. Collaborate DSM was happy to accommodate and helped her find the perfect office space to manage operations for Social Media Club. Getting out of the house and connecting with the incredible Members at Collaborate DSM helped boost her productivity exponentially and she was able to host meetings with clients and business partners in a private and formal setting.
About Social Media Club
Social Media Club's primary mission is to expand digital media literacy, promote standard technologies, encourage ethical behavior and share best practices. We bring together journalists, publishers, communications professionals, artists, amateur media creators, citizen journalists, teachers, students, tool makers, and other interested collaborators. Essentially the people who create and consume media who have an interest in seeing the 'media industry' evolve for everyone's benefit. We are more than just USERS, we are the reason the tools exist – we are the people who communicate our thoughts and ideas near and far. Join us and let's shape the future together!
SMC was founded in March 2006 to host conversations around the globe that explore key issues facing our society as technologies transform the way we connect, communicate, collaborate and relate to each other. SMC enables you explore your personal and professional passions by helping you connect with a community of your peers based on both geography and areas of interest. We exist to ensure that the world of Social Media does not become an echo chamber of self-reinforcing thoughts, but is instead fueled by diversity of opinion and perspective.
About Collaborate DSM
Collaborate DSM's mission is to create an environment that will suit everyone's personal workspace needs. We want you to be just as comfortable, if not more, working in our coworking space than you are at home or at your favorite coffee shop. At Collaborate DSM we have designed a professional, yet welcoming office and coworking space that is sure to inspire creativity and productivity while connecting you with other professionals within the community.