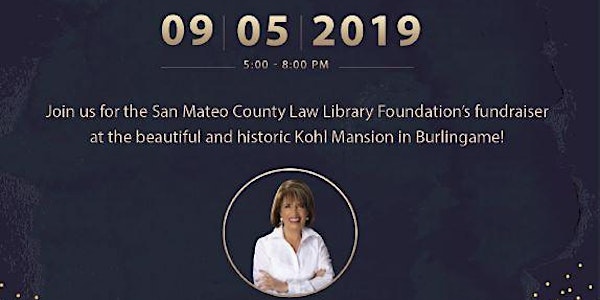 SMC Law Library Cocktail Reception featuring Congresswoman Jackie Speier!
Location
Kohl Mansion
2750 Adeline Drive
Burlingame, CA 94010
Sales Have Ended
Ticket sales have ended
Thank you for supporting the San Mateo County Law Library!
Description
Greetings!
We are excited to announce that the San Mateo County Law Library Foundation is hosting an elegant cocktail-style networking reception - fundraiser on:
Thursday, September 5, 2019
5:00 - 8:00 pm
Kohl Mansion
2750 Adeline Drive, Burlingame
Presenting sponsors:
Corey, Luzaich, De Ghetaldi & Riddle LLP
&
Cotchett Pitre & McCarthy
We will be honoring our featured speaker Congresswoman Jackie Speier! Come learn about the law library that has been a wonderful resource to the community to help with legal questions.
Your support will help offset the Law Library's current financial crisis caused by a reduction in funding and increase in costs, and will serve the various San Mateo County constituents in navigating the legal system effectively.
A big thank you to our following sponsors:
Oracle
Barulich Dugoni & Suttmann
Fox Shjeflo & Babu LLP
Loew Law Group
Seiler LLP
Law Office of David R. Packard
Windsor PLC
Madigan Lewis LLP
Provident Credit Union
ADZ Law
Hopkins Carley
Common Sense Counsel LLP
Shea Labagh Dobberstein, CPA's Inc
Friends (Michael T. Carney, PFAC - San Mateo Chapter,San Mateo County Bar Association, Deirdre O-Reilly Marblestone & Ron Marblestone, Hartog Baer & Hand APC, Wood Robbins LLP, Law Office of Deborah Wilder, Jorgenson Siegel McClure & Flegel LLP)
For a sponsorship/advertising contact smclawlibrary@circlecommunications.com or
Cut and paste the following into your browser:
https://drive.google.com/file/d/1yCWznnctz9uy_U3QDdTV3fvXAEG0WuVS/view?usp=sharing
Learn about the Law Library and view this video:
https://www.youtube.com/watch?v=gAuhh9EyS7c
Here's our press release:
https://drive.google.com/file/d/1p0hebF4G7_wGaz5FFljH-M5BpXAPxmL2/view?usp=sharing
Hope to see you at the beautiful Kohl Mansion for some great food, cocktails, and networking!
San Mateo County Law Library Foundation