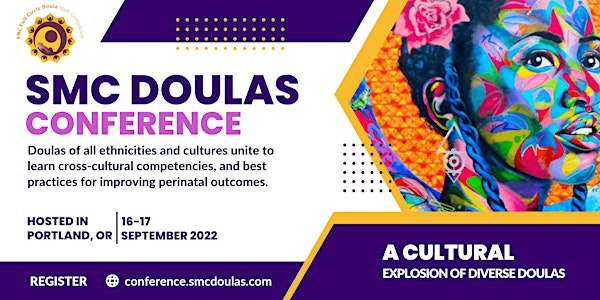 SMC Doulas Conference: A Cultural Explosion of Diverse Doulas
SMC is pleased to host the SMC Doulas Conference: A Cultural Explosion of Diverse Doulas.
When and where
Location
DoubleTree by Hilton Hotel Portland 1000 Northeast Multnomah Street Portland, OR 97232
About this event
The SMC Doulas Conference: A Cultural Explosion of Diverse Doulas is designed to celebrate and highlight the importance of diversifying the Doula profession. This conference will welcome over one-hundred attendees reflecting African Americans, Latinas, Pacific Islanders, Native Americans, Native Alaskans, Asians, immigrants, and refugee Doulas, as well as student Doulas and midwives, birth workers, health care professionals, public health professionals, community leaders and community members.
Our goal in convening at this pivotal time in history in the picturesque, Doula-friendly city of Portland, Oregon, is to reduce health inequities in perinatal care and foster critical conversation to support the Doula model of care as a solution to existing maternal and infant health inequities in cities and rural areas that have poor birth outcomes.
It is important that doulas of all ethnicities and cultures unite to learn cross-cultural competencies, best practices for improving perinatal outcomes, and how to build successful doula businesses. Additionally, doulas of color need the opportunity to gather in safe spaces to emotionally process the work they do with their clients and find relief from the stress of working in racially hostile health care settings.
Conference Highlights
An expert Doula Panel on Cultural Expressions of Death and Grief.
A Doulas Latinas Artistic Production: Theater of the Oppressed.
The 1st Annual Parade of Culture and Colors, a showcase of cultural pride through fashion.
SMC Doulas Awards Ceremony.
Traditional Belly Wrapping from around the world.
Conference Goals
List the causes of maternal mortality in communities of color.
Recite the solutions to infant mortality in communities of color.
Identify strategies to diversify the doula profession.
Increase the number of culturally diverse doulas
Build culturally competent skills and modalities
Create sustainable businesses for doulas of color

SMC Full Doula Members
SMC Doula Members hold a current provisional or certified doula certificate. If you are a current SMC Doula then you are considered a SMC Doula Member.
Proof of your certificate is required.
You can upload your certificate before or after you register for the conference on Eventbrite. Upload your certificate.
Thank You to Our Sponsors