Description

EVENT SUMMARY:

Happy holidays from SMBMad! In keeping with the festive spirit of the season, SMBMad has decided to be "naughty" this month. Instead of our traditional morning social media breakfast, we'd love to invite you to get jolly and mingle with us at the Brink Lounge, on December 19th, from 5:30-7:30 p.m.
Together in 2018, we've enjoyed learning and applying all of the inspiring social media strategy, content, and insights our talented speakers have delivered. And for our final event of the year, we'd like to celebrate the holiday with everyone who makes SMBMad so great—the people who attend our morning breakfasts, our volunteers who help make it happen month after month without a hitch, our sponsors, vendors, and YOU! Plus, this is an evening event, so you can sleep in on a third Wednesday of the month for once!

So, break out your favorite ugly sweater, grab a glass of eggnog, and please join us for our 2018 Holiday Jingle & Mingle Networking Party.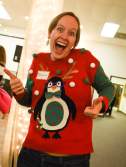 TIME:

5:30 p.m. - Registration

6:00 p.m. - Jingling & mingling, networking, and refreshments

7:30 p.m. - Ugly Sweater contest winner announced
SPONSORS:
LOCATION:
Brink Lounge, 701 E Washington Ave, Madison, WI
TICKETS:
Please note tickets are in high demand. To decrease waste and increase accessibility to all, if you claim a ticket and cannot attend, please take a minute to log in https://www.eventbrite.com/gettickets and cancel your reservation at least three days prior to the event.