"Smash the Walls" Bold Venture Men's Event in Goldsboro, North Carolina
Actions and Detail Panel
"Smash the Walls" Bold Venture Men's Event in Goldsboro, North Carolina
Thu, Oct 20, 2016, 5:00 PM – Sat, Oct 22, 2016, 2:00 PM EDT
Description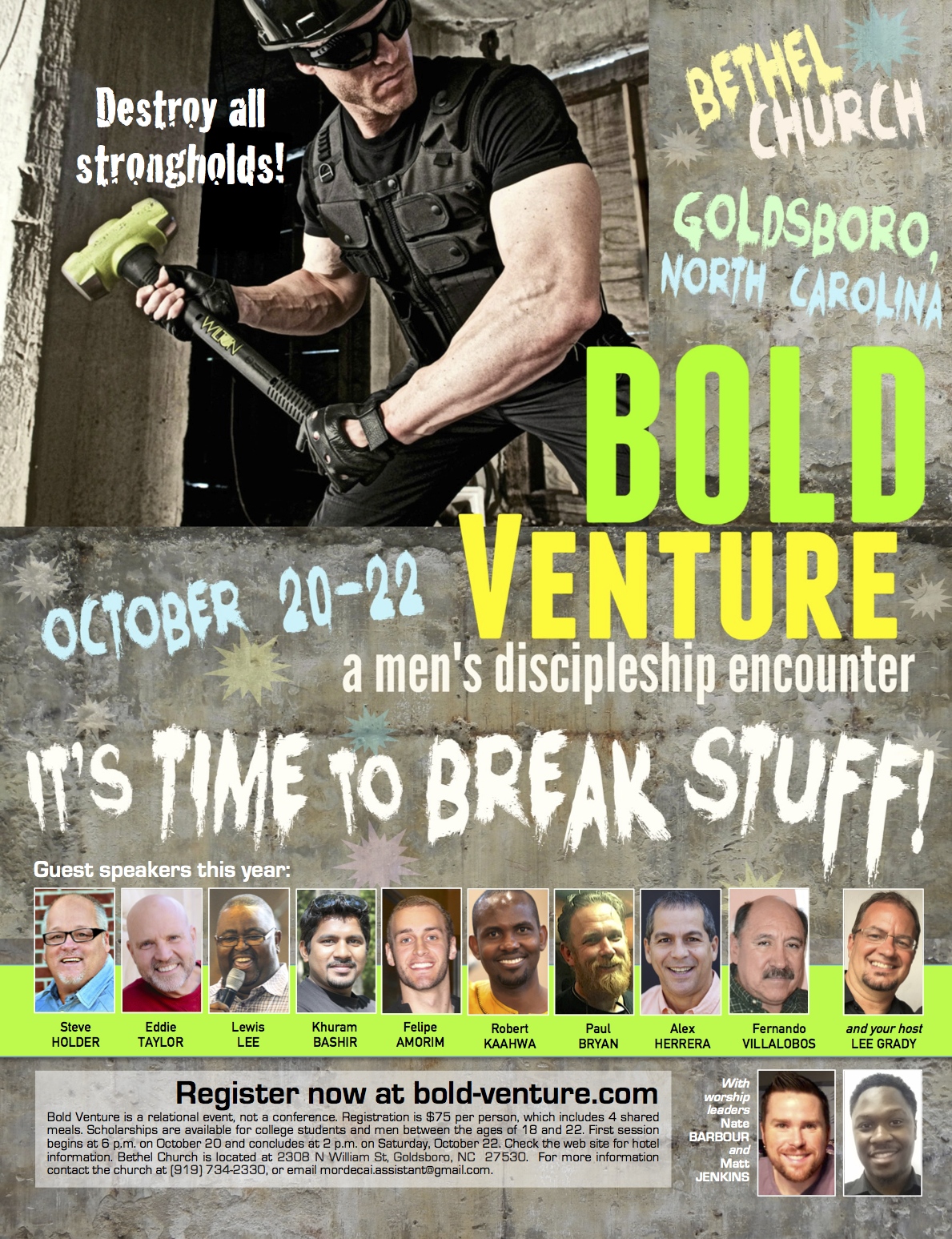 Are you hungry for a deeper encounter with God? Do you need deeper relationships to
help you grow spiritually? You should join us at Bold Venture!

Bold Venture is not really a conference. It's an organic network of men who
believe we must have authentic relationships in order to impact the world for Jesus
Christ. Our three-day retreats are not just about listening to speakers, even though we
have great ones. We build our events around intense worship, inspirational teaching and
lots of fellowship around meals and in small groups. And we emphasize the importance
of mentoring because Jesus spent most of His time discipling His followers. I hope you
will join us in October in Goldsboro!

Bold Venture Men's Event
October 20-22, 2016
Bethel Church / 2308 N. William St., Goldsboro, NC 27530 (nearest airport: Raleigh)
Theme: "Smash The Walls"

Speakers: Eddie Taylor, Felipe Amorim, Steve Holder, Robert Kaahwa, Lewis Lee,
Khuram Bashir, Paul Bryan, Fernando Villalobos, Alex Herrera and Lee Grady.
Worship led by Nate Barbour and Matt Jenkins.
Registration: $75 which includes 4 shared meals.

First session begins at 5 p.m. on Thur., Oct. 20 and ends at 2 p.m. on Sat., Oct. 22.

Hotel information: Hampton Inn Goldsboro, 905 North Spence Ave., Goldsboro, NC 27534
Phone: 919-778-1800, ask for "Bold Venture Men" discounted group rate
$99 per room available through Sept. 28- includes breakfast, excludes tax