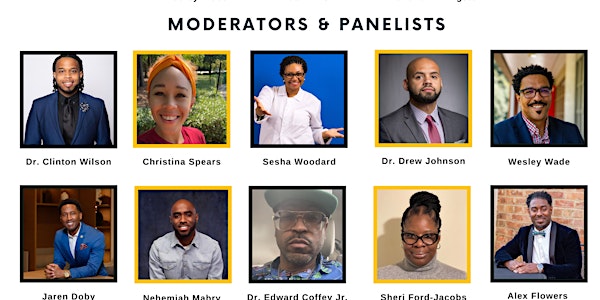 SMASH SUMMIT 2022
This summit is the first of its kind - a compilation of hip hop, mental health awareness, and STEAM!
When and where
Location
1890 Main Campus Dr 1890 Main Campus Drive Raleigh, NC 27606
About this event
This summit is the first of its kind - a compilation of hip hop, mental health awareness, and STEAM! Come connect - or reconnect - with likeminded folx. Share your vision, orchestrate collaboration, or simply enjoy a phenomenal day of inspirational words and beats.
You love hip hop, are invested in mental health, and interested in STEAM?
SMASH 2022 is a celebration of culture, community and utilizing hip hop as a vehicle to eradicate barriers/stigma/access to a holistic education. It's going to be a party - 150+ people, two fabulous keynote speakers, a DJ, panel discussions and meaningful time to network and connect.
Join us for a half day of artistry, creativity, and inspiration. We have invited an amazing panel of speakers, thought leaders, and artists to share their gifts with us. In addition to a cast of remarkable keynote speakers and panelists, we are super excited to provide ample time and space for intentional networking.
This is an event you won't want to miss. It will be the summit you've been waiting for!
Network and connect with the best of humanity
Increase your confidence to think creatively outside the box in terms of education, leadership, and belonging
Learn from and be inspired by outstanding educators, leaders in our community and local artists.
Schedule
8:30-9:00 Registration
9:00 -9:15 WELCOME!!
Wha wha wha?! Hip Hop, Mental Health and STEAM in one summit?? How did this idea come about? What's our porque?
9:15am-9:20am OVERVIEW OF THE MORNING EVENTS
9:20am - 9:40am Keynote
9:40am - 9:55am Drop the MIc
10:00am-10:30am Panel
10:35am - 11:25pm Live Performance
11:30am - 12:20pm Two-Step Networking & Lunch
12:20pm - 12:25pm Remix (Welcome Back)
12:30pm - 12:50pm Keynote
12:50pm - 1:00pm Live Performance
1:00pm - 1:30pm Panel
1:30pm - 1:45pm Drop the Mic
1:45pm - 2:00pm Wrap Up & Closing
After the Summit
Happy Hour Event: We will have a Happy Hour event after the summit to gather and celebrate our inaugural S.M.A.S.H Summit All attendees are invited - check your email for the details!
….WHO is it for?
Engaged Community Members within the Triangle
Corporate Leaders
Nonprofit Professionals
Community Activists
Emerging Leaders
Young Professionals
College Student Leaders
Retirees Seeking to Engage & Volunteer
SPONSORSHIPS OPTIONS-Contact Valencia Hicks Harris, Exec. Director- vharri2@empower-allinc.org
Platinum - 4 Tickets, Gratuity Gift, Logo Recognition, Social Media Recognition and Luncheon Recognition
Diamond - 2 Tickets, Gratuity Gift, Logo Recognition, Social Media Recognition and Luncheon Recognition
Gold - Logo Recognition and Luncheon Recognition