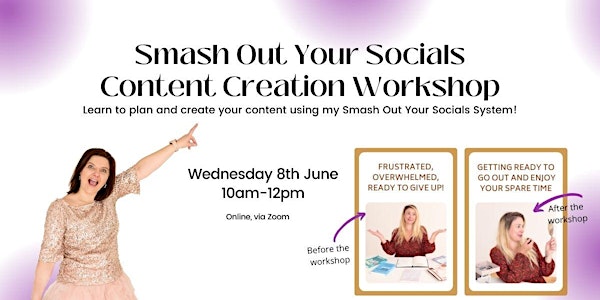 Smash Out Your Content Workshop June 2022 - Online Version
Learn how to plan and create your content using my Smash Out Your Socials System!
About this event
Imagine how you'd feel if you had a system in place to Smash Out Your Socials in just a few hours each month.
That's exactly what you'll be learning in this 2 hour workshop.
What will that do for your business. For your personal life.
Your online presence will be more consistent. And engaging. You'll look more professional. You'll feel more confident. You'll get more of the right followers. Your business will grow. And your life will feel like it belongs to you again.
So now you're excited about the future, let's look at what this event includes -
🔯 Planning workbook, emailed just before the workshop starts
🔯 2 hour online zoom session to learn, plan and start creating your content
🔯 July Calendar of noteworthy days and special occasions
🔯 Learn the 4 Essential Elements for every piece of content
🔯 $50 credit to use towards a Headshot or Personal Branding Session booked this month (Macleod, Melb)
🔯 The opportunity to ask questions and get instant feedback