SMARTPHONE DAY

Multiple Dates
Event Details
PARTECIPA ALLA TERZA TAPPA DEL TOUR
MILANO  10 NOVEMBRE DALLE 14:00 ALLE 18:30
FIORE ROSALBA C/O Blend Tower Milano Sala 307
Piazza 4 Novembre n° 7 - Milano a 50mt Stazione Centrale

Speakers
Antonio Radesca 
Due sessioni una IOS & Computer Vision e l'altra Android su HoneyComb
Dan Ardelean
Una panoramica di come sviluppare applicazioni cross-platform: Windows Phone, iOS, Android
Lorenzo Barbieri
Parlerà di WP7.5 dal punto di vista del telefono e delle opportunità per chi sviluppa le appp
Matteo Pagani
Ci introdurrà allo sviluppo con WP7.5
Rosalba Fiore
Come le apps siano un'opportunità per utenti e sviluppatori
I corsi li trovi su www.fiorerosalba.com
PARTECIPA ALLA SECONDA TAPPA DEL TOUR
ROMA 27 APRILE 2011 DALLE 10:00 ALLE 17:30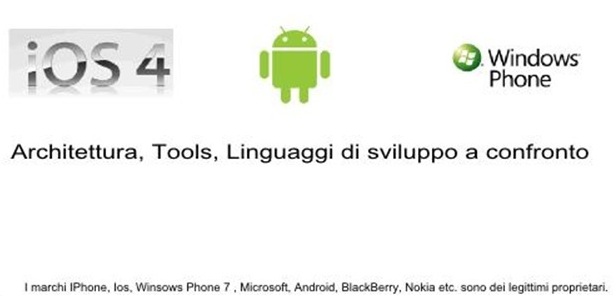 UNA GIORNATA COMPLETAMENTE DEDICATA
 ALLO SVILUPPO SU SMARTPHONE
Programma della 2° tappa
9:00 - 9:50    Apertura e registrazioni
9:50 -  10:20 Apps e Business   - Rosalba Fiore
10:10 -11:00 IoS                            -  Antonio Radesca
11:00 - 11:30 Piracy                      - Muthu Arumugam
11:30 - 12:00 Pausa
12:00 - 12:50 WP 6.x                    - Roberto Freato
12:50 - 13:40 Pausa
13:40 - 14:25 Computer Vision  - Antonio Radesca
14:25 - 15:25 WP 7                      -  Roberto Freato
15:25 - 15:45 Pausa
15:45 - 16:30 Android                 - Antonio Radesca
16:30 - 17:20 C#                          - Dan Ardelean
17:20 - 17:30 Chiusura lavori
----------------------------------------------  
Direttamente dagli USA su un argomento MUST ovvero la pirateria

Speaker Name: Muthu Arumugam 
Founder & CEO Mtiks

Piracy is a known issue in Mobile app market these days. The common thought among developers is that there is no way you can control piracy.mtiks offers a solution to detect piracy and use different techniques to offer developers control over piracy. This presentation will spend time on understanding the nature of Piracy, current trends, and steps for developers to apply against piracy. The more app publishers try to bring their app into Top 50 in AppStore put their app into crack community more.
Speaker Name: Antonio Radesca

iOS,XCode e Objective-C:warm up.
Session introduttiva alla sviluppo per iPhone/iPad.

Apps e Computer Vision
In questa sessione vedremo come avvicinarci alla computer vision e come integrarla nelle nostre app.

Android Apps:cosa possiamo fare che gli altri non possono fare...
In questa sessione vedremo alcune delle peculiarità che rendono Android il sistema migliore per fare tutto ciò che vogliamo con il nostro smartphone.
Speaker name: Roberto Freato
Windows Phone 6.x   Il veterano

Prima dell'era Windows Phone 7 il mondo windows era concentrato su Windows Mobile e ancora moltissime aziende stanno sviluppando e svilupperanno applicazioni su questa piattaforma per la sua grandissima predisposizione al mondo business e al suo retaggio profondamente permeato dalle realtà di automazione e produzione industriale. Vedremo quindi, senza scordarci che è comunque un telefono, cosa si può fare con Windows Mobile 5,6,6.x e quali sono le differenze con il debuttante.


Windows Phone 7      Il debuttante 

Un anno dopo i primi "rumorz" da Microsoft sul telefono di nuova generazione, abbiamo finalmente qualcosa da vedere e toccare con mano. Vedremo quindi cosa ci offre la piattaforma Windows Phone 7 e come approcciarne lo sviluppo. Silverlight, Xna, ma sostanzialmente la potenza di C# o VB.NET direttamente sul nuovo smartphone.
Speaker name: Dan Ardelean
C# per sviluppo mobile

La presentazione è una introduzione sul impiego di C# per lo sviluppo di applicazioni per Windows Phone 7, iOS e Android. Saranno presentati gli ambienti di sviluppo Visual Studio per Windows Phone e Android e Monodevelop per iOS, i vari framework: Silverlight per WP7, Monotouch per iOS e Monodroid per Android.S
Speaker name: Rosalba Fiore
Apps e markteplaces ovvero opportunità di business per utenti, sviluppatori ed aziende.


PARTNER LOGISTICO
--------------------------------------------------------------------------------------------------------------------------------------------------
Partecipa alla prima edizione del tour - Potenza 11 Febbraio 2011
Ore 15:30 - 20:00
Seguilo anche in diretta video in tutta Italia
AGENDA:
Smartphone: Apps e Marketplaces ovvero opportunità per utenti e sviluppatori    - Rosalba Fiore
Introduzione allo sviluppo su iOS:strumenti,tecnologie e metodologie     - Antonio Radesca
     Ambiente di sviluppo e tecnologia - Architettura - Esempi
Introduzione allo sviluppo su WP 6.X :strumenti,tecnologie e metodologie - Roberto Freato
     Ambiente di sviluppo e tecnologia - Architettura - Esempi
Introduzione allo sviluppo su Android:strumenti,tecnologie e metodologie - Antonio Radesca
     Ambiente di sviluppo e tecnologia - Architettura - Esempi
Introduzione allo sviluppo su WP 7:strumenti,tecnologie e metodologie      - Roberto Freato
     Ambiente di sviluppo e tecnologia - Architettura - Esempi
 PARTNER LOGISTICO
-------------------------------------------------------------------------------------------------------------------------------------------------
Speakers:
Antonio Radesca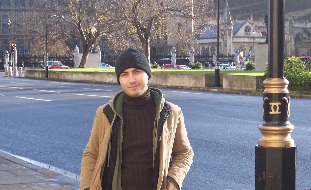 Antonio sin dal liceo si appassiona fortemente al mondo del software e dell'innovazione. Dopo essersi laureato in Informatica ha lavorato in alcune delle più prestigiose ed importanti aziende italiane del settore IT, occupandosi in particolare di sviluppo software, architetture ed EAI. Attualmente sta avviando una propria iniziativa ed oltre allo sviluppo, si diletta a tempo pieno con nuove tecnologie e la ricerca di idee innovative. Sin dall'avvento dei Pocket PC e degli Smartphone si interessa e lavora su tecnologie mobili. Ha esperienza nello sviluppo di soluzioni su piattaforma Microsoft (Windows Mobile e Windows Phone), Android ed iOS, per i quali ha sviluppato sia app che applicazioni Business Oriented.
Dan Ardelean
Dan è un appasionato del mondo mobile. Si è laureato in Ingegneria Informatica al Politecnico di Iasi, Romania dove ha pubblicato vari Paper su controllo predittivo usando reti neurali e algoritmi paralleli e distribuiti. Dal 2002 sviluppa applicazioni su tutte le piattaforme mobile. Attualmente cofondatore di Neologics azienda di software development e consulting.
Muthu Arumugam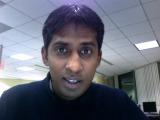 Muthu Arumugam is the Founder of mtiks who ran a successful app development company prior to mtiks. Since he had piracy issues on his own apps, he spent over an year to find a solution for piracy and started this company mtiks. Muthu Arumugam graduated from Boston University and worked with several startups in Mobile and consumer products. He has more than 15+ years of IT experience and specialized in Security related products in his career.
Roberto Freato

Roberto Freato è un Trainer MCT e Consulente IT freelancer; particolarmente sensibile alle tematiche Mobile e Cloud, è attivo nel mondo Community soprattutto su Windows Azure e Windows Phone. Gli è stato riconosciuto l'MVP per due anni consecutivi ed è pluricertificato su diversi vendor (MS, Sun, Apple, Cisco, IBM) 
Rosalba Fiore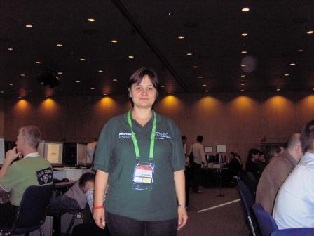 Rosalba si laurea in Matematica ind. Informatico. Dopo esperienze in diverse aziende italiane nel 2006 fonda l'omonima ditta. Nello stesso anno si specializza nell'insegnamento a distanza quale e-Trainer alla The Training Clinic (USA). E' Microsoft Certified Trainer (MCT) specializzata nello sviluppo di soluzioni enterprise. Ai corsi da lei tenuti su metodologie, ALM, TFS, ambienti di sviluppo, linguaggi di programmazione, sistemi operativi e gestione e programmazione dei database, hanno partecipato professionisti provenienti dalle principali aziende ed enti. Ha collaborato con Microsoft nel 2007 e 2008 ai TechEd a Barcellona (Spagna) presso gli Hands-On Labs, all'Ask The Expert su .Net Framework (2007) e Asp.Net (2008). E' consulente tecnico d'ufficio (CTU) sez. informatica del Tribunale di Potenza ed all'albo dei Periti ed Esperti della Camera di Commercio. Dal 2010 è Country Lead per l'Italia di MCT Europe organizzazione internazionale, 13 le nazioni rappresentate, la quale riunisce i Microsoft Certified Trainer europei.
Slides della prima tappa 2011:
Slides della seconda tappa 2011:
Introduzione allo sviluppo in iOS
Android:tutto quello che possiamo fare che altri non possono fare
Introduzione alla Computer Vision
ORGANIZZATORE FIORE ROSALBA EDITORIA & INFORMATICA
-------------------------------------------------------------------------------------------
Lo Smartphone Day è un evento itinerante gratuito ideato ed organizzato da Fiore Rosalba per contatti press e per ospitare una tappa del tour info
Tel 0971489070 oppure info AT smartphoneday.com
Parlano di noi stampa e blogs:
http://www.pianetatech.it/telefonia-mobile/notizie/smartphone-day-seconda-tappa-a-roma-il-27-aprile.html
http://www.01net.it/servizi/1,1641,0_EVT_7416_04x2011,00.html
http://www.iprogrammatori.it/news/art_smartphone-day_1058.aspx
http://www.geekagenda.it/evento/2011/04/07/smartphone-day/
http://www.misurarelacomunicazione.it/2011/04/12/smartphone-day-roma-27-aprile-2011/ http://www.domusdotnet.org/
http://emanuelemattei.blogspot.com/2011/03/smartphone-day-evento-sul-mobile.html
http://www.fullpress.info/Eventi-e-fiere/Smartphone-Day-2011-a-Roma-seconda-tappa-al-via/7-42176-1.html
http://blogs.ugidotnet.org/rosalba
http://www.ninjamarketing.it/eventi-marketing/?event=74
http://www.ictroma3.it/blog/2011/04/19/smartphone-day-a-roma-il-27-aprile/
http://tech.fanpage.it/eventi-tech-della-settimana-dal-25-aprile-al-1-maggio-2011/