Location
3120 DelaCruz Blvd
Santa Clara, CA 95054
Description
Smartphone and tablets are becoming ubiquitous and increasingly cheap. These amazing devices typically have considerable computation power and memory, internet connectivity, a variety of high-end sensors (camera, GPS, accelerometer and more) and a touch screen display. All of these built-in peripherals are well integrated and easy to access from software.
All that is really missing in order to use them for robotics applications is a way to connect them to external hardware, such as motors and additional sensors. That way, they can replace traditional microcontrollers and embedded code with something that is more powerful and easier to use.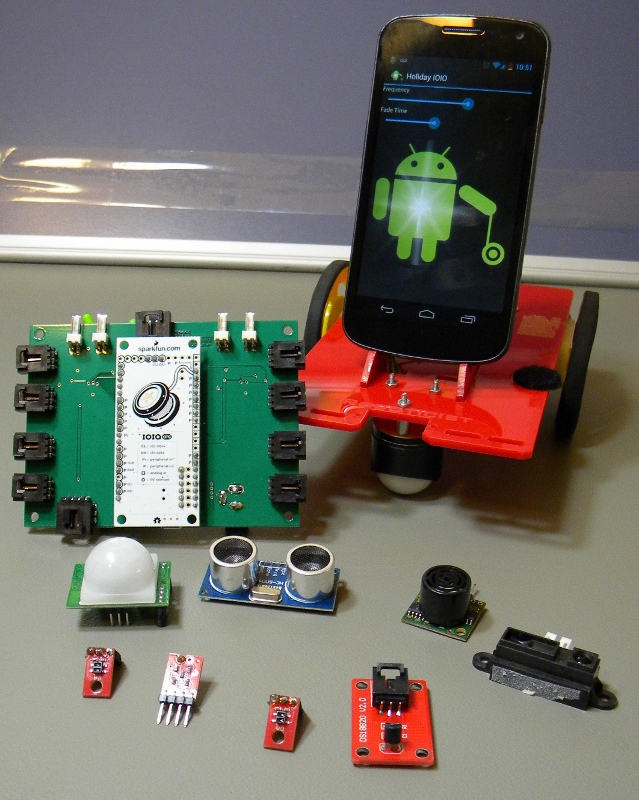 This workshop will get you get started with using your Android device to connect with several electronic components for building applications starting from blinking an LED to building a Robot. It will be based on the popular IOIO board, which serves as a physical bridge between Android devices and external devices and allows Android apps to be easily written to control them. Programming is done solely in Java, using the standard Android development tools. Workshops includes extensive hands-on session on connecting the Android device to a Robot kit build during the workshop. The workshop will also cover the basics of building simple electronic circuits and introduce useful parts, such as sensors and motors.
The price of the workshop includes a kit containing all the parts needed, which the participants will take home with them. What is not included is an Android device and a development machine (laptop, see FAQ for details).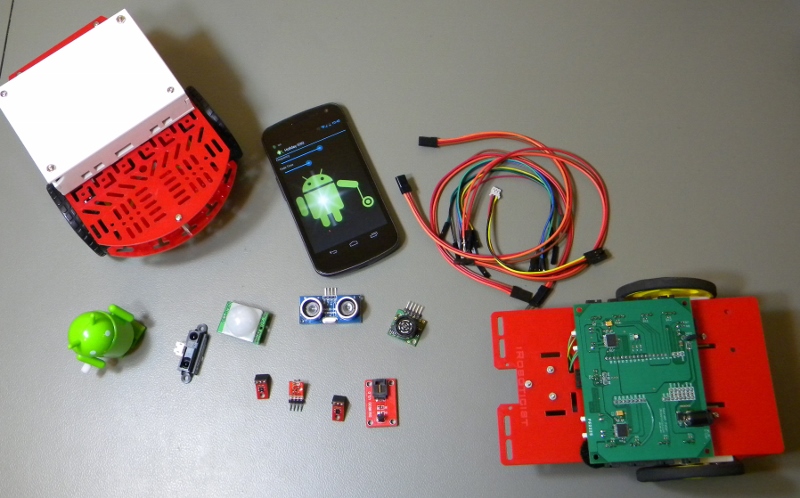 Space is limited.
Agenda:
Saturday:
09:00am to 10:30am: Introduction to IOIO

10:45am to 12:00pm: Introduction to Robotics

01:00pm to 03:00pm: Hands-on session with IOIO

03:00pm to 05:00pm: Project Session
Sunday:
09:00am to 10:30am: Getting started with Sensors

10:45am to 12:00pm: Hands-on with sensors

01:00pm to 03:00pm: Actuators and Driver Circuits

03:00pm to 05:00pm: Project Session
Previous Workshop Particpants built this in two-days:
Course Instructors:
Saurabh Palan - A Robotics Engineer with passion for building Robots and teaching Robotics. He has been involved in Robotics since 2004 and has developed several projects and worked for several companies in the field of Robotics
FAQs
Who should attend?
This 2-day, hands-on workshop will focus on providing Software Developers an opportunity to get some experience with electronics hardware. The workshop assumes no prior electronics experience so anyone with some experience in Software development (Java/Android development) and enthusiasm to start hacking Hardware can attend this workshop.
What will I gain at this workshop?
The workshop will give you the chance to get acquainted with a variety of electronic components such as LEDs, sensors and motors. You will get started with hardware hacking, breadboarding and circuit building and creating your own Robotic System. Each team will be provided with their very own kit with IOIO micro-controller, an awesome Robot kit and a Reference Book to continue hacking away at home.
The workshop takes a hands-on approach, where participants will work on implementing a fully functional robotic system. The actual system is intentionally left unspecified (come up with your own ideas!). However, we will have several suggestions and will be able to provide guidance and assistance.
What should I bring to the Workshop?
Bring along a lot of enthusiasm!
The participants should follow the Android tutorials at least to the point where they can build, install, and run their own app on their actual Android device. This will help save time on solving installation issues. Please make sure to have JRE 6 (not 7) installed and configured, as the Android development environment has some problems with the later versions.
Where can I contact the organizer with any questions?
Please email me at Saurabh [at] iRoboticist [dot] com