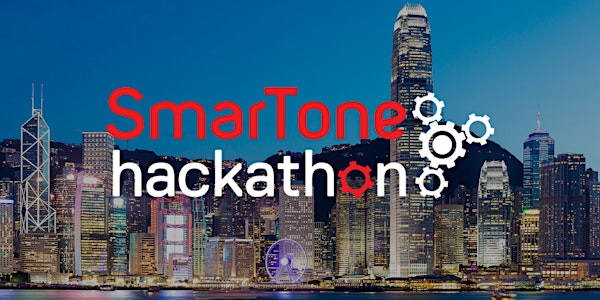 SmarTone Hackathon "Smart Properties"
When and where
Location
Cyberport 3 100 Cyberport Rd, Telegraph Bay Hong Kong Hong Kong
Refund Policy
Refunds up to 30 days before event
Description
Smart cities are a growing trend around the world. Infrastructures are beginning to make huge changes into digital transformation to make our lives more convenient.

With the vision of technology-enhanced smart properties, SmarTone Hackathon will enable startup communities and software developers to bring their creative ideas to life, enhance customer experience and enable smarter living and business operations for both landlords and tenants.

#HackSmart
Prizes
Grand Prize:
First Runner-up:
Second Runner-up:
Winning teams will have a chance to receive…
Microsoft BizSpark Program

Mentorship (advisors and evangelists)

Software support tools (Windows, Office, Visual Studio, SQL server, etc.)

Opportunity to join overseas tour to innovation centre*

Fast-track interview opportunity for Cyberport's entrepreneurship programmes, either Cyberport Creative Micro Fund (CCMF) or Cyberport Incubation Programme
Mentorship from sponsors' top executives
Potential investment opportunities in those prototypes that meet the business goals of smart properties
*It applies to the Grand Prize winning team only.

Challenges
Smart Workplace – Develop intelligent and user friendly solutions to make workplaces more efficient. Ideas can range from the transportation to work, parking, booking of different facilities to information communication & sharing.
Smart Property Management – Develop ideas & solutions to disrupt traditional property management into a whole new operation that saves manpower and allows for proactive & predictive services.
Schedule
Pre-SmarTone Hackathon Virtual Session: Wednesday, October 18th, 18:30-20:30 (Times are in HKT)
Meeting number: 626 698 174
Webex Link: Here!
Video address: Dial Dial 626698174@angelhackhq.my.webex.com
Audio connection: +1-510-338-9438 USA Toll
Access code: 626 698 174
Hack Day 1: Saturday, October 21st (Times are in HKT)
09:00 Doors Open & Breakfast
10:00 Kick-off session
11:00 Coding Begins
12:00 Lunch
13:00 Coding Continues
18:00 Dinner
20:00 Pitch Workshop Session
00:00 Midnight Snack / Giveaways for those staying the night.
00:00 Hack through the night
Hack Day 2: Sunday, October 22nd (Times are in HKT)
07:00 Breakfast
12:00 Lunch
13:00 Submission Deadline
14:00 Judging
15:00 Judge Deliberation and Networking (with snacks and drinks)
15:30 Awards
17:00 Event Closes
Hackathon FAQ – Rules & Guidelines
Who Should Attend?
Developers, Designers, Entrepreneurs. In other words: ANYONE interested in the smart property space.

What is the Fee to Participate?
It costs only HK$50 to participate in the SmarTone Hackathon.
How are Teams Formed?
Teams can be formed online in advance using SmarTone's Hackathon.io page, or onsite the day of hackathon.

What is the Fresh Code Rule?
All code developed as part of the SmarTone Hackathon must be fresh. Before the start of the SmarTone Hackathon, developers can create wireframes, designs and user flows. They can also come with hardware. But to keep things fair, all code must be written onsite at the SmarTone Hackathon. Other than that, almost anything goes and you can use any coding languages or open-source libraries.

Judges
Winners of the SmarTone Hackathon will be selected by a panel of judges that includes industry leaders as well as one representative from each partnering company.
Ms Anna Yip, CEO, SmarTone
Mr Christopher Kwok, Executive Director, Sun Hung Kai Properties
Mr Alkin Kwong, Vice Chairman & Chief Executive, Hong Yip Holdings Ltd.
Mr Peter Yan, Executive Director & CEO, SUNeVision Holdings Ltd.
Dr Toa Charm, Chief Public Mission Officer, Cyberport
Ms Cally Chan, General Manager, Microsoft Hong Kong Limited
Mr Jason Chiu, Founder & CEO, cherrypicks
Dr Jack Lau, Angel Investor &

Chairman, Swanland Management Limited
Judging Criteria
JUDGING WILL BE IN ONE ROUND WITH A LIVE PRESENTATION FORMAT WITHOUT SLIDES OR PITCH DECKS. BRING YOUR WORKING APPLICATION!
Each submission will be scored in each round based on the following criteria with a minimum score of 0 and maximum score of 22 points, with the final score being the average of the judges' scores:
Innovation (5 points)
Functionality (5 points)
UI / UX (5 points)
Usage of Microsoft's APIs (5 points)
Secret Score (To be announced on event day) (2 points)
Our Partners