Description
Smart Times Summit - AI and Blockchain Driven Business Talks
AI and Blockchain technology is poised to transform industries like Finance, Healthcare and beyond. However, there is a lot of hype and misinformation surrounding AI and Blockchain, which makes it all the more important to keep pace with actual progress in the space.
AMINO Capital is organizing a summer Smart Times summit, aiming to connect, educate and contribute to AI and blockchain industry.
Location: 755 Page Mill Road, Palo Alto, CA 94304
AGENDA - JULY 15TH
2:00pm - 2:15pm | Welcome - Dr. Janet Xiao, Partner, Morrison & Foerster
2:15pm - 2:35pm | AI and Blockchain Business lessons from the master, a fireside chat between Srinivasan Sriram, CEO and founder at Skuchain, and Larry Li, Managing Partner, AMINO Capital
2:35pm - 2:55pm | Global-Scale data platforms empowering autonomous mobile robots, Dr. Zhaoyi Wei, Cofounder, Foresight AI
2:55pm - 3:15pm | Revolutionizing Healthcare through dynamic genomics big data, Dr. Ziliang Qian, Founder, Prophet Genomics

3:15pm - 3:35pm | Tokenization is coming in real world, fireside chat between Stephen Kade, COO and co-founder of TrustToken and Sue Xu, Managing Partner, AMINO Capital
3:35pm - 4:00pm | How blockchain can create a privacy-first cloud computing platform? A fireside chat between Dr. Raymond Cheng, CTO and co-founder at Oasis Labs, and Dr. Huican Zhu, Managing Partner, AMINO Capital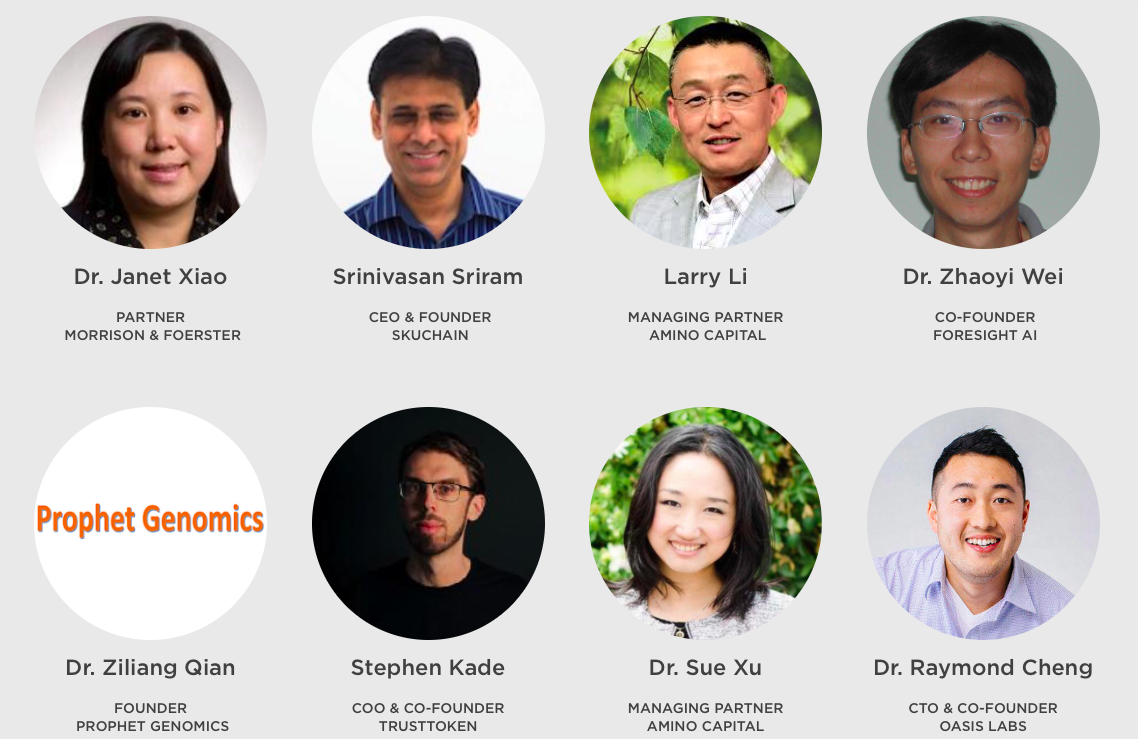 SPEAKERS
Dr. Janet Xiao, Partner, Morrison & Foerster.
Dr. Janet (Jian) Xiao is co-chair of the global Life Sciences Group. She primarily represents clients in the biotechnology and pharmaceutical industries in their world-wide patent procurement, patent portfolio management, and strategic planning. Nanjing University (B.S., 1989), Chinese Academy of Sciences (M.S., 1992), University of California, Los Angeles (Ph.D., 2000), University of California, Berkeley, School of Law (J.D., 2003)
Srinivasan Sriram, Founder and CEO at Skuchain. Sriram is a passionate entrepreneur looking to bring efficiencies into the Supply Chain. He has previously built Risk Management software at Salomon Bros., founded an ecommerce startup during the dot-com heyday and played EIR with a small fund. He has been a qualified Captain of ocean going merchant ships, and has done the Executive Program at Stanford GSB.
Larry Li is a Founder and Managing Partner at AMINO Capital. He serves on the boards of String Lab (incubated Dfinity, and Phi), SkuChain, Candy House, Battlefy, etc. and leads investments in companies with success exits or growth, such as Assemblage (acquired by Cisco), Orbeus (acquired by Amazon), Ozlo (acquired by Facebook), Mobike (acquired by Meituan), Human Longevity Inc, Skycatch, Skuchain, Webflow and Grail. He also participated in pre-sales and ICO of DFINITY, NuCypher, Kyber, 0X, Grid+, OmiseGo, which later became known as the first ICO unicorn. Larry also co-founded TAF (invested in ZOOM) in 2010, and currently serves on the board of TEEC. http://www.aminocapital.com/
Dr. Zhaoyi Wei, Cofounder, Foresight AI
Zhaoyi is the cofounder of foresight AI, and previously computer vision research engineer at Apple. He was the computer vision research engineer at Eyefluence (acq. by Google) focusing on eye tracking algorithm development, and at NVIDIA working on high performance camera driver development on Android OS for Tegra 3/4 processors. He graduated from Brigham Young University with a Ph.D degree in Electrical and computer engineering. https://www.foresight.ai/
Dr. Ziliang Qian, Founder, Prophet Genomics
Ziliang is the founder and CEO of Prophet Genomics, and previously principle scientist at Roche Molecular Systems on software architecture. Ziliang was director of bioinformatics at AmoyDx after his research at Stanford University. He got Ph.D degree from University of Rostock and BS from University of Science and Technology of China.
Stephen Kade, COO and co-founder of TrustToken. Prior to TrustToken, Stephen was a founding employee and Commercialization Project Manager at Kernel, a brain-computer interface startup that raised over $100 million in funding. He also co-founded NeuroTechX, the world's largest organization for neurotechnology developers. Prior to that, Stephen was a design engineer at AltspaceVR (acquired by Microsoft). Stephen holds a Bachelor's Degree in Neuroscience from the University of California at Berkeley.
Dr. Raymond Cheng is CTO and co-founder of Oasis Labs, as well as a research scientist, open source software developer, and blockchain lecturer. His research interest lies in building practical systems for security and privacy. He has made contributions in a wide range of areas in distributed systems and security, including creating a networking project that was productionized by Google into Outline. Raymond obtained his PhD in Computer Science from the University of Washington, and graduated from MIT with degrees in Physics (Bachelor of Science), Electrical Engineering and Computer Science (Bachelor of Science and Master of Engineering). https://www.oasislabs.com/
Dr. Huican Zhu, Managing Partner, AMINO Capital. Huican joined Google in 2000 and was a pioneer of Google's image search. In 2010, he left Google and joined Tencent as the Chief Architect and General Manager of Infrastructure, and returned to Google in 2012 focusing on Google Cloud until joining AMINO full time in 2016. He completed his B.E. degree at Sun Yat-sen University, M.S. degree at the National Academy of Science, and PhD at the University of California, Santa Barbara. His research has garnered over 12,000 citations. He currently serves on the boards of MaxFun, Weee, Yiqixie, and Evertoon, and has over 10 years of experience in investing in fast-growing companies like AppFolio (NASDAQ: APPF). http://www.aminocapital.com/