Description
Please join Dr. Adigweme for a free educational seminar where he will discuss how a new technology KneeAlign, can improve the way we approach knee replacements.
Dr. Adigweme will also be discussing the immediate and long-term benefits of knee replacement surgery as well as:
Answering any of your knee-surgery risk-related concerns or questions.
Mapping out your post-surgery recovery timeline.
Reviewing how advances in knee replacement technology, like KneeAlign, can change your life for the better.
"Independence is your most valuable possession. If you are suffering from knee or hip pain come and learn more about your options. I look forward to seeing you."
- Dr. Obinna Adigweme, Orthopedic Surgeon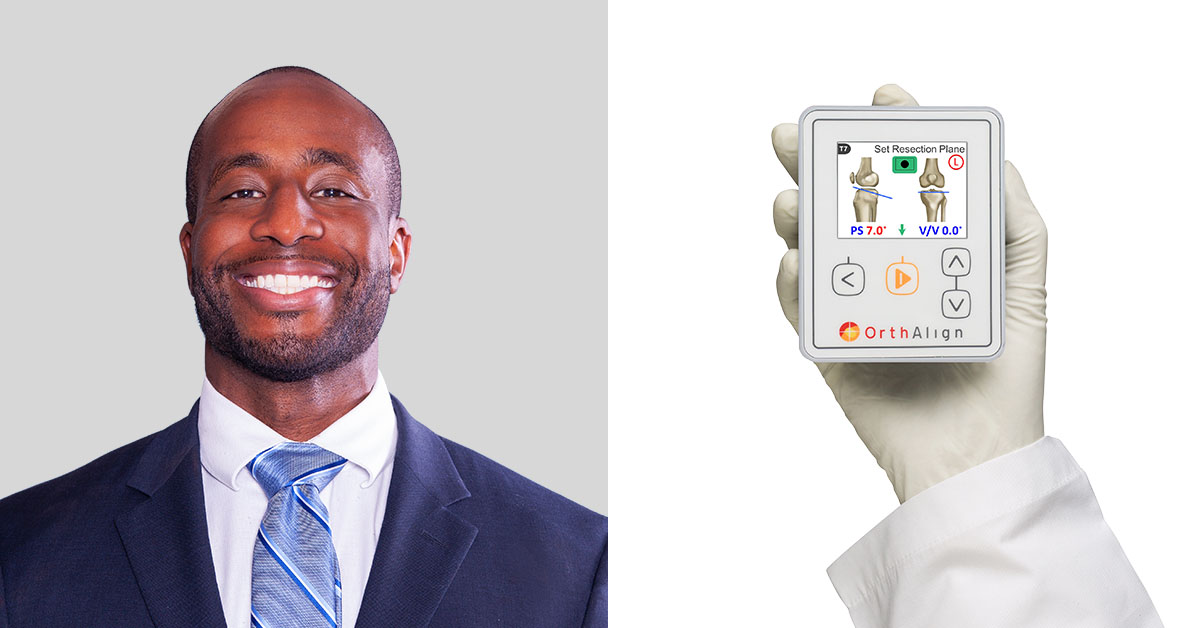 ---
What is KneeAlign?
KneeAlign is a revolutionary, computer-assisted device clinically proven to make knee and hip surgery more accurate.[1,2]
Using advanced sensors based on accelerometers and gyroscopes, KneeAlign employs similar precision technology that keeps satellites in orbit and aircraft straight and level. These micro-sensors use your unique anatomy to act as a GPS for surgeons; helping to guide the surgery by ensuring accuracy and properly aligned implants. [1] All of this happens in a phone-like device that sits in the surgeon's hands and on their surgical instruments.
What makes KneeAlign a good choice?
Greater accuracy and precision of implant placement.[1,2]

Patient-specific surgery based on your anatomic data.

Less blood loss during knee surgery.[5]

No pre-operative imaging required.
We know that the thought of getting knee surgery can be scary. Really, we understand. But if you suffer from chronic knee pain, taking this small step can lead to a giant leap in your well-being.

Over 90% of patients who undergo partial or total knee replacement are proven to have significantly less pain, and a much higher quality of life. [4] And this big improvement happens faster than you may think. In fact, with physical therapy propelling progression you could be back behind the wheel in weeks and doing light exercise in only a couple months. For most patients it's a simple routine procedure, with nearly 100% of patients suffering no serious side effects at all. [4]

With KneeAlign, coupled with your surgeon's expertise, you can enter into surgery confident that you are in good hands.
---
1. Nam, et al, "Extramedullary Guides versus Portable, Accelerometer-Based Navigation for Tibial Alignment in Total Knee Arthroplasty: A Randomized Controlled Study." The Journal of Arthroplasty, June 2013. 2.Nam, et al. "Accelerometer-Based Portable Navigation vs Imageless, Large-Console Computer-Assisted Navigation in Total Knee Arthroplasty." TheJournal of Arthroplasty, June 2012.
3. http://orthoinfo.aaos.org/topic.cfm?topic=a00389 4.http://www.healthline.com/health/total-knee-replacement-surgery/risks-complications#1 5.Kadoya, Y., et al. "Usefulness of an acellerometer-based portable navigation system in total knee arthroplasty." The Bone & Joint Journal, August 2017.